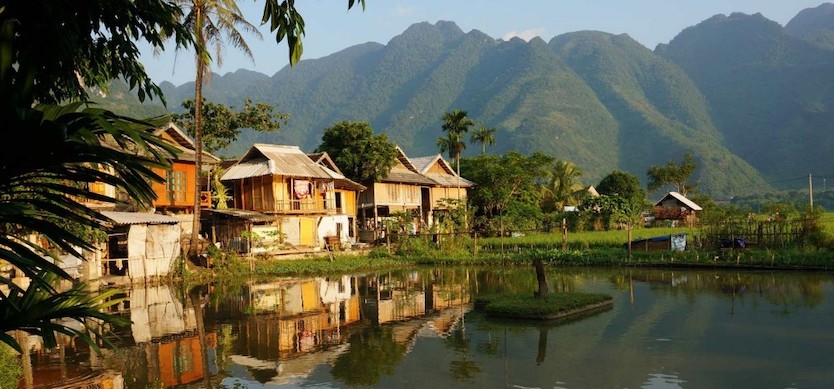 You want to travel to Mai Chau but don't know whether it's the best time to visit here? Let's find out the most beautiful look of Mai Chau with us.
Mai Chau day tours are becoming a highlight in the Northwest due to its wild and peaceful nature, warm ethnic people, and unique specialties. You can come here at any time of the year, but the most outstanding season in Mai Chau is spring.
But hang on a second. If you don't want to miss any attractions of the beautiful land in its best look, make sure you'll read from the beginning to the end of our guide.
Where is Mai Chau?
The isolated Mai Chau and the nearby villages are in a valley which is around 139km from Hanoi and only 150 meters above sea level.
Nestled between two towering cliffs and surrounded by emerald green paddies, it is an enchanting sight as you approach down the windy cliffside road, the villages and surrounding countryside present an idyllic rural scene that could easily charm you into staying longer than intended.
Mai Chau weather
The climate of Mai Chau, Hoa Binh is the tropical monsoon. The average annual temperature is 18°C with a maximum of 29°C in July and a minimum of 16°C in January.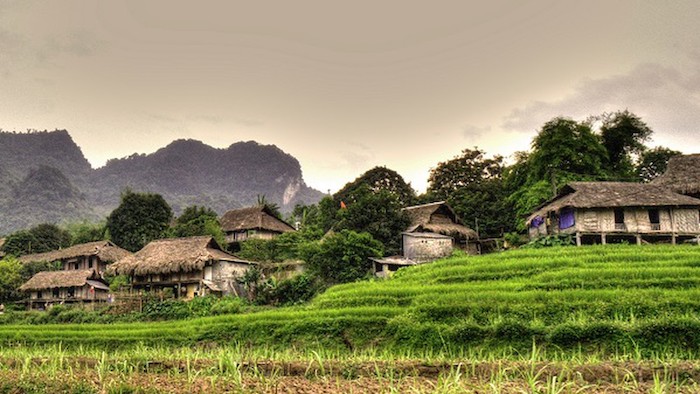 Mai Chau in spring is very comfortable
In spring, Mai Chau has a bright color, almost parrot-green and by autumn, this green transforms into golden hues as the rice approaches harvest. Taking the time to watch these transitions of color seems like a perfectly useful way to spend your time while there.
In general, Mai Chau's climate is quite pleasant all around the year. It rains less, and the humidity is lower than in other Northern Vietnam cities.
Of which, the best weather extends from September to May with temperatures ranging from 15°C to 30°C. With a sunny day, you can join Mai Chau cycling tours to explore this beautiful valley. It can be quite cold during the winter from November to the end of February.
For a hot (but not too warm) and sunny weather, periods of October-November and February-May are the best time to go. In December, January and sometimes February also, the weather can get pretty chilly.
Later, from June to September, it has stronger breezes and higher humidity. The temperature increases in this time, varying between 25°C and 35°C.
Best places to visit
Thung Khe pass
Belonging to National Highway 6, Hoa Binh province, Thung Khe pass has a height of about 1,000 meters above sea level. In here, visitors can enjoy the rustic dishes displayed on the roadside such as boiled corn, boiled sugar, bamboo-tube rice, etc.
Moreover, from the top of Thung Khe, you can see the whole valley view. The valley at the foot of the pass is known as one of the most beautiful sight-seeing places in Hoa Binh.
Lac village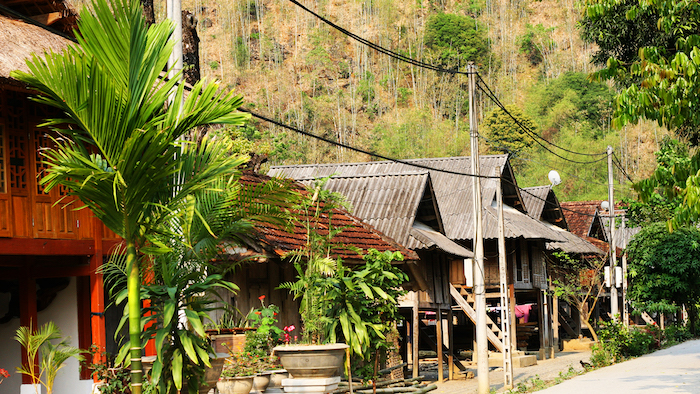 Lac village
Lac village is more than 700 years old. The people in Lac village are mainly Black Thai people who live by rice cultivation and brocade weaving. This place is a gift of the mountain and forest for those who love peace and tranquility to immerse themselves in the green and relaxing space of Hoa Binh.
Currently, Lac village has nearly 30 spacious and airy homestays and motels to serve tourists. Stilt houses in Lac village are all tall and clean, keeping ancient architecture. Inside each home, the rooms are fully equipped with clean blankets, cushions, and pillows.
Walking around in the village, you will not see any action to entice visitors or solicit purchases. Items such as scarves, Thai brocade skirts, lovely purses, bows, crossbows, bamboo flutes, gongs, and buffalo horns are sold at the doorstep.
Pom Coong village
Like other villages of the Muong and Thai people, people of Pom Coong village often live in places with rivers and streams, build houses on the backs of hills and mountains that in front of the house are vast fields.
An attractive highlight of Pom Coong in tourism is the clean space, from water, waterworks to toilets, making visitors feel fresh and safe.
Also, the waste here is classified, contained in the bin and will be processed. Therefore, coming here, you will feel the purity of heaven and earth, and the peace of life.
Mo Luong and Chieu caves
Mo Luong cave
Mo Luong and Chieu caves are two beautiful places in Mai Chau that you also should visit. The outstanding feature of these caves is the thousands-year-old stalactites with a variety of shapes and colors, impressing visitors at first sight.
Mai Chau with comfortable weather and poetic nature will offer you one of the most relaxing experiences in your lifetime. For further information about Mai Chau tour or Mai Chau homestay, feel free to contact us or visit our website. If you find the article useful for you, don't hesitate to like and share with others. Thank you.