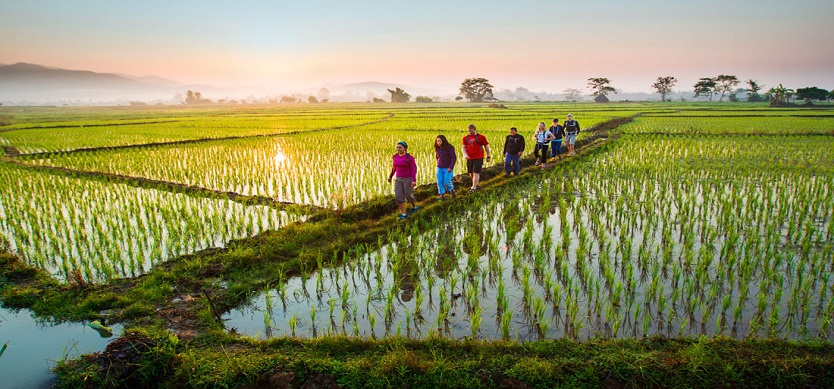 Mai Chau is a beautiful tourist attraction in the north of Vietnam. With the distinctive landscapes that change significantly during the time and season, Mai Chau gives tourists the different feelings whenever setting food in this land. So, what is clearly Mai Chau's weather and climate, please check this post below.
Overview
Mai Chau is known as a cultural ecological tourist attraction of Hoa Binh province. Coming to Mai Chau is coming to villages of ethnic minority people, living in their houses, enjoying their traditional food, local culture and exploring jungles and mountains here. At the latitude of 200-1500m above the sea level, the climate in Mai Chau is characterized by Northwest Vietnam weather cool and fresh air all year round. People in Mai Chau are warm-hearted and hospitable. They do business with all their natural property which introduces tourists the beauty of Mai Chau villages through colorful brocades and traditional cuisine.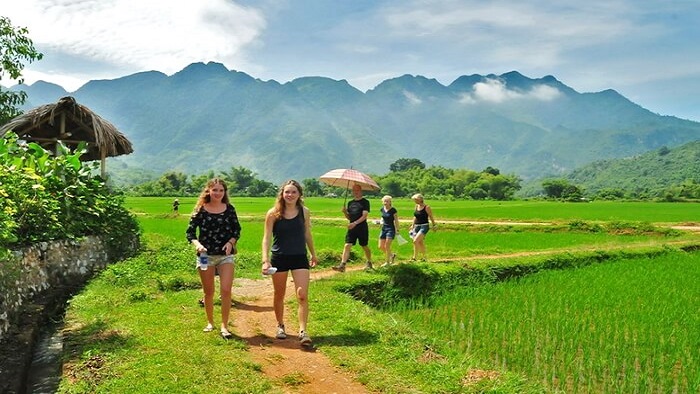 Mai Chau
Mai Chau is located in Hoa Binh Province, belonging to the area of tropical monsoon climate. Mai Chau weather is portrayed by warm atmosphere all year round. The average temperature is about 26.7°C. The rainfall in Mai Chau is relatively high, with the heavy rains in summer months. During a year, there are 160 days that the rainfall is about 1721mm. In months of spring, summer and autumn, the lighting hours of the sunshine is different. In autumn, winter and spring, the humidity in Mai Chau is at the lowest point. Annually, the temperature averages at 23°C; the average rainfall 1.800mm/year; relative humidity of 85%; and average annual evaporation of 704mm. The weather in Mai Chau Valley is the weather of low hills with mild temperature.
Mai Chau weather by month
In summer, the average temperature is about 27.5°C; the highest temperature in daytime is 31°C, while the figure at night is about 24°C. Sunshine in this region is last for 5 hours during 13 hours of daytime. In Mai Chau, heat and humidity is regarded very high. During this month, the rainfall is about 208mm recorded amongst 18 days. In autumn, the temperature averages about 26°C. The highest temperature in daytime is about 30°C; the humidity falls along with the rainfall. In winter, Mai Chau attracts tourists most. The total hours of sunshine in winter are about 5 hours. The highest temperature in daytime is 22°C, and lowest at 13°C (in December). The rainfall in this season is low with about 16mm. In January and February, weather in Mai Chau changes significantly. The temperature rises gradually with the average figure of about 19.5°C, low humidity, and the average rainfall of 24mm.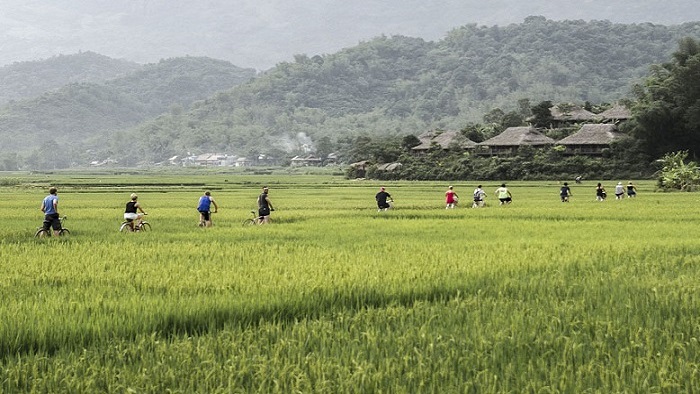 Rice season in Mai Chau
In November, December, January and February or winter time, Mai Chau climate is relatively cold with average temperature of 16°C. For those from other region in this country should bring warm coats along to avoid having a cold. Between January and February, this is the transition period from winter to spring. During this time, Mai Chau is depicted with fantastic peach blossom. In months of March, April, May, September, and October: this is considered the most comfortable period in Mai Chau. The temperature averages from 18-25°C. In March and April, there are many kinds of flowers blooming in Mai Chau, creating a wonderful scenery. During June, July and August, it is summer time with high temperature of 25-35°C with heavy rain.
The busiest and less crowded tourist months in Mai Chau
October is considered the peak tourist month in Mai Chau, this month welcomes the largest number of tourists in Mai Chau, the following months are January and June. These months are the busiest months for tourism because the weather and landscape at that duration are so nice and beautiful.
Tourists are unlikely to visit Mai Chau in February because the climate at that time is quite cold and there is not much things to do in Mai Chau. However, if you travel to Mai Chau in February, the price of hotels and flights will be less expensive because there are numerous discount programs that travel agencies give out to attract tourists.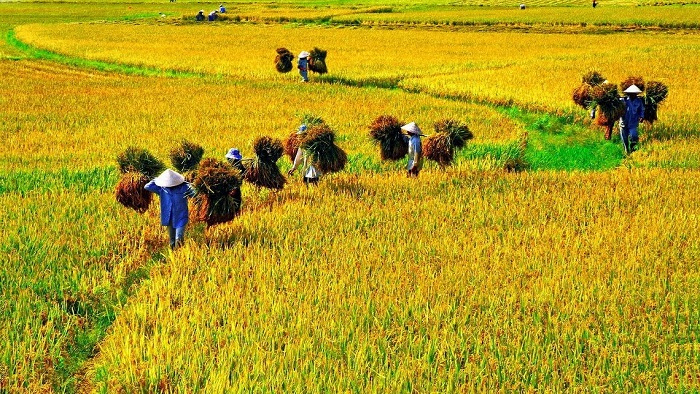 Ripe rice season in Mai Chau
Mai Chau is located in the mountainous region of northwestern Vietnam, so the climate of this destination in general is quite temperate compared to other places in Vietnam which is not too hot and cold, that is why Mai Chau is the choice of many tourists when visiting Vietnam. If you want to book a Hanoi Mai Chau tour 1 day, let's click in the link of this post, we are pleasure to be your companion. Thank you and have a nice trip!