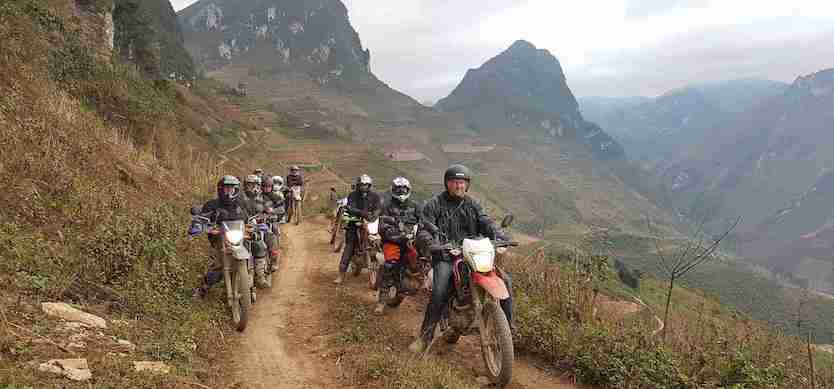 Mai Chau is a tourist spot in Northwest Vietnam along with other famous destinations. If you plan to visit Mai Chau from those places, our guides will help you.
Situated in the west of Hoa Binh province, next to Moc Chau district, Son La province and Quan Hoa district, Thanh Hoa province, Mai Chau valley is a favorite destination for both international and domestic tourists.
Despite not having as many as attractions like Moc Chau, Mai Chau still appeals visitors by its peaceful atmosphere. Coming to Mai Chau, visitors can immerse in the idyllic cultural life of Thai people with rice fields and colorful brocade costumes.
If you're planning your trip to Vietnam, don't miss the Mai Chau tribal valley tour from other famous destinations of Northern Vietnam. Below are guides for you to get to Mai Chau.
How to get from Hanoi to Mai Chau
It's not far from Hanoi to Mai Chau, so if you don't have much time, you can take a tour Hanoi Mai Chau 1 day. To fully enjoy the pace of life and take part in community activities at the weekend of Mai Chau people, your trip must last at least 2 days 1 night.
Two main ways how from Hanoi to Mai Chau is by the motorbike and passenger bus.
How to travel to Mai Chau
Motorbike
The young people who like exploring and challenging regularly go to Mai Chau by the motorbike. It is more dangerous than other means of transportation due to many passes and mountainous roads.
In return, tourists will have a chance to admire the stunning scenery of nature and people along the way, making it a memorable and worthy experience.
Passenger bus
Traveling by passenger bus is a favorable choice for most people due to the reasonable price and short time.
You can also rent a private car or take a tour. Many people go on a guided tour because they can save more time and be safe, especially when they don't know the road well.
How to travel from Ninh Binh to Mai Chau
With numerous beautiful landscapes, Ninh Binh is a trendy destination for tourists. Heading to Mai Chau to explore the culture of ethnic people after visiting Ninh Binh is an ideal choice. There are some ways how from Ninh Binh to Mai Chau.
The first one is to catch Quan Hoa passenger bus from Thanh Hoa city. However, its itinerary is relatively bad. Sometimes, you cannot find one because there are not enough seats. The ticket price is about $9.5 per guest.
The second way is to get to My Dinh station (Hanoi) from Ninh Binh station (it takes about 2 hours at the price of $3.5 per person), then you will head to Mai Chau from My Dinh (around $6 per person).
How to travel to Mai Chau
The third way is to take a passenger bus from Ninh Binh to Son La or Dien Bien Phu. (It departs very early in the morning, so you should check the time at the bus station for yourself).
You will get off at Nga Ba junction on National Road 6 that runs between Hanoi and Tuan Giao after passing Muong Khen (a town on NR 6 between Hoa Binh and Nga Ba junction). From there, you can take a motorbike taxi to Mai Chau (about 5 kilometers).
How to get from Halong Bay to Mai Chau
Halong Bay is one of the most famous tourist attractions in Vietnam. Halong Bay – Mai Chau route is a very popular tour for those who want to explore North Vietnam. There are only two ways how from Halong to Mai Chau.
Passenger bus
You will travel from Halong to Hanoi by a passenger bus in the morning. If you travel in a group, you can tell the homestay owner to call the driver come to pick you up. (Morning buses: 6.30 - 7.00 - 8.00 - 9.00).
Bus stops in Hanoi: My Dinh station or Yen Nghia station.
It takes about 3.5 hours to travel from Hanoi to Mai Chau.
By private car
You can call the travel agent from Hanoi to book or contact your homestay owner. You need to book in advance if you want to be on time and get a reasonable price. The distance from Halong to Mai Chau is about 300 kilometers, so the price is around VND 3 million for one journey.
How to get from Sapa to Mai Chau
Sapa and Mai Chau are two attractive destinations in North Vietnam with a peaceful atmosphere and breathtaking landscapes. There are some ways how from Sapa to Mai Chau.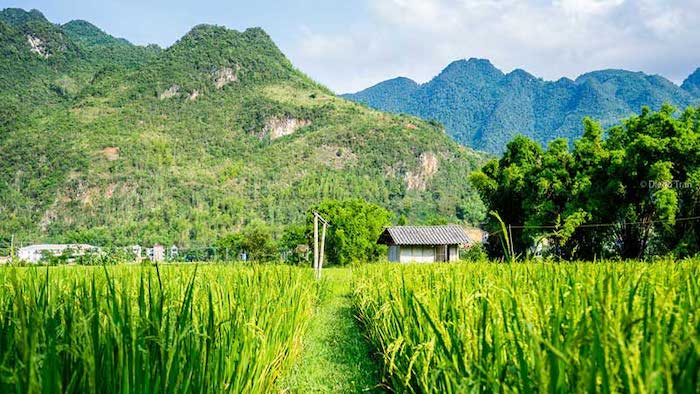 The poetic scenery in Mai Chau
The cheapest way to travel from Sapa to Mai Chau is by a passenger bus. It takes about 10 hours and a half, and the price is about $25.
If you want to save time, you can rent a car to drive. It takes about 5 hours, and the price ranges from $30 to $45.
Hope that you can conveniently prepare well for your trip to Mai Chau with our suggestions. For more information about Mai Chau, please visit our website. If you have any questions, feel free to contact us. Share this article if it's useful for you. Have a nice trip!