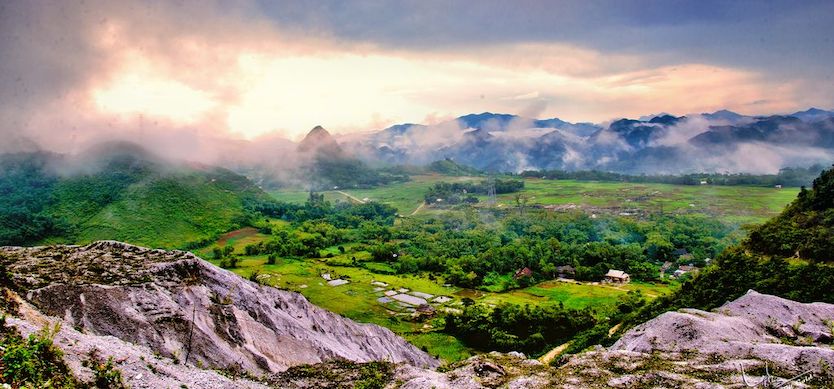 Located in Hoa Binh province, Mai Chau is one of the best places in Vietnam to immerse in nature and discover the daily life of Thai people.
Although Mai Chau has not many beautiful tourist attractions as its "neighbor" - Moc Chau, this valley still appeals to a lot of travelers and backpackers due to the poetic beauty, fresh air, rich culture, and unique cuisine. Hopefully, our travel guides below will help you have a great trip to Mai Chau.
When is the best time to go to Mai Chau Vietnam
When to visit Mai Chau Vietnam probably is the first and the most common question of tourists who are planning to take the best Mai Chau tours.
As the gateway to the Northwest of Vietnam, the climate of Mai Chau has a substantial impact of the tropical monsoon with two distinct seasons, including the rainy season (from May to October) and dry season (from November to April next year).
To answer your question when to go Mai Chau Vietnam, we have two options for you.
From October to December: During this period, Mai Chau starts to fall into winter, when the atmosphere is so pleasant and the peach, plum blossoms begin to bloom, creating an impressive scenery.

March and April: This is the time of "ban" flower and many exciting festivals of ethnic minorities, so this period is also the ideal time for you to visit the beautiful Mai Chau valley.
Getting around Mai Chau
Walking
Lac and Pom Coong villages are close, so walking around these locations is the fastest way to discover a peaceful Mai Chau. However, to further destinations, walking is not a good idea, and you should choose another mean of transportation.
Cycling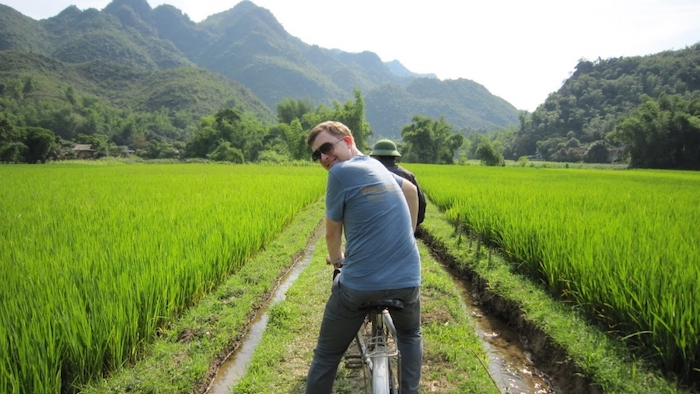 Biking around Lac village
Taking a Mai Chau cycling tour is also a popular choice for many tourists to explore this valley. What is better than free riding while enjoying the fresh air and stunning landscape of Mai Chau?
Electric car
Mai Chai now offers the electric car to take visitors around the valley. The price of renting an electric car is quite reasonable. If you want to rent for a whole trip or go further, you can deal directly with the driver.
Where to stay
Like other tourist destinations, Mai Chau also offers many homestays and hotels to meet the needs of visitors, so you don't need to worry about this problem. Most of hotels and homestays here have a stilt-house style which is very impressive, especially to foreigners.
One unique thing in Mai Chau is that you don't have to book accommodation in advance because most tourists stay here only for one night, and then they continue to visit Moc Chau or return to Hanoi.
However, if you go in a large group, about 20 people or more, you can also book in advance for sure. The price for budget accommodation ranges from VND 50,000-100,000/person/night.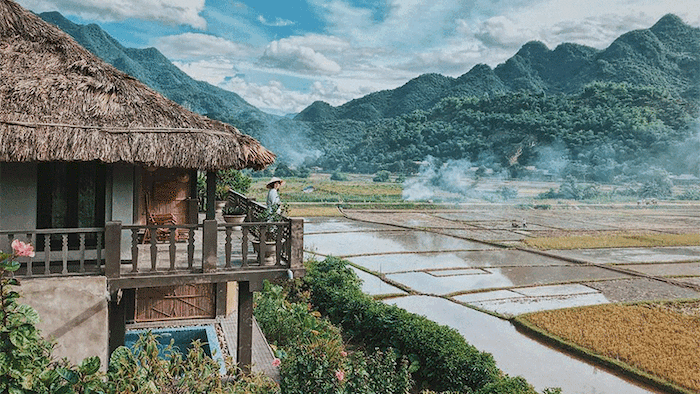 Staying in Mai Chau resorts
Places to visit
Lac village
This 700-year village is home to 5 groups of Thai people, namely Ha, Lo, Vi, Mac, Loc. Previously, they only earned a living by growing upland rice and weaving, but now, tourism potentials have been developed, and the name of Lac village has become a key tourist area of Mai Chau.
Pom Coong village
It is an attractive destination of Mai Chau due to traditional culture and rustic life of local people. Along with Lac village, Pom Coong is the best place for tourist to learn about the lifestyle of ethnic people, enjoy specialties, and buy unique souvenirs.
Relics
Mai Chau has 12 remnants, of which the Ministry of Culture, Sports and Tourism recognizes 5 ones, including Khoai cave, Chieu cave, Nhat cave, Lang cave, and Mo Luong cave. Mai Chau will definitely bring visitors the unforgettable experiences that only exist here.
Enjoying local cuisine
Sticky rice
It is one of the most famous specialties of Thai people. The local people grow glutinous rice on the terraced fields in the middle of the valley, so it is more fragrant than other types of rice. Sticky rice cooked with some natural ingredients such as baby jackfruit, green rice, and green beans looks very eye-catching.
Bamboo-tube rice
The secret of this attractive dish is the incredible upland rice. People after soaking the rice overnight will mix it with coconut, put in the bamboo tube, and then grill on the fire. Bamboo-tube rice is most suitable to enjoy with pork or salt sesame.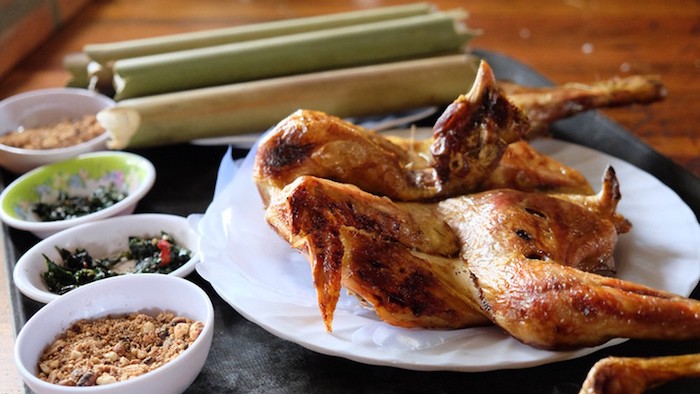 Bamboo-tube rice and grilled chicken in Mai Chau
Bitter bamboo shoots
It is a must-try dish in Mai Chau, which can be processed into many dishes like fried, boiled, or baked, etc.
Hill chicken
Marinated with the unique spices of the Thai people and grilled on charcoal, chicken in Mai Chau appeals everyone to try. Grilled hill chicken is often favorable with sticky rice or bamboo-tube rice.
Other delicious dishes that you also should try when traveling to Mai Chau are Muong pork, grilled fish, Mai Ha wine, and grilled pork skewer, etc.
Mai Chau with breathtaking scenery, rich culture, lovely people, and unique cuisine is indeed an ideal destination for your holiday in Vietnam. If you want to read more about Mai Chau tours and travel guides, please visit our website. Thank you and have a great trip!