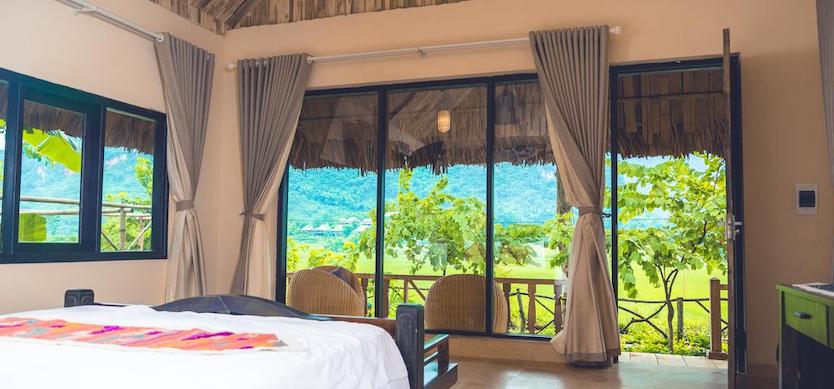 Are you a nature lover and explorer? Then Mai Chau will comfort you with the unique scenery, of which Mai Chau Nature Place is a highlight you should stay in here.
Recently, Mai Chau has become a favorite spot of domestic and foreign tourists on tour from Hanoi. It is a vast area with the existence of many ethnic groups living and developing.
However, it's not difficult to reach and discover. If you want a peaceful and relaxing space in the North, spending the weekend staying here will be a wonderful experience for you.
Mai Chau Nature Place is one of the best spots in Mai Chau Hoa Binh with a beautiful location. With a view of the fields and hills, this place is an ideal destination you should visit. Although it is a high-class resort, the price is very affordable.
Where is Mai Chau?
The isolated Mai Chau and the nearby villages are in a valley which is around 139km from Hanoi and only 150 meters above sea level.
Nestled between two towering cliffs and surrounded by emerald green paddies, it is an enchanting sight as you approach down the windy cliffside road, the villages and surrounding countryside present an idyllic rural scene that could easily charm you into staying longer than intended.
Mai Chau Nature Place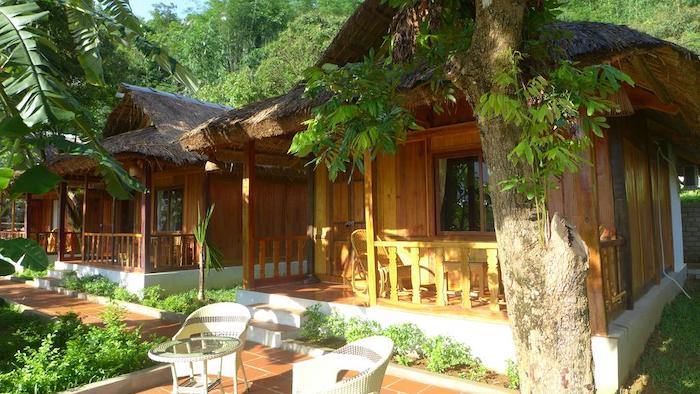 Mai Chau Nature Place
Mai Chau Nature Place was established in 2010 by a local Vietnamese who has many years of experience in Vietnam tourism industry. It was only possible to implement through the support of his families and friends, his passion, and desires for traveling.
Mai Chau Nature Place is the first and only tour organization that offers organized Mai Chau day tour from Hanoi. In the beginning, things were difficult but with time, hard work, and customers' feedbacks, Mai Chau Nature Place has grown and improved its services and accommodations to become the best choice for your travel to Mai Chau.
Goal and Missions
Its purpose is to keep, show you the authentic and real culture of the local people's lives, preserve the environment, and provide you with the most comfortable accommodations.
Located in the heart of the rural village, the resort offers guests beautiful views of the mountains and rice fields. These things have made it unique and recommended by travelers from all over the world and by sources such as Trip Advisor, Lonely Planet Guide Book.
After many years, Mai Chau Nature Place continues to improve its services to become the best and first tour organizer for daily groups and Mai Chau private tours. Mai Chau Nature Place helps localities to protect their culture, customs and make your stay as enjoyable and meaningful as possible.
Rooms and services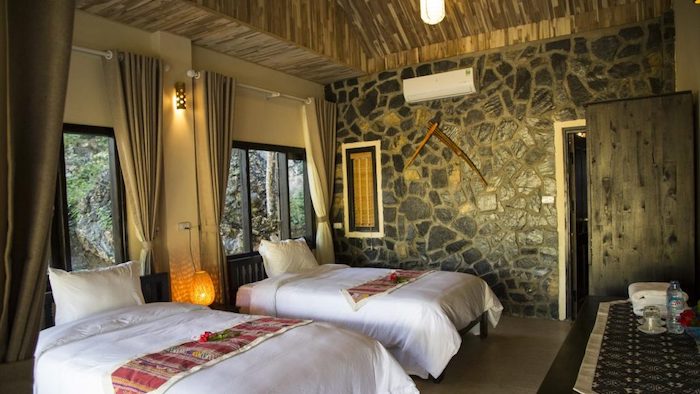 Rooms of Mai Chau Nature Place
Currently, the resort has 2 dormitories, 14 rooms, and 2 restaurants that will bring you a great time with your family during your stay in Mai Chau.
Built with local environment-friendly materials combined with modernity such as wood, bamboo, and palm leaves, the rooms provide you with full of facilities such as free wifi, air conditioning, heating, and wake-up service.
Besides, the hotel offers other convenient services for guests staying here such as 24-hour room service, laundry service, airport transfer, restaurant, coffee shop, and bar, etc.
Dining
The BBQ Garden and Grotto Cafe face the rice fields where you can enjoy your morning coffee, breakfast, daily outdoor BBQ dinner, and watch the Thai's traditional performance.
They open from 7.00 AM till late with Vietnamese, Italian pizza and food with our self-made sandwich by the traditional Pizza oven. The BBQ party is open every day with lots of local BBQ styles. You will enjoy the self-service and the Thai classical dance, drink the traditional wine "ruou can."
Activities
With car rental service or bus of route Hanoi - Mai Chau, you will experience travel at famous attractions near the hotel. In addition, Mai Chau Nature Place also organizes entertaining activities, gala dinner organization, team-building activities, and campfire, etc.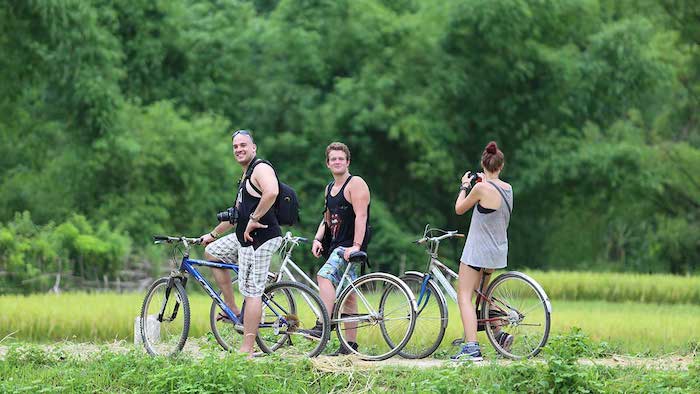 Biking in Mai Chau
With years of experience, Mai Chau Nature Place has become a professional tour organization with an office in Hanoi to give you convenient access to book your Mai Chau valley tours.
Let's travel with Mai Chau Nature Place for the most enjoyment, knowledgeable tour guide, friendly service, and delicious local food at a reasonable rate. For further information about types of rooms and tours here, feel free to contact us or visit our website. If you find the article useful for you, don't hesitate to like and share it with others. Thank you.