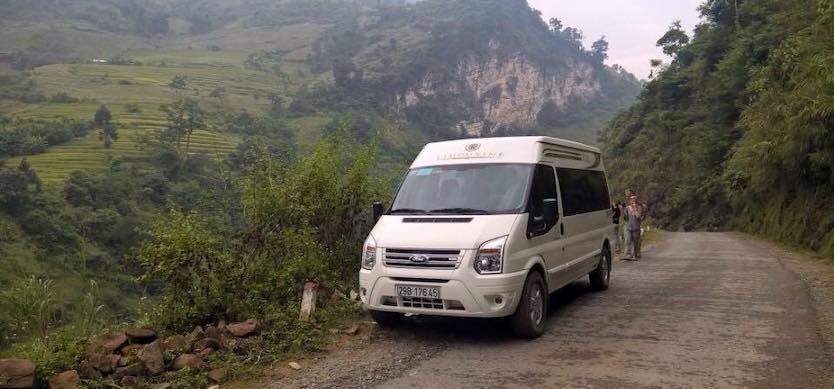 Going to Mai Chau, what will be more excited than driving a car and exploring any spots that you want? Here is the guide for you to make a car trip to Mai Chau.
About 150 km from Hanoi, it is quite easy for tourists to discover Mai Chau by self-drive car. The beautiful natural scenery with full of exciting experiences along the way will bring an unforgettable holiday.
Must-know things before traveling Mai Chau by car
To explore all the beauty of Mai Chau, you have to spend at least 3 days 2 nights. However, if you don't have much time, only have two days at the weekend, you need to prepare a detailed itinerary so that you will not miss out the best experiences here.
The schedule includes departure date, arrival date, destinations, activities, what to eat, etc. You can search the internet or ask your friends who have visited Mai Chau to know more travel experiences.
Pack your Backpack
You should prepare a lightweight backpack but still have all the necessary items such as clothes, identification documents, cameras or smartphone, and first aid kit. It is a good idea to have a list of must-bring things to avoid forgetting.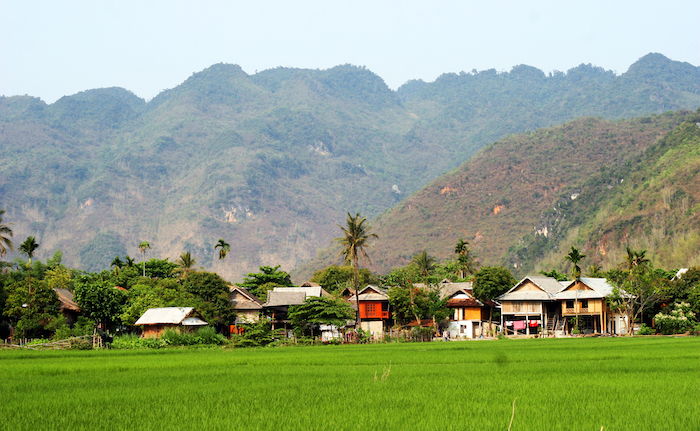 Lac village of Mai Chau
Check your car carefully before going
The car is like a home, protecting you throughout 160 km from Hanoi to Mai Chau, so make sure that the car is good enough when going and returning. You need to check lights, brakes, spare wheels carefully before departing.
Don't forget to bring the camera
It is a pity if you forget to bring a camera to capture the beautiful landscape and moment during your trip. Some of the best destinations in Mai Chau for you are Thung Khe pass, Mo Luong and Chieu caves, Lac village, Pom Coong village, etc.
Explore the local cuisine
Your best Mai Chau tour would not complete without enjoying the unique dishes of ethnic people. At each place you visit, let's spend a little time resting and enjoying specialties of Mai Chau such as bamboo-tube rice, upland sticky rice, Muong pork, bitter bamboo shoots, and Mai Ha wine, etc.
Suggested itinerary for 2 days discovering Mai Chau by car
Day 1
The car will arrive in Lac village around 10 am – 10.30 am. Firstly, you should rent a homestay to take rest and stay overnight. The place offers many homestays at an affordable price, so you do not need to worry about this problem.
Lac village
It is the living place of Black Thai people. They mainly earn their living by upland rice cultivation and weaving brocade. Walking around here, you will see the shops selling handicraft products of ethnic people. You can take a look and buy some items as souvenirs.
After the first spot, you'll have lunch and enjoy the local specialties.
Pom Coong village
It is home to Muong and Thai people with the rustic stilt houses, green rice fields, and beautiful streams. You will enjoy the peaceful and relaxing atmosphere that is rarely found elsewhere.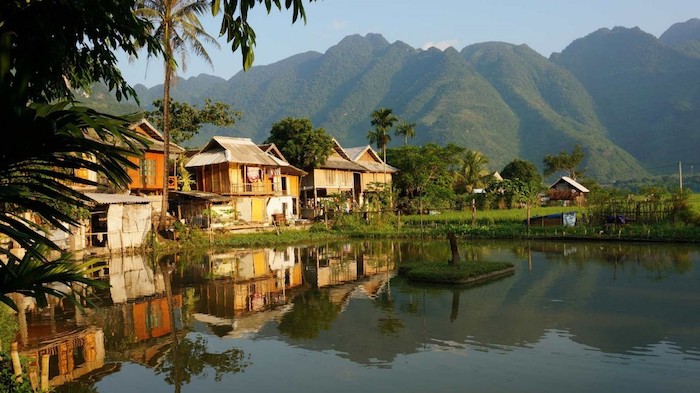 The poetic scenery in Mai Chau
Thung Khe pass
The next destination is Thung Khe pass where is one of the greatest sightseeing spots of Hoa Binh.
Fascinating activities
In the evening, you should not miss the events of fire camping, cultural performances of local people, and bamboo dance, etc.
Day 2
Pa Co market
It is the best place to explore the culture, enjoy delicious dishes, and buy some handicraft products of ethnic people. The market only opens every Sunday.
About 40km from Mai Chau district, Pa Co market is an ideal destination for those who want to learn more about the culture of ethnic people living in Northwest upland of Vietnam.
For ethnic groups, going to the market is an irreplaceable activity in their daily life. They go to the market not only to exchange goods but also to talk and meet each other after a hard-working day. The young people come here to date.
Luong and Chieu caves
They are two of the most famous and beautiful caves of Mai Chau valley. The caves impress tourists by incredible stalactites with a variety of shapes and colors.
Hang Chieu is a famous cultural attraction of Mai Chau. From Mai Chau town, you have to conquer 1200 steps to reach the cave. Every afternoon, when the sun shines into the caves, countless stalactites sparkle like paradise. You can also enjoy the panoramic view of Mai Chau town from here.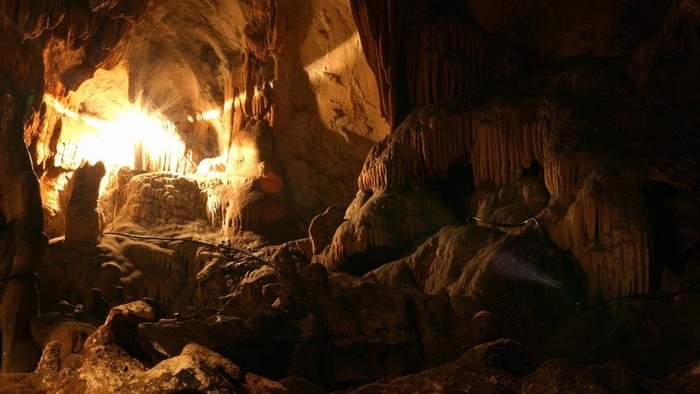 Chieu cave
The above is all our guides on discovering Mai Chau by self-drive car. For those who are planning to visit Mai Chau, hope that these guides will be helpful for you. If you want to read more about Mai Chau Vietnam homestays and travel guides, please visit our website. Like and share if this post is useful for you. Have a nice trip!