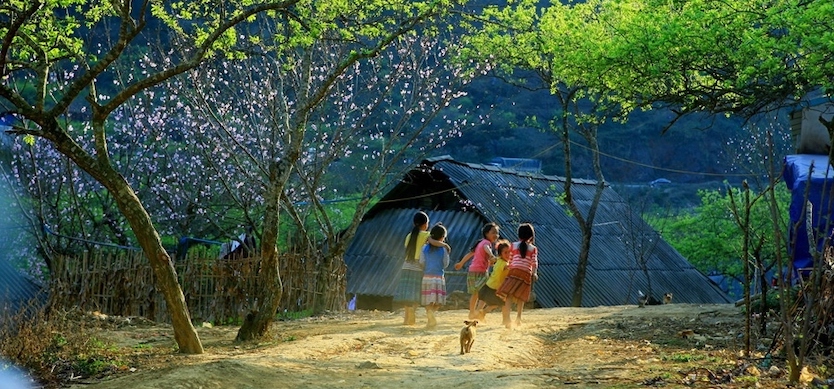 Situated in the mountain and forest space, Mai Chau is an ideal spot for those who love to explore nature, culture and enjoy the peaceful beauty of Lac village.
Where is Mai Chau?
Mai Chau is a district of Hoa Binh province, just some 140 km from Hanoi to the west and 60 km from Hoa Binh city. Mai Chau district lies in the heart of a beautiful valley that is home to Thai ethnic minority and some others.
Situated at high latitudes of Northwest region, Mai Chau is endowed with cooling weather all year round and beautiful mountainous landscapes.
The residents here are almost ethnic people. Stilt houses bordering both sides of the roads and dotting at the foot of the hill are the eye-catching of Mai Chau.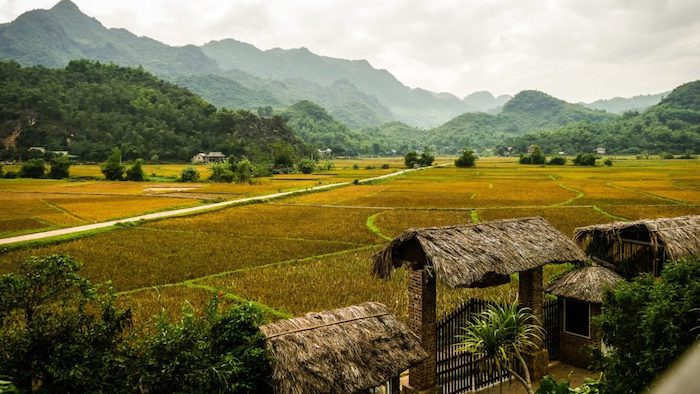 Mai Chau valley
How to visit
Mai Chau is about 140 km away from Hanoi and 60km from Hoa Binh city to the northwest, so to move to this highland district of Hoa Binh, you can choose to go by motorbike or passenger car.
From Hanoi to Mai Chau, you can follow 2 routes.
Route 1: Hanoi center - Nguyen Trai - Ba La (Ha Dong) - Xuan Mai - National Highway 6 - Thung Khe pass - Tong Dau junction - Mai Chau

Route 2: Hanoi center - Tran Duy Hung - Thang Long National Highway - Xuan Mai - National Highway 6 - Thung Khe pass - Tong Dau junction - Mai Chau
From Hanoi, tourists can catch a passenger car at My Dinh and Giap Bat bus stations (with a fare of about VND 100,000 - 120,000/guest) to Tong Dau junction and then take a motorbike taxi to the town which is about 5km away.
Mai Chau district is quite small, so you can rent bicycles to visit around the villages. In most of the stilt houses in Lac village, they have bicycle rental services.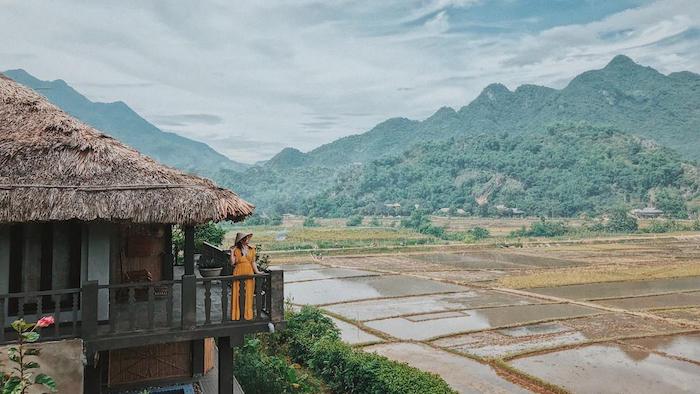 Staying in Mai Chau
Best time to visit
Mai Chau is a suitable destination in all seasons of the year, so you can refer to the different beauties of each season in the place as the following.
November - February: Winter with cold air, cherry blossoms, and plum blossoms in every corner of Mai Chau.
March - April: The weather is cooling and pleasant with the "ban" flowers blooming.

May - August: The climate is quite cooling without flowers but plums, and peaches for you to pick. In early September, there is the Independence Day attracting thousands of domestic and foreign tourists to attend.
The life in Mai Chau
The houses are quite large with palm leaf roofs and polished bamboo-slat floors. The kitchen is in the center of the home; the cooking, as well as the making of the colorful brocade, the material used by Thai minority to make their clothes, takes place in the kitchen. The windows are large, usually decorated with patterns. Each house also has a pond to breed fish.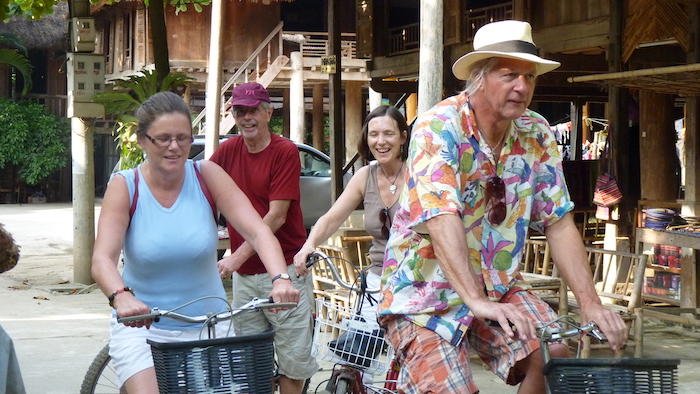 Biking in Mai Chau
The Thai women are masterful weavers who ensure that there is plenty of traditional style clothing to buy in the village center. You will see women weaving on looms under or inside their houses in the village. Much of the silk looks similar to that seen in Laos.
The Sunday market brings a lot of people into town. People from different minorities living in the mountains come to Mai Chau market to sell their specific products, from honey, bananas, corn to brocades made by skilled Thai women.
The Sunday market is also an occasion to enjoy traditional Thai dishes and to participate in traditional dances.
Located near the national nature reserve of Pu Luong, Mai Chau can be an ideal destination for some Mai Chau biking tours to the villages around, staying overnight on the traditional houses of the H'Mong and the Thai. Worth a guided trekking tour there.
There is nothing quite like a trekking tour to Mai Chau or Mai Chau tour 1 day as you can both enjoy the beauty of landscapes and savor typical cuisines of ethnic people with their hospitality. If you need further information, don't hesitate to let us know or visit our website. Please like and share the article if it's useful for you. Thank you.