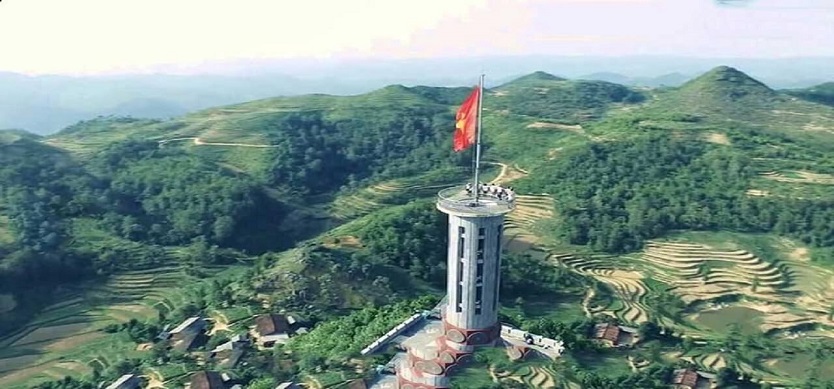 Mai Chau is the mountainous district of Hoa Binh province. It is about 135 km from Hanoi, Mai Chau is known as the very first stop in Vietnam tourist map in the northwest. Mai Chau flagpole is one of the destinations in Mai Chau that you can visit and see the fabulous scenery on your Mai Chau day tour.
Mai Chau landscape
Mai Chau is a small valley lied at the foot of Thung Khe Pass with high mountains surrounding, Mai Chau owns the natural treasure with a temperate climate and lush views all year round. So it is lucky for you to go to Mai Chau at any time of the year. This is the homeland of Thai ethnic who live there for generations, in general, they still hold their own traditional cultural values.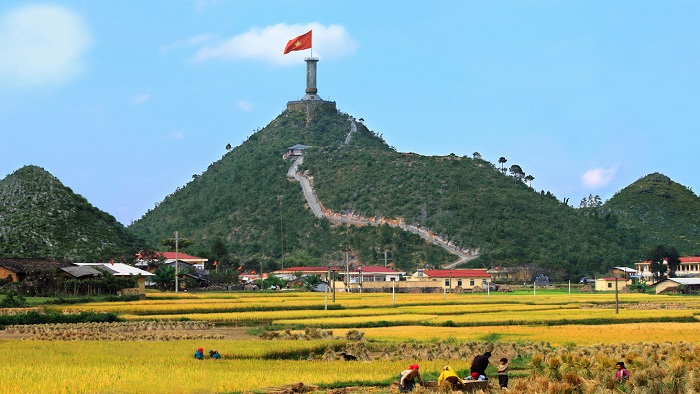 Mai Chau flagpole
After throughout Thung Khe Pass, you will see Mai Chau flagpole, it is known as the attractive destination welcomes a lot of tourists each year. When you stand at Mai Chau flagpole, you can see the whole overview of the lush green valley and the clouds playing around on the peaks. You will be surprised by the charming sunshine above your head. It is time for you to take the beautiful pictures to grab the priceless memorable moments.
There are so many activities you can do in Mai Chau. You are supposed to book a tour of Lac village and Pom Coong village to learn the daily life of Thai people. It is worth for you to push yourself into the strange culture to feel clearly the local cultural identity. Visiting those villages, you will have a chance to live and work with Thai families, learn how to sew a Pieu scarf -the traditional scarf of Thai women or buy yourself a souvenir.
Enjoying the local dishes of Mai Chau
Visiting Lac village and Pom Coong village, local people will feast you the bamboo tube-rice with barbecue meat, it is the traditional dish of Thai people to invite the deary guests. Besides that, you also have chances to enjoy the other delicious traditional dishes such as chicken wrapped leaves baked, steamed fish, fried bamboo, sticky rice, etc.
Grilled pork skewers are a must-try dish you have to try when coming to this place. After wild pig meat is crushed into small pieces, they are marinated in a variety of seasonings such as salt, chili, garlic, wild leaves, etc. Then they will continuously be skewed and grilled on the charcoal stove in 30 minutes when the meat changes golden. You finally can enjoy this dish.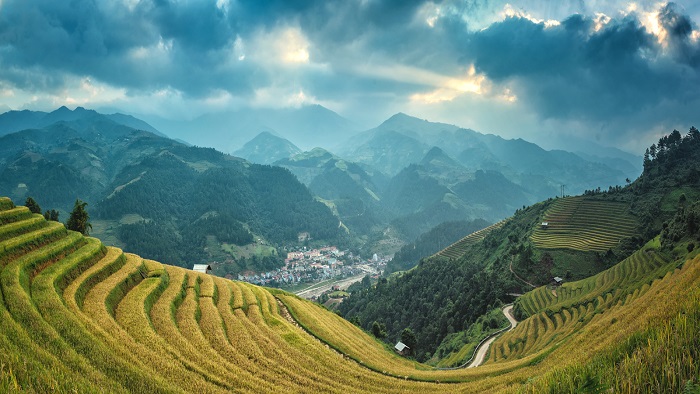 Mai Chau
Other places around Mai Chau flagpole
Chieu cave
This is an interesting tourist destination that you cannot ignore when coming to Mai Chau is Chieu cave. It is lied in the southwest of Mai Chau town, the cave gate is about 10-15 meter of wide. It is wide enough for a large number of tourists visiting.
It is considered as a black pearl of Mai Chau's forest and mountain, Chieu cave is a famous cultural destination attracting a lot of tourists in Mai Chau. From Mai Chau town, you have to get through 1200 stone steps to come to the cave gate. When the sun shines on in the afternoon, the stalactites in the cave sparkle like stars in the galaxy.
Thung Khe Pass
The first destination when you just come to Mai Chau is Thung Khe Pass. It is considered the northern Europe hill of Mai Chau, this is the place you have to put your backpack down when traveling to Mai Chau. Visiting Thung Khe Pass, you will feel like lost in a Europe city in the winter with the space of mountains and mist hovering around.
On the top of Thung Khe, you can see the whole valley at the foot of the pass, pick up the cool winds clapping on your face, and listen to the sound of winds. This is one of the most beautiful places in Mai Chau.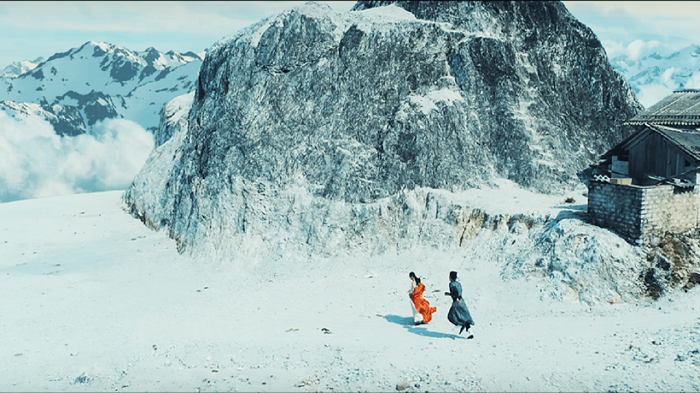 Thung Khe pass
Go Lao Waterfall
Go Lao waterfall is a small waterfall in the area of Mai Chau district which is also one of the new interesting destinations in Mai Chau. The waterfall running into Hoa Binh lake creates a magnificent scene for those who want to capture the unique pictures. Go Lao waterfall is also known as Go Mu waterfall, this is a beautiful waterfall located in Phuc San commune, Mai Chau district, Hoa Binh province. it is about 15 km from Mai Chau town, the waterfall appears like the long hair of Thai girl combing her hair in the forest.
Mai Chau, Hoa Binh is one of the new emerging destinations in the north of Vietnam. This is the rich cultural and beautiful land that you should note in your trip list. If you are interested in this information about Mai Chau day trek or have any wonders, please contact us.