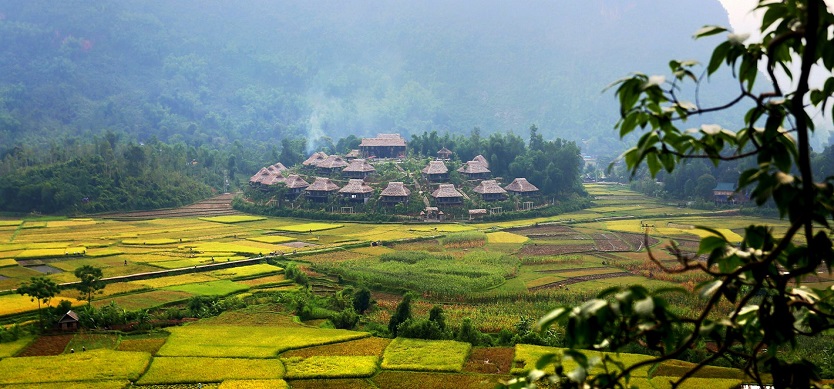 Mai Chau is the perfect respite the from craziness of Hanoi. It's a serene, relaxing rural idyll, and the vivid green paddy fields will match your picture postcard fantasies of the Vietnamese countryside. It's a good way to meet one of the ethnic minority groups in a setting that's neither too touristy nor too inaccessibly off-the-beaten-track. And a bamboo stilt house really is a pretty memorable place to spend the night. Today, Mai Chau Trek introduce some visiting tips when joining Mai Chau tour.
Best time to visit Mai Chau
It is ok to travel to Mai Chau anytime of the year. Nevertheless, the most beautiful time and best time to visit Mai Chau is from October to November and from March to April. During this time, the weather is so nice, it is sunny but not too hot. In December, January, and February, it is quite cold and has small drizzles.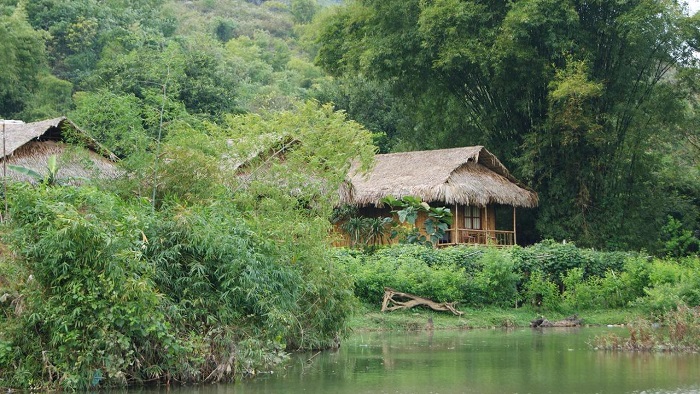 Mai Chau
The ripe rice season in Mai Chau is May and late September. It is also the beautiful time to travel to Mai Chau although the weather at that time is a bit hot. It is a good chance to take great photos.
November to February is the winter time in Mai Chau, the weather is cold during the day with an average temperature of 16 Celsius degree. It is the time to admire the peach and plum blossom. If you travel to Mai Chau in winter, make sure to pack enough warm clothing because the temperature drops significantly at night.
People come to Mai Chau very crowded on September 2nd, it is the time local people celebrate the Independence Tet. It is also an official day-off in Vietnam, so thousands of Vietnamese travelers come to Mai Chau to celebrate this special Tet with local people.
Summertime in Mai Chau starts from May and last to August. The temperature ranges from 25 to 35 Celsius degree. Let's consider to bring along sun protections like hát, sunblock, sunglasses when visiting Mai Chau.
Trekking tours around Mai Chau
In the summer months the 4-kilometre circular walk around the valley floor affords photogenic scenes of villagers working in the fields, ploughing, planting or harvesting the rice; water buffalo are in abundance, as well as chickens, goats, ducks and pot-bellied pigs.
Longer 5-15 kilometer guided trekking tours of various lengths to ethnic villages around the Mai Chau valley are offered by several of the householders in Lac and Pom Coong villages.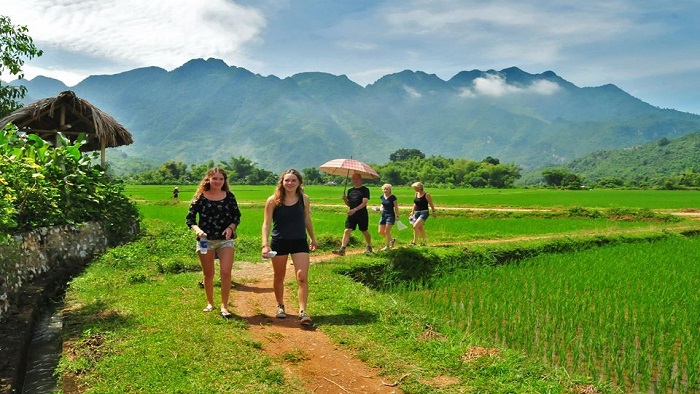 Treking in Mai Chau
Boat trips on the Ma River
Travelling around 15 kilometres south from Mai Chau along National Road 15A in the direction of the provincial border with Thanh Hoa brings visitors to the Ma River at Co Luong village, where boats can be taken to visit surrounding villages. Boats and tour guides may be booked at most ethnic houses or at Mai Chau Lodge.
Things to buy in Mai Chau
The best place to buy ethnic arts and crafts in Mai Chau is in the ethnic villages themselves. As in Hoa Binh, the sale of woven goods has in recent years become a very important source of income to the people of Mai Chau, and indeed with so many attractive fabrics on offer it is hard to resist their engagingly persistent sales pitch. The rice wine in Mai Chau is excellent, particularly when it is pre-mixed with local honey. A large plastic bottle of the local brew should set travelers back.
Entertainment in Mai Chau
Mai Chau Ethnic Minority Dance Troupes
With a little help from ethnic dance practitioners in Hanoi, enterprising individuals from Lac and Pom Coong villages have set up four ethnic minority dance troupes – two in each village – to entertain foreign visitors to Mai Chau. These troupes are on hand at all times of the year to perform a number of traditional Thai dances, culminating in the communal drinking of sweet sticky rice wine (ruou can) through straws from a large pot. Ask at any of the houses for details.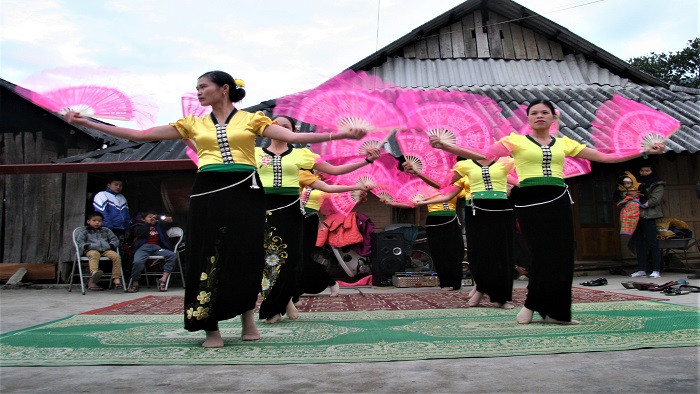 Xoe dance of Thai people
Eating out in Mai Chau
Most visitors to Mai Chau stay in ethnic houses and eat local food cooked by their White Thai hosts; however there is also a good selection of quan com pho in Mai Chau town Main Street. Alternatively at the other end of the culinary spectrum there is always the up-market Lodge Restaurant at Mai Chau Lodge
Mai Chau is always a place to escape the hustle and bustle of the big cities and find yourself the peaceful moments. Here are the tips you should consider before taking a Mai Chau full day tour. If you have any question, please contact us. Thank you!