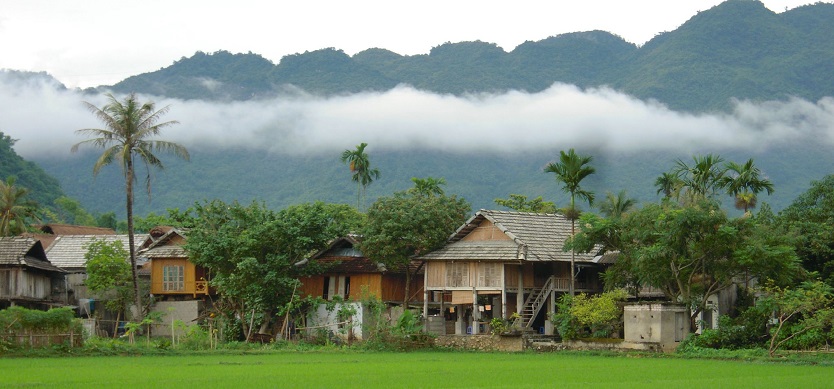 Located in the west of the Peace and adjacent to Moc Chau district of Son La and Thanh Hoa Quan Hoa, Mai Chau valley is the leading destination of many tourists who love the natural beauty and culture of ethnic minorities.
Time to visit
In fact, you can visit Mai Chau in all time in the year; however the best time for traveling in Mai Chau is from October to December or March to April.
From October to February is the winter which Mai Chau will have cold weather with cherry and plum flower blooming.
From March to April has cool weather
From May to August has cool weather which attracted a lot of foreign tourists.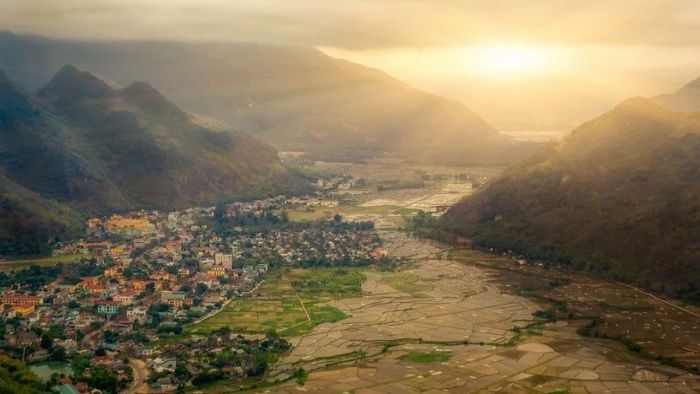 Mai Chau Valley
Transfer
Mai Chau located far Hanoi 140km and Hoa Binh city 60km in the northwest, so you can transfer to the place by bus or motorbike to enjoy Mai Chau tour. However you should rent motorbike from Old Quarter to transfer which you can enjoy the beauty of two sides in the road. If you want to travel by bus, you can catch bus at My Dinh or Giap Bat station with 100.000VND- 120.000 VND/way. The bus will stop at Tong Dau junction and then you can take taxi to town about 5km.
Furthermore, Mai Chau town is quite small, so you can rent motorbike to visit around the town. If you don't want to use the motorbike, you can rent the bike to travel.
The best places to visit
Thung Khe Pass
Thung Khe Pass has an elevation of about 1,000 meters over sea level. Moreover, you can enjoy a lot of street foods such as boiled corn, boiled sugar cane, rice, sesame dots and so on. In addition, you can panoramic entire valley at the foot of the pass in the top of Thung Khe that this is one of the most scenic places in Hoa Binh province.
Lac village
Ban Lac which is also the wonderful place for tourists has over 700 years old. Almost local people in the village are black Thai with rice farming and weaving. The town is considered as the gift of nature for people who love peaceful and quiet place. To explore this village, you can join Mai Chau day tour from Hanoi.
When visiting the Lac village, you can enjoy a famous types of hotel in there is homestay. In the village has over 30 homestays which are spacious, airy to do service, catering to the needs of tourists. Furthermore, you can stay in house on stilts where you can find more about old architectures of the house. When walking around the village, you will see the different thing with other tourism place that the local people will not require or invited you for buying the products. Furthermore, the village has a lot of unique products such as scarves, tutu, Thai, lovely wallets, bows, crossbows, flute, gong buffaloes, gongs, horns which you can try or take the take pictures.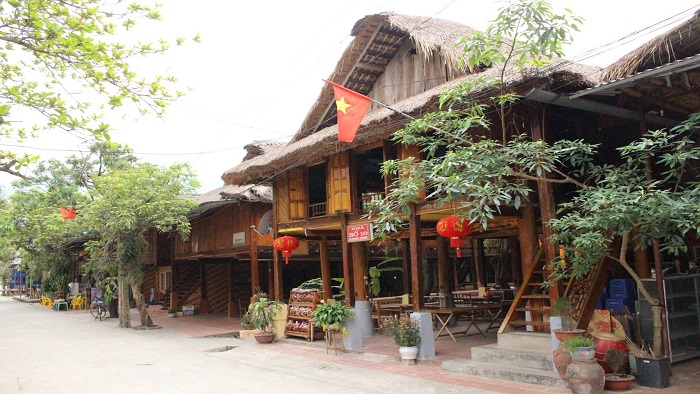 Lac village
Poom Coong Village
The village looks like other villages in Muong peoples; however, Muong people always live in river and Stream River as well as big farm in the front of the house.
The most attracted thing of Pom Coong village is clean space, fresh water sources, the water works, the toilet is made methodical giving visitors a sense of fresh and safe. Besides, garbage here is classified, in containers and will be processed. So, come here, you will feel the freshness of the sun and the peace of life.
Mo Luong Cave
Located the mountains system of Pu Kha in Mai Chau town and far about 2 km from the Lac road, Mo Luang Cave is an ideal tourist destination for tourists who love to explore and find strange feeling to Mai Chau. Furthermore, Bo Luong is another name of Mo Luong cave which was named by White Thai peoples. The cave has 4 main mines which are famous for the stalactites systems into unique shapes. Moreover, it also the historical place of Vietnamese people.
Chieu Cave
Chieu Cave located in the top of Pu Kha Mountain. The cave has the Chieu name because sunlight shines will directly into the cave; the light rays do add more splendors of the stalactites, creating a beautiful scene as Penglai. Chieu cave is quite wide and divided into two floors, the grotto is relatively flat and cool. The cave is the beautiful sparkling stalactites and magical forests. The deeper into the cave, the more you'll really surprised by the stunning beauty of the forest and the great period stalactites blooming. All general conditioning make up the landscape of monumental paintings that nature presents to Mai Chau.
Hotels in Mai Chau
There are 2 famous villages in Mai Chau including La village and Pom Coong village. Therefore, you can easy to find suitable homestay or hostel for stay. However if you don't want to stay in cheap hostels, you can come back Mai Chau town to overnight in luxury hotel.
House on stilts
There are some famous and popular hostels in Mai Chau
House on stilts Number 1
Address: Lac village, Mai Chau, Hoa Binh
Tel: 0915 833572 – 0166 3245556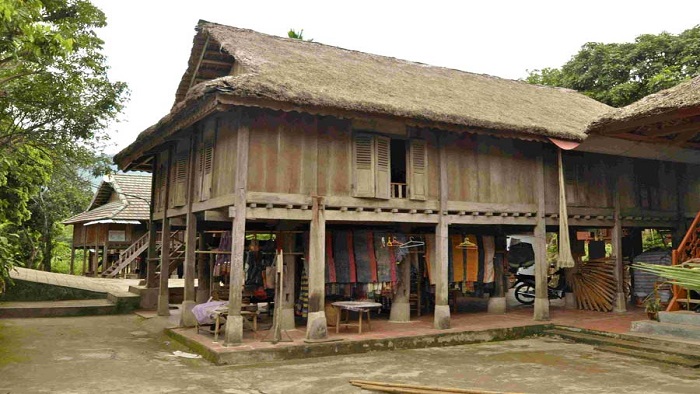 House on stilt No1
House on stilts number 2
Address: Lac village, Mai Chau, Hoa Binh
Tel: 0974 604719
House on stilts number 3
Address: Lac village, Mai Chau, Hoa Binh
Tel: 0932 541114
Anh Dao hotel
Address: No.4 zone, Mai Chau Town, Mai Chau, Hoa Binh
Tel: 0218 3867231
Mai Chau guesthouse
Address: Mai Chau town, Mai Chau, Hoa Binh
Tel: 0218 3867262
Hoa Mi hostel
Address: No. 70. 2 Zone No., Mai Chau town, Mai Chau, Hoa Binh
Tel: 0944 838454
Mai Chau is a wonderful place for summer vacation in northern Vietnam, it is not only a place for relaxing but also a great destination for exploring and adventuring. If you have any question about Mai Chau valley homestay, let's contact us to get more detailed. Thank you!