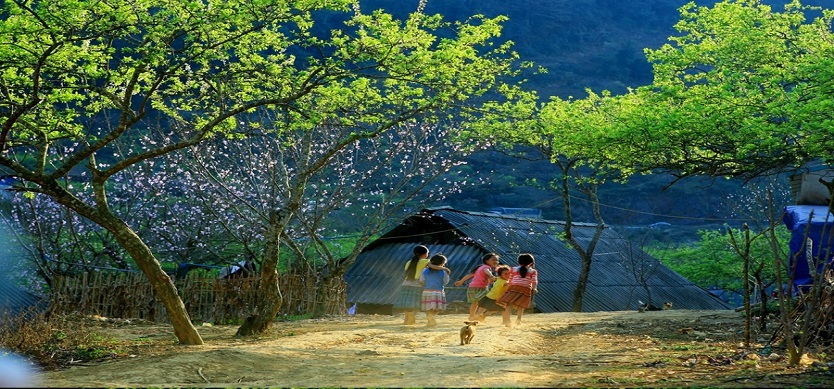 Whether you love to discover the new things, experience adventure activities or just want to take a rest after hard-working days, Mai Chau will definitely satisfy you.
Mai Chau overview
Mai Chau is a mountainous district in Hoa Binh Province. To the south is bordered by Thanh Hoa Province, to the east Tan Lac District, to the north Da Bac District, and to the west Van Ho District of Son La Province. The terrain of Mai Chau is dominated by mountains and valleys. The district has a small town located in a Mai Chau Valley called Mai Chau Town. Situated deep in the town, Lac and Pom Coong Villages are two most famous community tourist destinations of Hoa Binh in general and Mai Chau in particular.
Mai Chau has the total of 12 relics, 5 relics of which have recognized by the Ministry of Culture, Sports and Tourism; they are Khoai Cave, Chieu Cave (Mai Chau Town), Nhat Cave, Lang Cave, and Mo Luong Cave (Chieng Chau). Mai Chau is also a place to preserve folk arts and typical cultural identities of Thai and Mong ethnic groups. Visiting Mai Chau, travelers will have the chance to participate in many unique festivals of local people such as "Cau Mua" (pray for rain festival), Cha Chieng Festival of Thai people, Gau Tao Festival of Mong people or visit the community tourist spots like Lac Village, Pom Coong Village, Van Village, Buoc Village,… Mai Chau will definitely give tourists the most relaxing and comfortable moments that cannot be found elsewhere. The landscapes, people in the town will make you remember forever.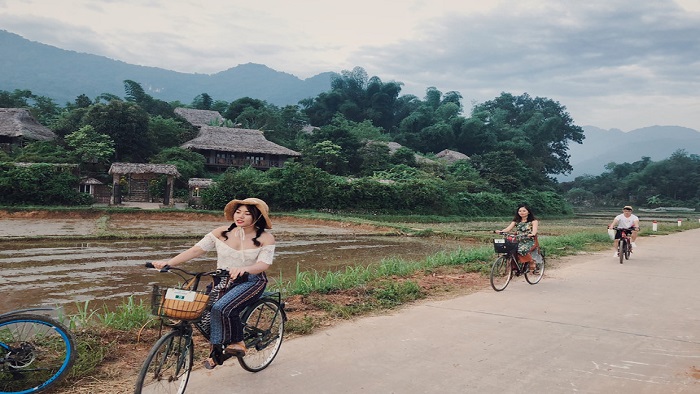 Mai Chau
An ideal destination for nature lovers
Mai Chau is one of the best destinations on Northern Vietnam for those who love nature, simple things and want to escape the hustle and bustle of urban life. Only 2-hour drive by car, Mai Chau Valley is the home to Thai ethnic group. They mainly live in Lac, Pom Coong, and Van Village. If you are planning to travel to Northern Vietnam, do not miss out Mai Chau to learn more about rustic, peaceful life of the ethnic minorities.
A destination for those love explore culture
If you prefer to explore the cultures, traveling to Mai Chau and staying at homestays of locals is the best way. Not too far from Hanoi, you will be immersed in a peaceful life that is totally different from the noisy, stressful life in the city. The life in here is so quiet and tranquility like a water-color painting drawn by a talented painter. Most of people living in Mai Chau town are Thai people who still preserve their traditional living habits and beautiful stilt houses. Still retaining the long-standing cultural values, Muong, Dao along with Thai ethnic groups have created a unique cultural identity of people here.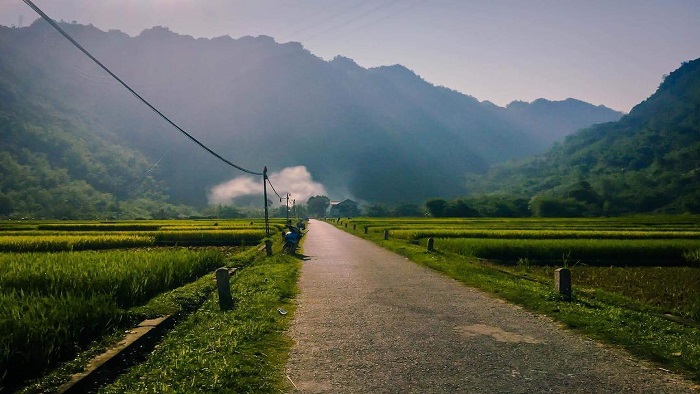 Mai Chau
A destination for adventure lovers
One of the popular adventurous activities of many tourists in Mai Chau is taking a Mai Chau trek tour. You will have the opportunity to visit the villages, majestic caves, learn more about the culture, the lifestyle of the ethnic groups or build campfire at night.
Best place for team building activities
Flat terrain and spacious space make Mai Chau become an ideal destination for team building activities or outdoor activities for family such as tug of war, football, rafting on Da river, biking, campfire, and sightseeing. After playing games, tourists can visit the famous attractions in Mai Chau such as Khoai Cave, Chieu Cave, Bo Doi Cave, Lac Village, Chieng Chau, Buoc Village,…
Some popular activities that tourists can try in Mai Chau:
- Trekking or taking Mai Chau biking tours around Lac, Pom Coong, Van or Nhat Village (4 of the most famous villages in Mai Chau)
- Visit Chieu, Mo Luong Cave
- Enjoy cultural performances of ethnic people at night
- Motorcycling to visit the further destinations like Da River or Pu Luong Nature Reserve
- Visit Pa Co Market – the unique market of H'mong people. The market is only opened on Sunday morning every week.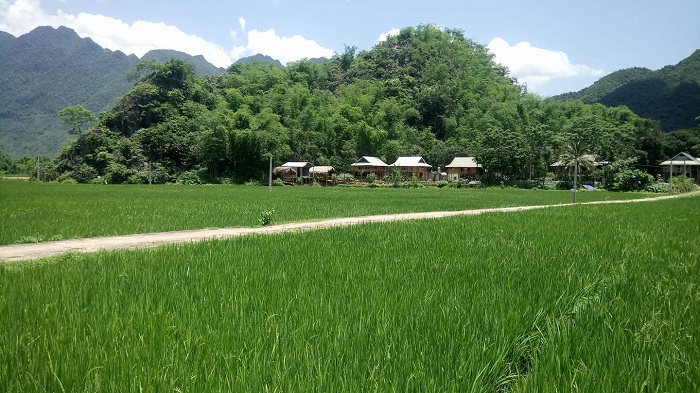 Mai Chau
When is the best time to visit Mai Chau?
Mai Chau in each season has its own beauty. No matter when you travel, Mai Chau will give you a sense of peace that cannot be found at other tourist destinations.
From November to February next year: the time of transition between winter and spring, the average temperature in Mai Chau is about 16 degrees; it is quite cold. If you travel to Mai Chau during that time, remember to bring coats, scarf, and wool at to keep warm. At this time, the peach flower starts to blossom so you can feel free to see and take the nice photos.
March, April, May, September, and October: The weather is the most pleasant, the average temperature around 18 – 25 degrees. This is also the season of Ban flower – the typical flower of Northern mountainous areas.
From June to August: it is quite hot, the average temperature is 25 – 35 degrees so you should bring hats, sunglasses, sunscreen if you travel at this time.
With the poetic, peaceful landscape, a rich culture, and friendly people, Mai Chau is really a destination should be on your bucket list. Read more about Mai Chau tours or travel guides, please visit our website. Have an enjoyable trip!