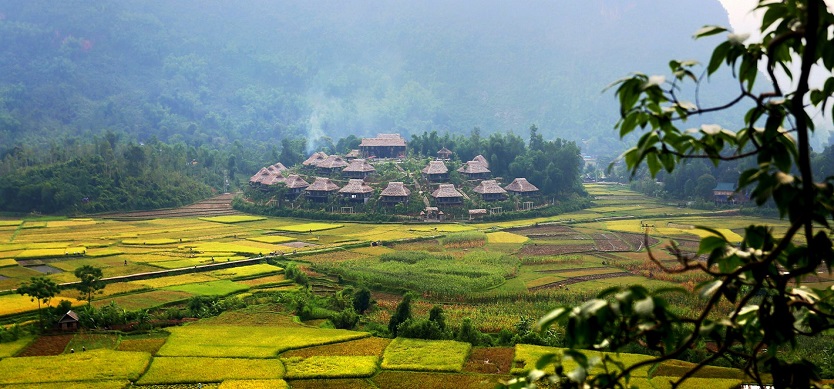 Mai Chau is an attractive tourist destination in the northwest of Vietnam. Coming here, you will have chances to enjoy the fresh and cool atmosphere and admire the idyllic but majestic landscapes. Mai Chau not only attracts tourists by the beautiful mountainous scenery but also seduces them by the friendly and kindful characteristics of local people.
Where is Mai Chau?
Mai Chau is a mountainous district of Hoa Binh province in the northwest of Vietnam. It is adjacent to Pu Luong Nature Reserve of Thanh Hoa province and Moc Chau plateau of Son La province. This district is about 135 km from Hanoi in the southwest.
Mai Chau is the heart of a beautiful valley that is a world away from the hustle of Hanoi. The modern village is an unappealing sprawl, but as you emerge on the rice fields and rural living is transformed into a real paradise. It's a stunning area, and the most people here are ethnic White Thai, distantly related to tribes in Thailand, Laos and China.
Although most local no longer wear traditional dress, the Thai women are masterful weavers who ensure that there is plenty of traditional – style clothing to buy in the village center. You will see women weaving on looms under or inside their houses in the village. Much of the silk looks similar to that seen in Laos. The Thai of Mai Chau are less likely to employ strong-arm sales tactics than their H'mong counterparts in Sapa: Polite bargaining is the norm rather than endless haggling.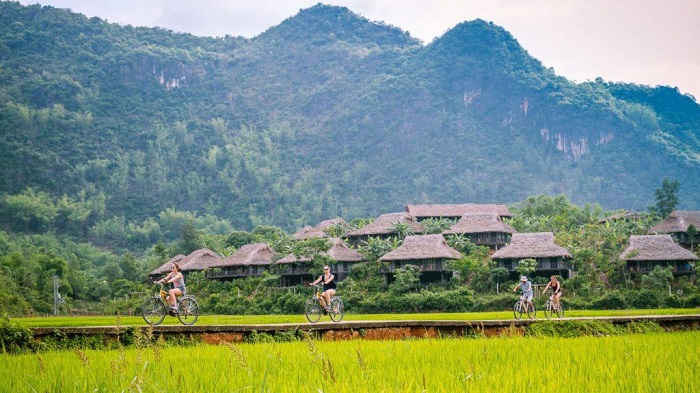 Mai Chau
How to get there
Mai Chau is 135 km from Hanoi and just 5 km south of Tong Dau junction on High Way 6. There's no direct public transport to Mai Chau from Hanoi; however, buses to nearby Hoa Binh (25,000 VND, two hours) are plentiful. From Hoa Binh there are several scheduled buses to Mai Chau (20,000 VND, two hours) daily. Usually these stop at Tong Dau junction; a xe om (motorbike taxi) from there to Mai Chau proper will cost about 15,000 VND.
Theoretically, foreigners must pay a 5000 VND entry to Mai Chau. There is a toll booth at the state-run guesthouse on the "main" road. More often than not, there is nobody there to collect the fee.
The best traveling time in Mai Chau
The best time to visit Mai Chau – Pu Luong is any time. One of the principal tourist lures of the area is its equitable climate. There aren't any extremes of climate here, nor are there extremes of temperatures here. What you have are three principal seasons, hot, rainy and cold, with variations in temperature and the rainfall.
From November to February, the weather is quite cold and dizzles, the beginning of February is the time the peach and plum blossoms bloom, so the landscape in Mai Chau at that time is so romantic.
From March to April, Mai Chau steps into the "ban" flower, it is a typical type of flower and the symbol of northwestern region. The weather at this time is still nice which is sunny but not too cold.
From May to August, it is the ripe rice season in Mai Chau. Although the weather is a bit hot, the landscape is truly gorgeous with the yellow of rice fields.
Attractive tourist attractions in Mai Chau
Thung Khe pass
Being a part of national road No.6, Thung Khe pass is at the altitude of 1000 meters. Here you can admire the panoramic view of Mai Chau valley and enjoy the local food at the vendors such as boiled corn, sugarcane, rice bamboo, etc.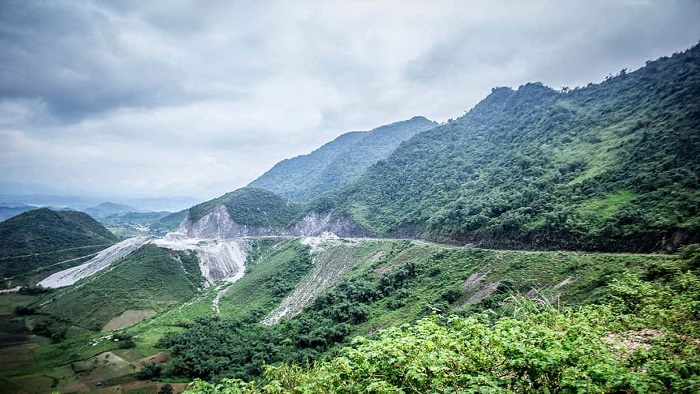 Thung Khe pass
Lac village
With 700 years of establishment and development, Lac village is hometown of Thai people for generations with the intact culture and tradition. This village is considered a gift for those who love the peace.
Currently, Lac village has nearly 30 spacious homestays for tourists to stay overnight. The stilted houses in Lac village in general are high and tiny with the intact traditional architectural style.
Mo Luong cave
Set in the Pu Kha mountain in Mai Chau town and away 2 km from Lac village. Mo Luong cave is an ideal tourist destination for those who love exploring and experience the new things. Mo Luong cave is a cave system including 4 main caves which is really famous for its gorgeous stalactites.
Trekking in Mai Chau
A typical trekking day start at about 8.30 am after breakfast. Lunch times can vary depending on the terrain. We aim to reach the next overnight stop by 4.30 or 5. During the trek we will have short breaks for rest, snack and photographing. Let's check Mai Chau trekking map to know more about your trekking itinerary.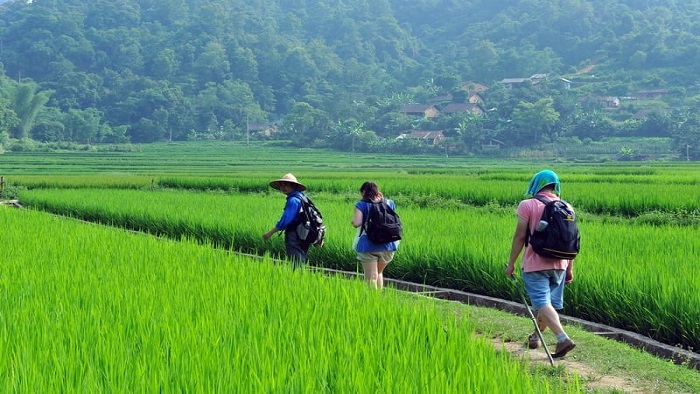 Trekking in Mai Chau
Mai Chau is such an ideal destination for rewinding in this summer. Let's book a Mai Chau village tour to enjoy Mai Chau with us. If you need further information about our tours, don't hesitate to contact us. Thank you and have a nice trip!