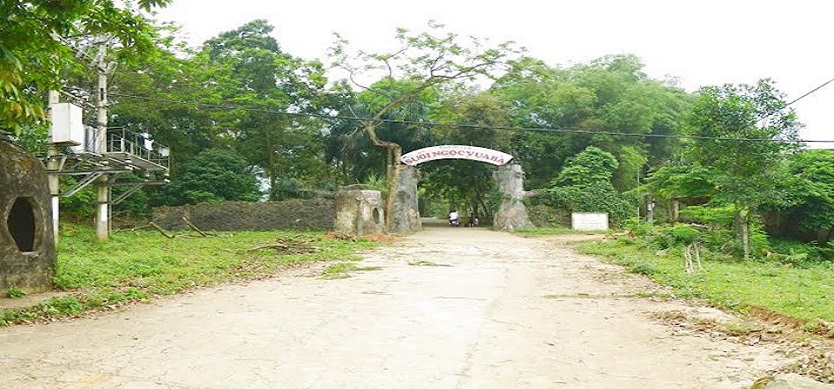 Only 30 km south of the capital of Hanoi, visitors can take a tour at Suoi Ngoc - Vua Ba by all means. Here, visitors can walk, climb mountains, ride horses and admire the wonderful waterfalls, especially with the 9-storey high waterfall of pouring white water flows all day and night.
The resort belongs to Lam Son commune, Luong Son district, Hoa Binh province. This is a eco-tourism complex with an area of 300 hectares. The floating cloud, mountains along with clear springs under the foot of waterfall... All things turn into a fairyland. Suoi Ngoc-Vua Ba is one of the destinations of Hoa Binh province. The resort is far about 30 kilometers from Hanoi capital to the south; tourists can take a tour and relax at the Suoi Ngoc-Vua Ba.
Suoi Ngoc Vua Ba
Here, the green forest includes Acacia, Mo tree, pine-tree and fruit trees…that covered the hills. Visitors can get hammock under the trees or overnight in the lovely stilted houses. Besides, tourists can bathe in the artificial lake or natural lake a few hundred hectares width.
Here, tourists can hike, ride horse and admire the waterfall, especially; there has 9 levels waterfall with 100 meters height. Tourists can bathe at the foot of waterfall and soak into pure water that is the gift of nature. Next to springs are 2 areas to sever travelers.
Tourists will be amazed before the style of stilted houses of Muong, Tay. Those are place for tourists when coming here. Besides, visitors can join into folk games such as: archery, crossbow, gong, camp fire. Tourists will also enjoy traditional dishes like: com lam, wine tube, roasted chicken, roasted pigs and unique dishes of the mountainous domain.
Suoi Ngoc-Vua Ba also was the resistance base, where soldiers of Hai Ba Trung practice in the early years of the first century.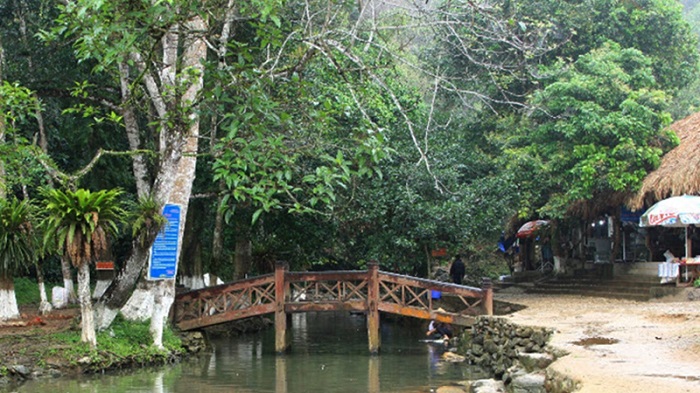 Suoi Ngoc Vua Ba tourist area
Entrance fee: 20.000vnd/people
Other places in Hoa Binh province
Thung Nai
One of the favorite destinations in Hoa Binh is Thung Nai, where there is an extremely poetic landscape seeming wild but no less romantic. This is really a suitable tourist destination and a resting place for you to relax during your trip to Hoa Binh.
Mai Chau
Not too strange with tourists, Mai Chau is always a destination for those who are passionate about traveling. Mai Chau is a rustic valley, there are no high-rise buildings and noisy roads which is very suitable for climbing experience. Mai Chau attracts tourists by the poetic flower forests and golden rice fields.
Thien Long cave
Thien Long tourist area is one of the attractive tourist destinations of Hoa Binh that you should not miss. The cave is located in a population of the relics of Yen Thuy district including a main cave and two small caves.
Hoa Binh hydropower plant
In recent years, Hoa Binh hydropower plant has always been in the list of favorite tourist places in Hoa Binh. Here, you will see firsthand the greatness in architecture and admire the strength of the human ability to make a dam to stop the river to create a hydroelectric plant with such a magnificent scale.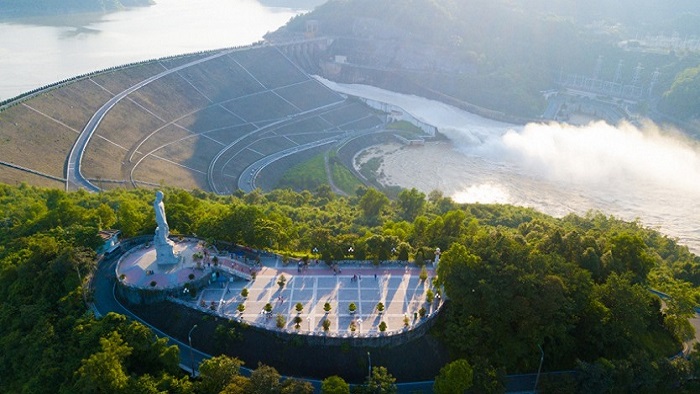 Hoa Binh hydropower plant
Thang Thien waterfall tourist area
Thang Thien waterfall tourist area is one of Hoa Binh tourist destinations chosen by many tourists every summer. Located in the middle of a primeval forest with lush green trees, fresh atmosphere and rich flora and fauna, it is truly an attractive place for tourists.
Thac Bo cave
Thac Bo cave is a masterpiece that nature bestowed on Hoa Binh. With a stunning beauty that remind you of Thien Duong cave of Quang Binh, Thac Bo cave is considered one of the most beautiful caves in Vietnam. The limestone stalactites with many different shapes glistening in the cave are the main highlights of the cave.
Lung Van
Lung Van is dubbed the "roof of Muong land" with an altitude of 1200m above sea level. All year round, Lung Van is covered by floating white clouds, so it has another name called Thung May. The fanciful dreamy beauty hidden under the cloudy layer has captured the souls of tourists coming to Hoa Binh.
Come to Lung Van, you will have chances to discover the ethnic identity of Muong people. The stilt houses are scattered on the hills, terraced fields creating a peaceful and unspoiled nature.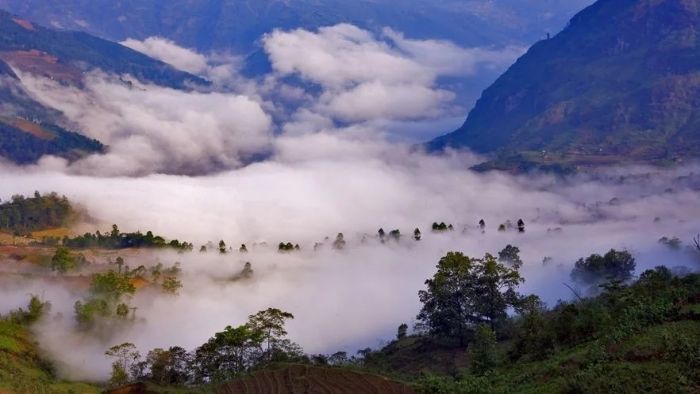 Lung Van
Kim Boi mineral springs
Referring to Hoa Binh, perhaps no one is unaware of Kim Boi mineral springs tourist area. Not only known as the tourist destination, this is also a place to attract tourists by the type of medical tourism. Being the largest hot spring in Vietnam, this natural hot spring source can treat diseases such as osteoarthritis, stomach and intestinal diseases.
Suoi Ngoc Vua Ba is a wonderful tourist area in Hoa Binh with beautiful natural landscape and intact traditional culture of local people. If you need further information about Mai Chau homestay tours, contact us. Thank you!