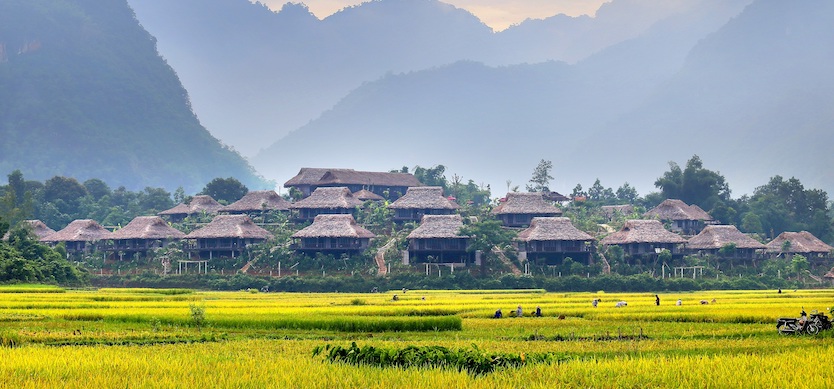 Mai Chau is attractive thanks to the beautiful landscapes, unique culture, and specialties of the ethnic. That's the reasons why you should travel here at any cost.
Top Mai Chau tourist attractions
Thung Khe pass
Located between Tan Lac and Mai Chau (Hoa Binh) on the National Highway 6, Thung Khe pass is about 1000 meters above the sea level. The pass is not as majestic as O Quy Ho in Lao Cai and not as cheap as Ma Pang Leng in Ha Giang, but it contains many unexpected dangers for any drivers.
Mai Chau flag pole
Passing from Thung Khe pass, before going down to Tong Dau crossroads to go to Mai Chau center, the flag pole is the destination that you should not miss.
Formerly, this area was just a vacant land from which it was possible to see the panoramic view of Mai Chau; then there was a flag pole erected as a small icon for tourists to save great moments when taking Mai Chau day tour from Hanoi.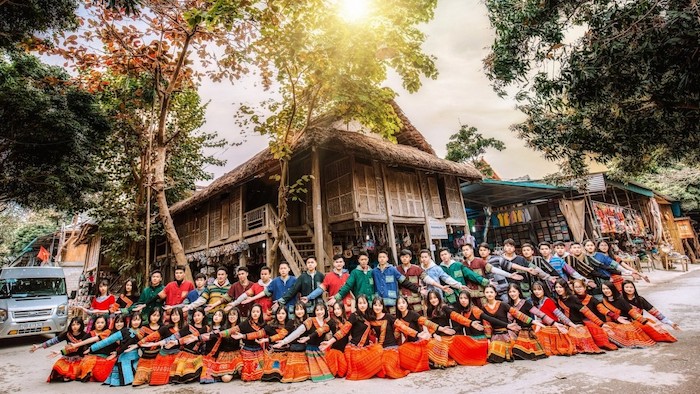 Save the best time with friends in Mai Chau
Lac village
Lac village is a trendy destination for tour Mai Chau 2 day. It is the place where 5 white Thai ethnics are living (Ha, Lo, Vi, Mac, Loc) with the bold culture. Lac village has existed for 700 years. This place is as a gift of nature for those who like peace to immerse in the mountains.
Lac village houses nearly 30 homestays to meet the demand of tourists. All stilt houses in the region are spacious, clean and have ancient architecture. The home is fully equipped with clean blankets, pillows, and folding pillows.
Walking around the village, you won't see any action of inviting tourists to buy. Some items such as scarves, Thai brocade skirts, lovely wallets, longbow, flute, gong, and buffalo horns are available in front of people's house. You can get them to try or take photos.
Pom Coong village
Pom Coong means the village of hills on a big drum, meaning the paddle rice fields. Pom Coong has been famous as a cultural and tourist village with more than 300 people of nearly 70 families. Traditionally, the people of Pom Coong still live in stilt houses. The houses are close together, only separated by a bed of vegetables or thin margins.
The floor is about 2 meters above the ground with solid wooden posts. The roofs are covered with rattan leaves or brick. The windows are quite significant to catch the wind and also the place for the host to hang orchid flowers or bird cages.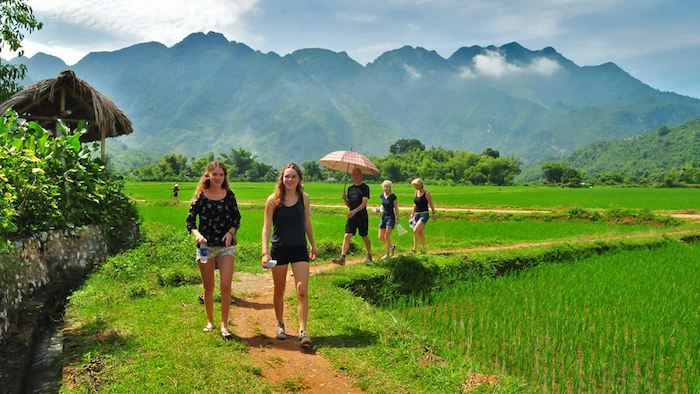 The scenery in Mai Chau
Under the floor of the stilt house, the Thai girls make unique brocade products. Souvenir products are brocade pouches, bags, shirts with various colors.
Visitors to Pom Coong are mainly foreigners and students who are interested in learning about the culture of ethnic minorities. They want to understand more about the life of Thai people, enjoy their dance, gong festivals, sleep in the stilt house, drink "can" wine, and walk around the mountains.
Mo Luong grotto
Located in the Pu Chau mountain range of Mai Chau town, about 2 kilometers from Lac village, Mo Luong grotto is an ideal tourist destination for those who love to explore and challenge new things when coming to Mai Chau.
Mo Luong cave has another name first called by the White Thai - Bo Luong. Bo Luong means big water pond. Mo Luong consists of 4 main caves that famous for its stalactite stalks forming many unique shapes.
In the resistance war against France, this place used to be the base of the meeting. At the end of the journey to explore Mo Luong, visitors can admire an underground stream flowing to the nearby lake.
Mai Chau specialties
Mai Chau cuisine is a unique feature that attracts a lot of tourists. Below are the must-try dishes when traveling there.
Bamboo-tube rice
Fragrant rice combined with the litter makes a unique flavor. People mix the sticky rice with coconut fiber yarn and insert them tightly into the cork.
Colorful sticky rice
This one of the most popular dishes of people here. The local people often use this particular dish to offer their guests.
Muong pork
This one of the most popular dishes of people here. The local people often use this particular dish to offer their guests.
Bitter bamboo shoots
Mai Chau people often take sharp bamboo shoots in the forest to soak or dry. Many visitors are fascinated by this dish because if the tart yet sweet taste in the throat.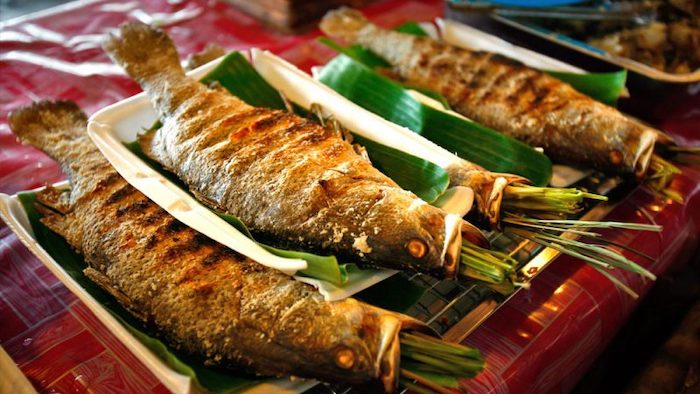 Mai Chau specialties
With a variety of things to do and places to visit, Mai Chau will surely be your wonderful break near Hanoi. For more information about Mai Chau, please visit our website. If you have any questions, feel free to contact us. Share this article if it's useful for you. Have a nice trip!