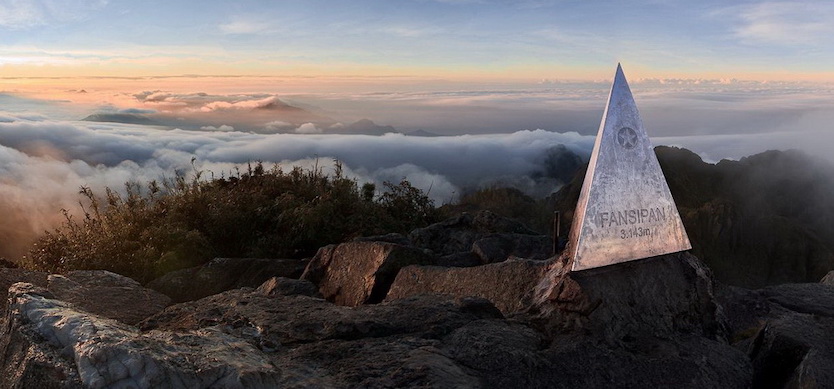 Have you ever thought of conquering "the roof of Indochina" - Fansipan peak? If not, you'll need our guides to make that impossible thing a fantastic experience.
Located in the Hoang Lien Son Range, Lao Cai province with the impressive 3,143m high, Fansipan Mount is considered as "the roof of Indochina" - the highest peak in Indochina.
Conquering the Fansipan Mount is not easy due to the terrain, the weather, and many other factors. However, these difficulties are the intense attraction for thousands of climbers who love traveling Mai Chau and Fansipan.
To help travelers get a great experience as well as avoid the risks, here are some of the necessary things when climbing gathered from many climbers who conquered Fansipan peak.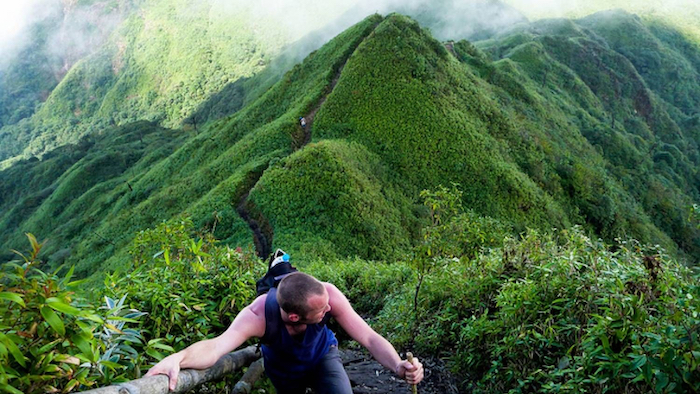 Climbing to Fansipan peak
The best time and the weather preparation
Fansipan is located in Northwest Vietnam. Therefore, like Mai Chau weather, the place is influenced by the tropical monsoon climate with four distinct seasons of spring, summer, autumn, and winter.
Due to the weather characteristics of the North, conquering the Fansipan from the end of September to the end of April next year is the best time, especially in October and November. In this time, it does not rain, and the temperature on the mountain is not too cold, helping climbers efficiently and safely conquer the Fansipan.
At any time, the weather on the mountain is cold. The more highly you climb, the colder space is. The temperature at night is lower from 6 - 10 degrees than during the day.
The coldest weather is in September and October that the temperature may reach 3-4 degrees at night. From December to March, it can drop to 0 degrees Celcius or less, and it is snowy.
Notably, the weather on the Fansipan changes hourly and you need good luck to get the blue sky on the top of the mountain. Sometimes, it is sunny when you are climbing the hill, but there are clouds and fogs on the peak.
However, if you have good weather when conquering, you will have unforgettable moments here. Therefore, weather preparation is significant for your adventure.
Number of participants
Climbers should go there in a group (from 5 people or more) to create a positive atmosphere and motivate as well as support each other during the climb. Whether you climb alone or in groups, it is a good idea to hire a terrain guide (usually local people) because you will be very easy to be lost and in danger.
Besides, a terrain guide can also help you to carry things. During the climbing process, the team members must unite and obey the rules of the group, and support each other enthusiastically when conquering the journey.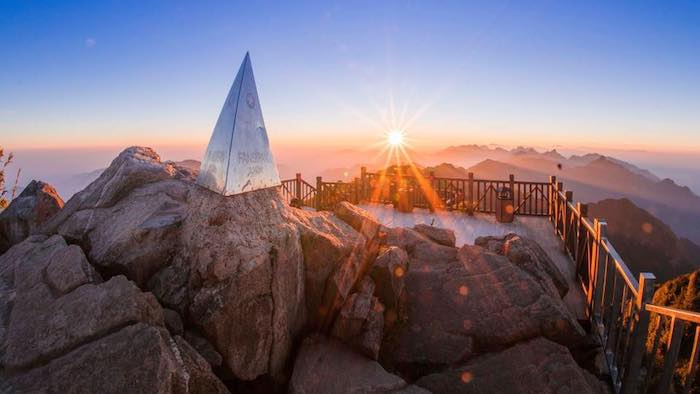 The stunning view from Fansipan peak
What to prepare and carry?
Food and drinks
It is one of the essential things during the climb. You should choose drinks and food that are easy to carry and provide energy such as bread, cheese, boiled eggs, chocolate, etc.
Besides, you need to prepare some fruits for your climb. Bringing mango and orange will give you the necessary vitamins.
Each member of the team should have 3-4 bottles of water. Drinking a little water for many times is the best way to keep your energy.
Sleeping bags and tents
Before reaching the top of the Fansipan, you will experience 1-2 nights. Therefore, you should bring tents and sleeping bags to have a deep sleep and recharge energy after climbing for a long day.
Backpacks
Backpacks are the necessary thing during your adventure. You should carry a small bag from 3 to 5kg. It will help you to move more conveniently and effortless. Moreover, your backpack should have sturdy straps to tie with your chest and belly.
Clothes
Wearing and bringing lightweight and compact outfits, you will feel more comfortable. Don't forget to prepare a thick jacket because the weather on Fansipan can become cold at night.
Shoes
You should choose the waterproof boots designed particularly for climbing.
Other belongings
A flashlight, camera, smartphone, raincoat, medicine, ropes, binoculars, snacks, multifunction knife, and reserve battery, etc. are other necessary things that you should bring when conquering the Fansipan Mount.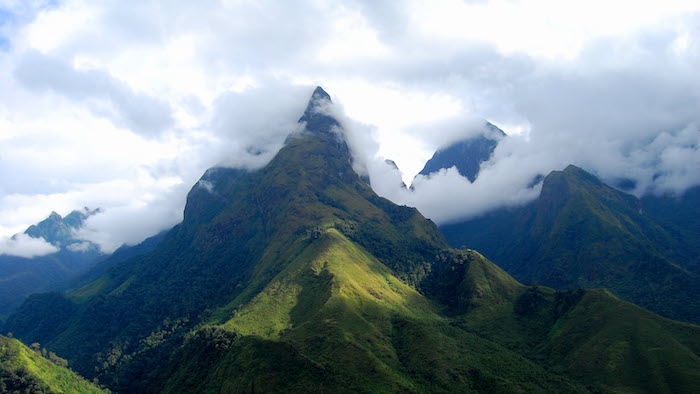 Majestic nature in Sapa
Experience in climbing skills
When climbing up the top, you will feel exhausted. Hence, you have to keep your breath regularly. You should take a temporary rest from 5 to 10 minutes after you find yourself breathing too much. However, do not take long to avoid discouragement. If you can not go on, you should go back to your original place.
Moreover, you have to bring a stick when climbing to hang on to the root and branches along the road. However, you have to carefully consider whether the rod is durable and safe or not.
When climbing, you should climb under the Z-shape. When going down, you should go slowly. Going too quickly is easy to stumble. In this time, you have to lean down, bend your knees, and stably keep the backpack.
It is possible to turn your body facing the cliff, use your both hands to climb down if the mountain is quite steep. In the case you lose breath, you need to keep calm to observe the surrounding and use a compass to determine the direction.
Conquering the Fansipan Mount is tough but not impossible. We hope that these experiences will help you have a safe trip. If you want to know more information about Mai Chau homestay reviews and Fansipan Mountain, feel free to contact us via our website. Share it if it is useful to you. Have a great adventure!