Mai Chau is one of the closest places to Hanoi where you can experience a real rural life of a mountainous village.
Other attractions here include staying overnight in one of the Thai stilt houses, walking through the beautiful valley through the rice fields and trekking to minority villages. A typical trek further covers 7km to 8km.
So, what are the best things to do in Mai Chau?
Explore more in this article below.
What to do in Mai Chau?
Trek through rice fields
Bike around villages
Stay overnight in a homestay
Explore caves
Mai Chau Trekking
There is a popular 18 km trek from Lac village (Ban Lac) in Mai Chau to Xa Linh village, near a mountain pass (elevation 1000m) on Highway 6. Lac village is home to the White Thai people, while the inhabitants of Xa Linh are H'momg. The trek is quite strenuous to undertake in a day, so most people spend the night in a village along the way. Arrange a local guide and a car to meet you at the mountain pass for the journey back to Mai Chau. Be warned that there is a 600m climb in altitude, and the trail can be slippery in the rain. To join trekking, you can book Mai Chau full day tour or Mai Chau tour two days one night or Mai Chau tour three days.
Longer treks of three or four days are possible. Furthermore, if travelers wish to have a more adventurous trip, they can extend the trip to Pu Luong National reserve, just a neighbor of Mai Chau and then to Cuc Phuong National park, making it an ecological triangle tour. It can be a biking tour (3-4 days) between Mai Chau and Ninh Binh or a super trek tour up to 5, 6 or even nine days around Mai Chau and Pu Luong.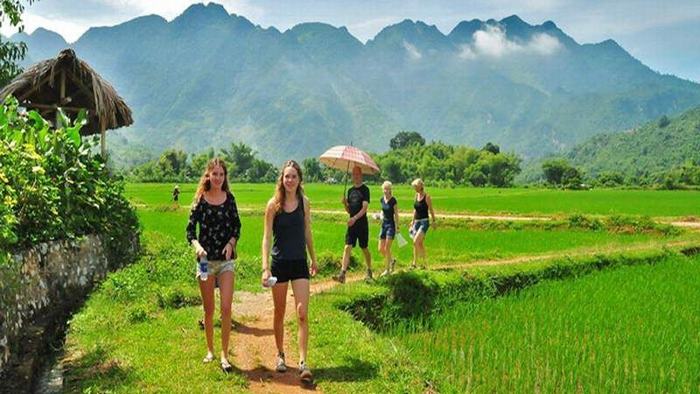 Trekking in Mai Chau
Biking in Mai Chau
Trekking is the most popular activity in Mai Chau, but there is also another way to discover this beautiful destination.
Coming to Mai Chau, visitors can ride on bicycles to experience and enjoy relaxing moments, sightseeing. On average visitors will be cycling about 10 km/day. Here you will roam on the trails to see all the beautiful scenery typical of Northwestern mountains and forests such as scenic spots, eating with local people in their houses, and discovering the customs of the ethnic people. The prices range from 20,000 to 30,000 / day / person.
Take a motorbiking or cycling tour will surely leave an unforgettable experience in your mind.
Stay overnight in homestay
Staying overnight on unique stilt houses is an exciting experience for tourists. It's the chance to know more about the locals and their traditions and culture.
The two popular villages that offer homestay services are Poom Coong and Lac Villages. When the night falls, you can enjoy the famous local wine (Can wine) and watch a cultural show.
Explore Mai Chau Caves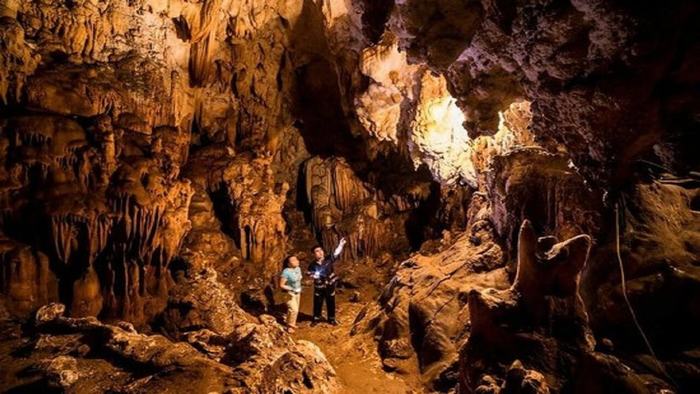 Mo Luong Cave
The shape of Mai Chau's sinuously curvy mountains comes from karst limestone bedrock, the same kind of geological formations that created the dragons' back islands of Ha Long Bay to the east. (The islands of El Nido and the Chocolate Hills of Bohol, both in the Philippines, look the same way because of the same karst foundations.)
Where there's karst, you'll find caves – and Mai Chau is no exception. The local trekking trails tend to stop at two of the biggest caves in Mai Chau, Mo Luong ("Soldier") Cave and Chieu ("1,000 Steps") Cave.
Mo Luong Cave stretches about 1,600 feet into the interior of Mount Phu Ka. Accessible by two separate entrances, the cave expands into a large cathedral interior that then branches out to four different caverns. Mo Luong was used as an armaments storage house during the Vietnam War. Mo Luong Cave: Location on Google Maps.
Chieu Cave can only be reached by a 1,200-step staircase, thus its numeric nickname. The interior extends about 500 feet into the mountain, branching out to two chambers.