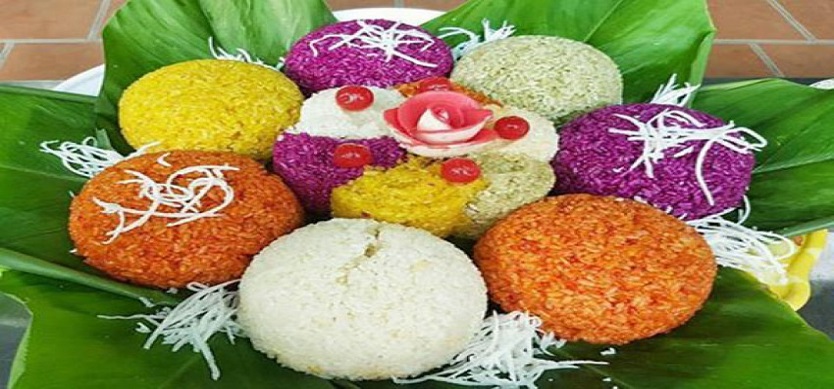 Hoa Binh is a mountainous province, situated in the west of Hanoi. The land has a long history associated with the history and development of Vietnamese. Besides, Hoa Binh is famous for many delicious dishes you should try when having tour Mai Chau Hoa Binh one day in Hoa Binh. In the following list, Mai Chau Trek introduces you some specialties.
1. Hoa Binh Man Pigs
The pigs roam are roasted, just shaved hair. After that, it will be washed before slaughtering to take viscera. Viscera do not wash with water; it only hangs up to drain blood. Therefore, meat can be kept for a long time. Then, it is mixed and putted to the pot to boil. When meat cooked to medium, it is taken to the chopping-board, ethnic people slice them and display on the banana leaves. Meat is used together with roasted-salt and "hat doi". If tourists enjoy the dish, they will feel the sweetness of meat, the aroma of banana leaves, the taste of "hat doi"… At the first time, visitors cannot forget.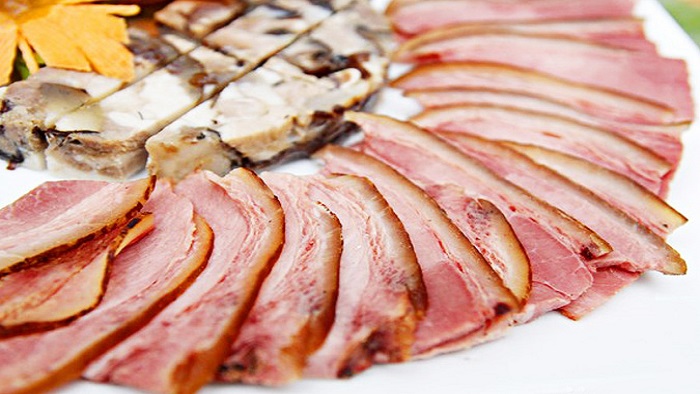 Man pork
2. Hoa Binh Pickled Pork
The pigs roam are mixed with glaze of forest leaves and roasted rice within 60 minutes. Then, they take banana leaves on the fire and clean them. Ethnics put banana leaves to the bottom of bamboo and sprinkle the meat with roasted rice. Then, they close the bamboo by banana leaves and put them into stove. When tourists enjoy pickled pork, they will feel the color of meat, acidity of forest glaze, salinity of salt, aromatic of rice. This dish is usually served with forest leaves.
3. Hoa Binh Pickled Bamboo Shoot with Chicken
The chicken roam has weighing between 0.8 to 1 kilograms cleaned and slaughtered to put away viscera. Then, people chop into small pieces and mix with pickled bamboo within 20-30 minutes. After that it will be cooked about 1-2 hours. When chicken is well-done, ethnics sprinkle the chicken with a little "hat doi".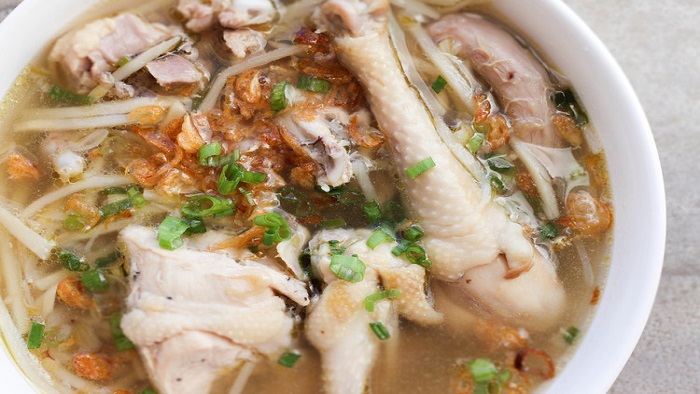 Bamboo shoot with chicken
4. Hoa Binh Grilled Chopped Meat with Pomelo Leaves
The pork is chopped into square pieces, mixed with a bit of fish sauce, onion. Pomelo leaves are cut into 2 pieces and put them to broiler and roast in the charcoal. If guests enjoy the dish, they will feel the aromatic of pomelo and tingling tongue.
5. Hoa Binh Grilled Fish
Some types of fish such as: Crucian carp, catfish, carp… are usually grilled. Before grilling, people often thrust one stick from mouth to stomach of fish and then grilled them. Grilled fish is put into the banana leaves.
Grilled fish
6. Hoa Binh Bitter Bamboo Shoots
If people want to enjoy delicious bamboo shoots, they must choose bamboo sprout, then roasted them to shrivel. It can be used with salt, pepper, ginger, "mac khen", garlic leaves and crushed garlic. When eating, we can feel the bitter taste of bamboo shoots, salty of salt, hot taste of chili…
7. Hoa Binh Buffalo Cooked La Lom
Buffalo is roasted and shaved hair then chopped into small pieces, stewed in clay pot. After that, people mix them with "la lom", small rice and stew with buffalo. This is a popular national dish of the Muong, Hoa Binh province.
8. Com Lam (Rice in bamboo tube)
Com lam is the famous specialty of northwestern Vietnam which bears strongly the scent and taste of mountains and forests in the area. The ingredients to cook this dish is very simple including sticky rice and bamboo tube. People put rice into the bamboo tube and pour water into it, then cover the cylinder by banana leaf and bake it on small fire. When eating, people just break the bamboo tube and enjoy the rice inside. In order to add more favor of the dish, people often eat com lam with sesame salt.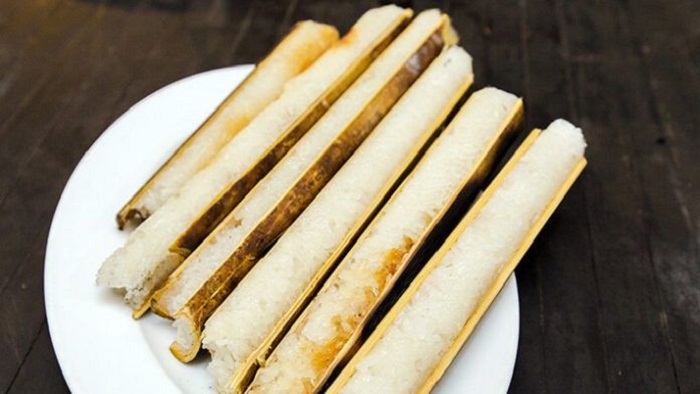 Com lam
9. Xoi ngu sac (Five colors sticky rice)
Xoi ngu sac is a popular dish in the northwestern area of Vietnam. This dish allures food addicts not only by the delicious taste but also the colorful appearance. This dish is often decorated as a flowers with 5 different color petals: white, green, orange, and yellow. The five colors represent for five natural elements: earth, water, metal, wood, and fire. Each color offers a different taste because they are cooked with different ingredient.
Hoa Binh is a rich cultural and traditional land with the profound cultural identity of many ethnics, especially Muong people. Exploring cuisine in each land you travel through is a great way to learn and experience the culture and lifestyle of people there. So, we hope that the list of dishes here will help you know more about Hoa Binh land. If you have any question about tour Hanoi Mai Chau 1 day, let's contact us. Thank you!