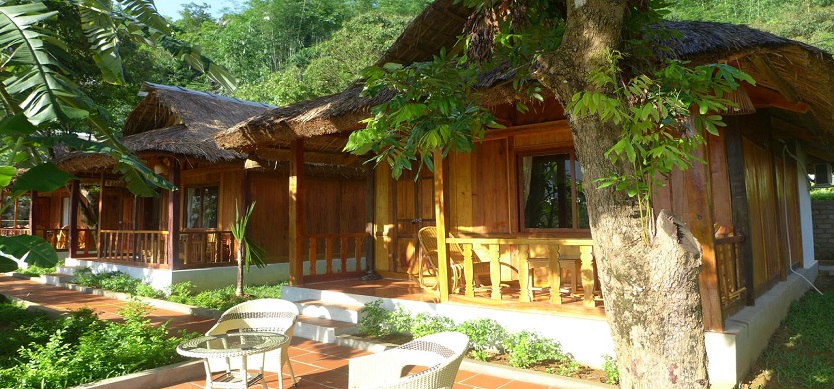 Lac village has long become a tourist center of Mai Chau, an attractive destination for those who want to get away from the hustle and bustle of the city, enjoy a slower pace of life in the peaceful mountainous area. Traveling to Lac village, one of the most exciting experiences you must have is staying overnight at the local homestay that can help you feel all the beauty of culture as well as learn more about customs and lifestyle of ethnic people living here. Instead of choosing the luxury hotels, if you want to spend your holiday at the local homestay, our guides below can be useful for you.
Lac Village – a must-visit destination in Mai Chau
About 140km from Hanoi, Lac Village is one of the most famous tourist destinations of Mai Chau, Hoa Binh Province. Lac Village is located in a green valley with beautiful terraced fields scattered peaceful stilt houses. There are 5 clans of White Thai people living here: Ha, Lo, Vi, Mac, and Loc. Have established for 700 years, previously, the local people mainly earned by growing rice and brocade weaving. In recent years, the village has started to develop tourism and now, Lac village has become a "hot" destination in Hoa Binh in particular and Vietnam in general.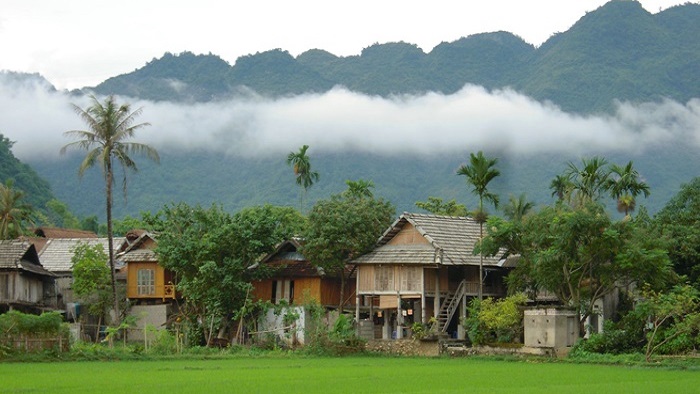 Lac village
How to rent a homestay in Lac Village?
Homestays in Mai Chau are mainly built in Lac and Pom Coong Village. While Lac Village is more crowded and bustling, homestays in Pom Coong Village is suitable for those who love quietness.
If you are still wondering about where to stay during Mai Chau tour 2 days 1 night, the local homestays with unique architecture, beautiful view and quiet space are the ideal suggestion for you. Stilt houses often built of rattan, bamboo, wood panels and roofed with palm leaves. A stilt house of Thai people can accommodate 40 – 100 people; each house is fully equipped with pillows, cushions, fans, and clean bathroom. Stay at the homestay, you not only can save money on renting accommodation but also will have the chance to chat with local people, know more about their culture and take part in many exciting activities in here.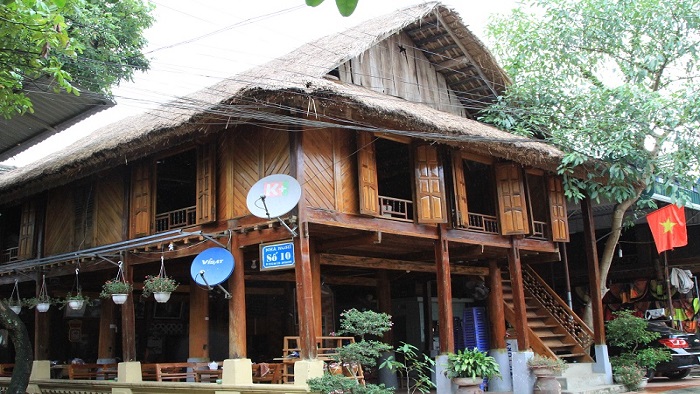 Homestay No10, Lac village
Costs of renting homestay
Lac Village offers a variety type of accommodation, from budget to luxury, that suitable for all travelers. The average price for a stilt house in homestay-style is 50,000 – 100,000/person/night. In case you go to in a large group, it can save a lot of money. If you do not want to stay with too many people, you also can rent a stilt house which is divided into private rooms, costing about 200,000 – 300,000 VND/person/night. In order rent a homestay at the cheap price, you can contact directly with the house's owners or book in advance at least several days before going.
Some Mai Chau friendly homestays in Lac Village that you can choose to stay:
- Stilt House No.1 and Hung Mech Stilt House No.19: two the best stilt houses in Lac Village, offering spacious rooms, beautiful view overlooking the fields.
- Stilt House No.32: If you want to stay in a quiet place, you can choose Stilt House No.32 which is located near the entrance gate of Pom Coong Village. The owner also provides loudspeaker, campfire rental services. The price is 20,000 VND/ night for students and 40,000/night for others.
- Thuong Mai Homestay (Stilt House No.6): featuring spacious space and rooms that very suitable for groups of friend or families. All rooms at Thuong Mai Homestay are equipped WIFI, blankets and full of personal amenities. However, there is no private bathroom at the homestay and you have to use shared bathroom. Thuong Mai also has an on-site restaurant, souvenir shop and bicycle rental service.
- Hoa Ban Homestay: Located in Lac Village 2, Hoa Ban Homestay impresses with green space in harmony with nature. The homestay offers 3 types of rooms: rooms for large group of travelers, double rooms, and family rooms. Each room is furnished with blankets, TV, WIFI. Bicycle rental service is available for free.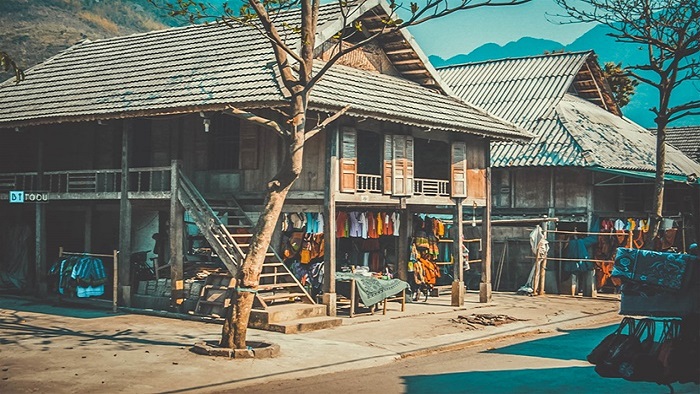 Homestay in Lac village
Other destinations near Lac village
Besides Lac village, Mai Chau has many other attractions that worth visiting:
Thung Khe Pass: is also a must-visit destination in Mai Chau. Here, you can enjoy the beautiful panoramic view of Mai Chau or visit the small local market selling agricultural products such as corn, vegetables, pork meat,…
Mo Luong Cave: Only 2km away from Lac village, tourists can take a walk or rent a bike to reach Mo Luong Cave. This cave consists of 4 small caves, each cave has its own beauty. Going down to the bottom of the cave, you also can see an underground stream flowing to the lake in front of the mountain.
Chieu Cave: To reach the Chieu Cave, you have to go through 1200 steps with the height of 700 meters. The cave is divided into 2 floors with the stunning stalactites sparkling in the sunlight.
If you concern Mai Chau tour and travel guides, please visit our website. Like and share if this post is helpful for you. Have a great trip!