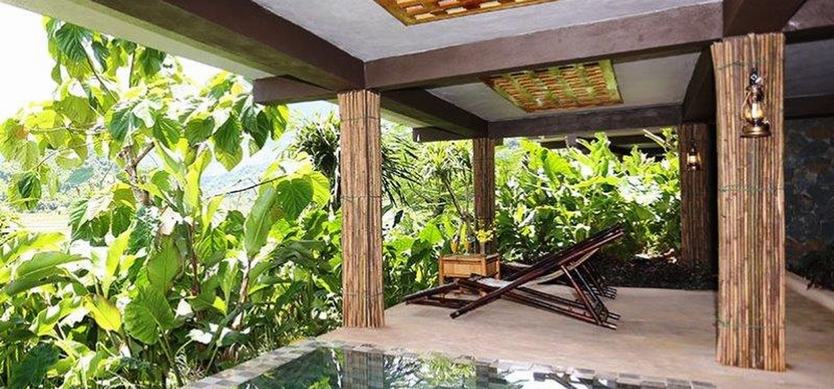 Mai Chau Valley is set in the stunningly beautiful, mountainous region of Hoa Binh Province, 135km southwest of Hanoi. Many of Vietnam's indigenous ethnic minority groups live in the region, making the local Sunday markets colorful places to be!
Throughout the week the area provides an excellent base for light trekking or cycling, thanks to the picturesque valleys and rice paddy terraces, the friendly locals and the many small villages that make ideal destinations to break from your day's activities.
To give you the most enjoyable Mai Chau valley tours, Mai Chau Trek offers top 5 best hotels you should stay in Mai Chau.
5 best hotels in Mai Chau
Mai Chau Ecolodge
Mai Chau Villas
Mai Chau Lodge
Sol Bungalows
Mai Chau Valley Views
Mai Chau Ecolodge
Sitting atop a private hill in Na Phon village, Mai Chau Ecolodge is the most secluded haven in Mai Chau with a stunning backdrop of lush rice paddies and emerald mountains embraced by clouds. Inspired by nature, Mai Chau Ecolodge constructed the lodge to be a refuge of charm and serenity, providing guest a chance to forget about the worries of daily life and to enjoy the best Mai Chau has to offer.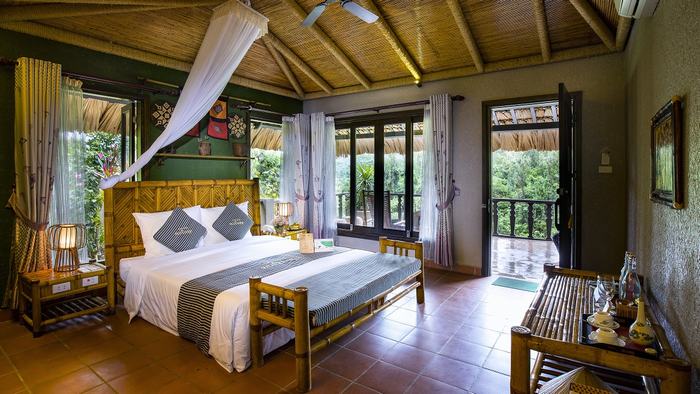 Mai Chau Ecolodge
The Mai Chau Ecolodge was built entirely from natural materials with thatched roofs, bamboo interiors, wooden furniture, and outdoor jungle showers. Every bungalow was meticulously designed to embody the local stilt house style and traditional Thai ethnic culture. The absence of television and other entertainment facilities keep the lodges true to what it stands for – a place to get back to nature.
Mai Chau Villas
With the desire to create a boutique accommodation that provides guests with a unique local experience, the architecture of Mai Chau Villas is inspired by White Thai traditional houses. Mai Chau Villas feature a stilt-house restaurant, a swimming pool and ten thatched roof villas, all of which are carefully designed using local materials.
Mai Chau Lodge
Mai Chau Lodge is a unique place, offering the paramount in natural relaxation and cultural exploration. Discover a rare haven, situated near the lush tribal villages of the ethnic minority groups in the valley of Mai Chau. Here let the unique blend of history, culture, and nature meshed with luxury and modern amenities, surround and envelop you to create beautiful and lasting memories.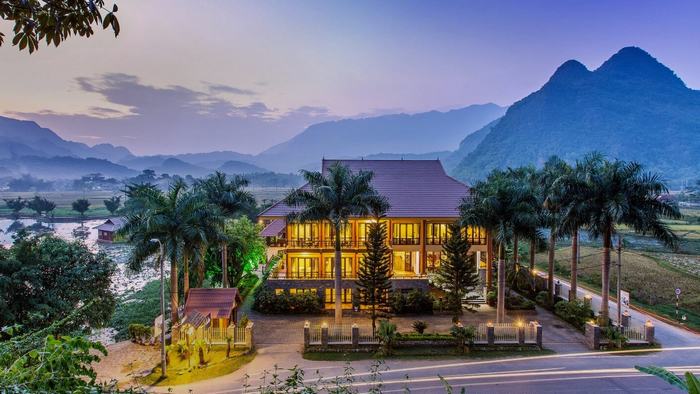 Mai Chau Lodge
Sol Bungalows
Ideally located in the heart of Mai Chau valley, Sol Bungalows is the most exquisite and tranquil place in the area, surrounded by lush rice paddies, emerald mountains, and bamboo gardens.
Sol Bungalows is truly a little paradise. This secluded resort offers valley view with rice fields in front and mountain ranges in the distance. Each bungalow is a guestroom which is inspired by White Thai culture, all decorated with contemporary touches of Thai brocade and handicraft that give each living space a soothing Thai ambiance.
Go Sol Bungalows and Feel
Sol Bungalows has a wide range of facilities and services to suit both the laid-back guests and the more active ones. You can join a cooking class, weaving class, traditional dancing class or get pampered with some massage treatments or relax with some drinks and enjoy the peace and beautiful views. For the more fit and adventurous, there are mountain bikes and a list of exciting outdoor activities and tours to choose from.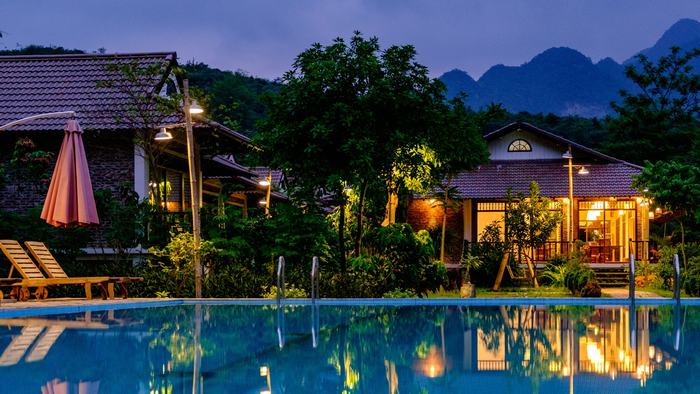 Sol Bungalows
Mai Chau Valley View
Opened in September 2013, Mai Chau Valley View features eight spacious rooms, with modern facilities which all have a breathtaking view of the rice paddies. In this family hotel, you will experience the authenticity of the local people while staying in comfort.
Please visit Mai Chau Valley View and meet Mr. Duong, the White Thai owner, who has been living here for all his life and knows all the secrets of the region. He will share with you off the beaten track advises and recommend activities based on what you want and what is available during your stay in Mai Chau.
For more information about tours in Mai Chau, you can visit our website. If you have any questions, feel free to contact us. Share this article with others if you find it helpful. Thank you!