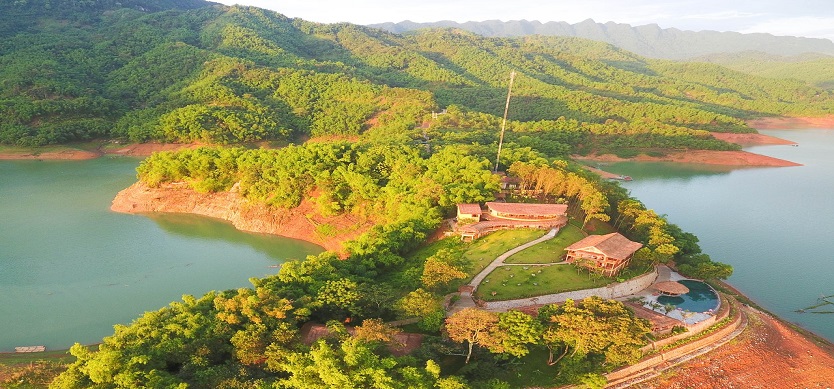 Along with Sapa, Mai Chau is also one of the most attractive and popular tourist destinations in Northern Vietnam. If you are concerning places to stay in Mai Chau, there are two main types of accommodation for you to choose: mai chau family homestay and hotel & resort.
For those who want to have a luxury holiday or stay in a private place, the hotel is the best choice; otherwise, staying at the local homestay will be the great chance to discover the culture and experience the daily life of ethnic people. Depending on your needs, you can choose the most suitable accommodation.
To make it easier for you to choose, in this post, we will introduce to you the top 7 best luxury hotels and resorts in Mai Chau. Let's find out.
7 best luxury hotels and resorts in Mai Chau
Mai Chau Lodge
Mai Chau Villas Hotel
Mai Chau Ecolodge
Sol Bungalows Hotel
Mai Chau Sunset Boutique Hotel
Mai Chau Riverside Resort
Mai Chau Valley View Hotel
Mai Chau Lodge
Mai Chau Lodge is a 3-star hotel, offering 16 rooms (15 deluxe rooms and 1 suite room). All of the rooms are fully equipped with modern furniture such as a bed, flat-screen TV, satellite TV, internet, private bathroom, hairdryer, air conditioning, minibar, etc. The suite room is 2 times larger than the deluxe rooms and has the bathtub, ultra-thin LCD TV, and larger minibar. Designed with the transparent glass window allows you to admire the stunning view outside with green fields, majestic mountain ranges. The hotel also has an outdoor swimming pool to meet the needs of relaxation of guests.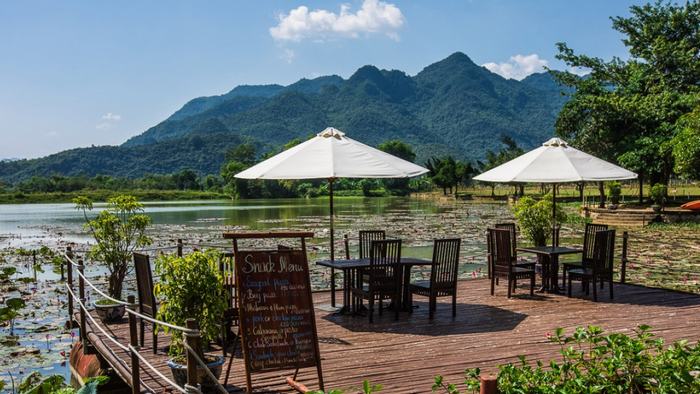 Mai Chau Lodge
Mai Chau Villas Hotel
If you would like to stay in a quiet and private space, Mai Chau Villas Hotel with only 10 mini isolated villas will be an ideal choice for you. The villas are designed in traditional cottage-style but still furnished with modern equipment, connected by a paved road. From the window, you can see the green rice fields. The hotel's staffs are very helpful and professional. Breakfast is also a plus point of the hotel; all the dishes are made from fresh ingredients. Both Vietnamese and foreign tourists highly appreciate the quality of food served at the hotel.
Mai Chau Ecolodge
As a 4-star hotel with 19 rooms, Mai Chau Ecolodge is one of the few hotels in Mai Chau which still retains the traditional beauty of the ethnic people living in Northwestern Vietnam. Built entirely of natural materials with bamboo walls, wood, roof leaves, and wooden interior, the architecture of Mai Chau Ecolodge has a harmonious combination of traditional stilt house and modern architecture.
The hotel is fully equipped with modern equipment, including both an outdoor pool. Each cottage has its own private garden which is carefully maintained every day by the staffs. Other facilities include 2 restaurants, massage, laundry, luxurious meeting rooms,…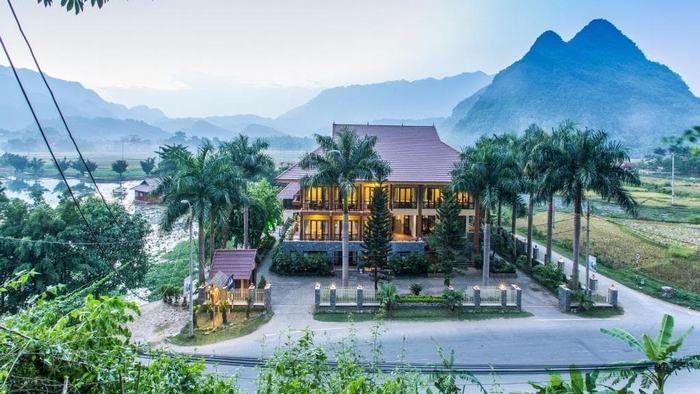 Mai Chau Ecolodge
Sol Bungalows Hotel
This 3-star hotel is considered a miniature paradise on the ground. Here you can enjoy a luxurious life that completely different from what you imagine about the lives of Thai people. The hotel offers 4 types of room, suitable for all guests: Pool Deluxe Room, Deluxe Bungalows, Family Bungalow, and Master Suite. All the rooms at Sol Bungalows are equipped with air conditioning, TV, internet, tea/coffee maker. Outdoor swimming pool, children playground, bicycle rental services,… are also offered.
Mai Chau Sunset Boutique Hotel
Mai Chau Sunset Boutique Hotel is a 3-star hotel, furnished with modern facilities. The hotel is a combination of the traditional beauty if the mountainous area in Northern Vietnam and modern beauty of Western culture. Surrounded by mountains and clouds, staying here, you will feel the peace of life, helping you throw away all the stress and worries of daily life. The hotel also serves European and Asian drinks. Sitting at the balcony while sipping a cup of coffee and enjoy the stunning view of mountains and green fields is really an amazing experience you should try.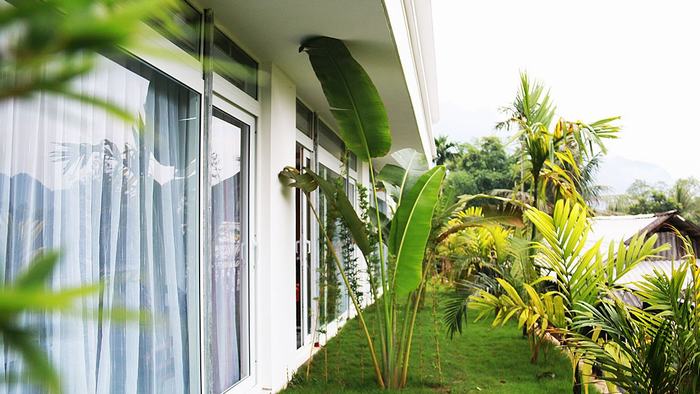 Mai Chau Sunset Boutique Hotel
Mai Chau Riverside Resort
Situated in Lac Village, Mai Chau Town, Mai Chau Riverside Resort is a nature-friendly resort with an area of over 2000sqm. Guests coming here will be staying in a green space with a garden, fish pond, and a mini-museum. The resort is inspired by the traditional architecture of Thai people, mainly built of wood, bamboo and palm leaves. Rooms at the resort are fully furnished and decorated simply but very cozy. Other services and facilities: bicycle/motorbike rental service, playground for children, breakfast, and bar.
Mai Chau Valley View Hotel
Mai Chau Valley View Hotel is one of the best hotels that you can choose to stay in Mai Chau. Only offering 8 rooms but all of them are equipped flat-screen TV, refrigerator, air conditioning, and private balcony to see the view outside. From the hotel, it takes only a few minutes to reach the famous ethnic villages.
The reason why this hotel is highly appreciated by many travelers is the beautiful landscape, enthusiastic staffs, and clean rooms. If you want to know more about things to do or the customs of ethnic people, do not hesitate to ask the hotel's staff, they are always willing to help you.
This is a list of top 7 best luxury hotels that you can choose to stay for your trip in Mai Chau. Read more Mai Chau tours or travel guides, please visit our website. Like and share this post if it is useful for you. Thank you!