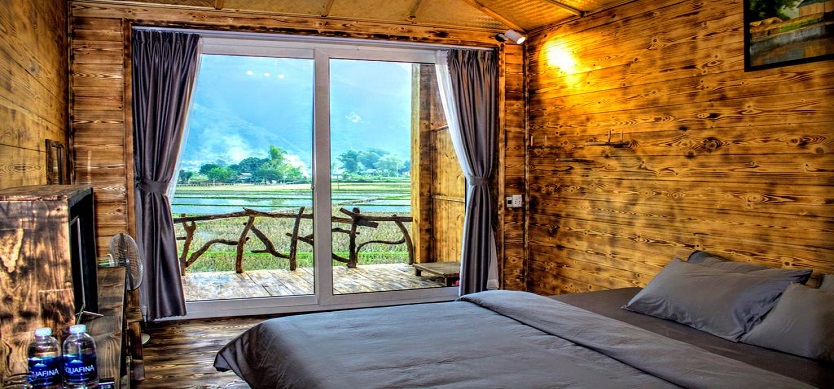 Designed in harmony with nature and featuring the typical cultural identities of ethnic groups, staying overnight at the mai chau valley homestay is an interesting experience that tourists should not miss.
Here we will introduce you some of the best homestays which you can choose to stay during your trip in Mai Chau.
8 best homestays in Mai Chau
Hoa Ban Homestay
Homestay Mai Hich
Mountain View Homestay
Mai Chau Friendly Homestay
La Maison De Buoc
Quan Hang Homestay
Mai Chau Farmstay
Stilt house No.9
Hoa Ban Homestay
Situated in Lac Village 2, Hoa Ban Homestay is a perfect choice for travelers who love the tranquility of the mountainous areas. Built on a small road leading to the village, surrounded by green trees, besides dormitories, this homestay also offers two bungalows right next to the romantic stream which is very suitable for those who want to have a private space. Hoa Ban also provides tours bringing a lot of experiences for tourists such as trekking or walking tours and cultural performances at the weekend.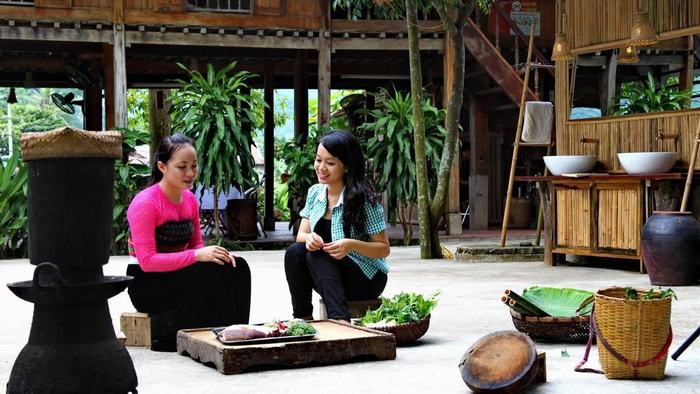 Hoa Ban Homestay
Homestay Mai Hich
Homestay Mai Hich is a stilt house of Thai people, located in Mai Hich Village, about 10 km from Maui Chau District center. There is a small stream and watermill in front of the house. Rooms at the homestay are elegantly decorated with brocade and Thai-style furniture. Not only offering the sleeping place, guests coming to Homestay Mai Hich will have the chance to know more about unique cuisine, destinations or customs of ethnic people living there. You will be served a meal with Thai specialties and a rich buffet breakfast. Other exciting activities you can participate in: cycling, weaving, and cooking classes.
Mountain View Homestay
Located in Buoc Village, Mountain View Homestay has back leaning on the mountain, the front overlooking the rice paddies and poetic river. This is a community guesthouse designed in Thai-style with the bedrooms separated by a large curtain. The bathroom is equipped with modern interiors and items made of natural materials like bamboo or cork.
At the Mountain View Homestay, visitors can go to shop by yourself, explore the local cuisine by making the dishes based on the guides of the landlord. If you love outdoor activities, bamboo rafting to see the scenery along the river is an interesting thing to do that you should not miss out.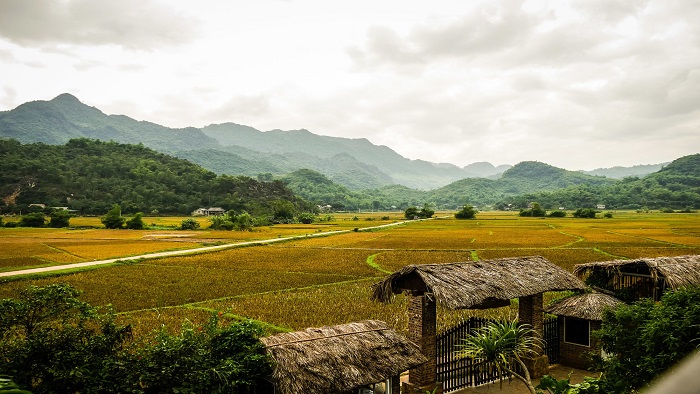 Top 8 best homestays in Mai Chau
Mai Chau Friendly Homestay
Situated in the heart of Lac Village, Mai Chau Friendly Homestay with is prime location, spacious space will be an ideal place to stay for travelers. From here, tourists can easily discover the beauty of Mai Chau at every corner. Aiming to provide the best service, guests will be enjoyed a variety of utilities such as non-smoking room, bike rental service, car park, tours, family room,… The staffs are always ready to suggest you funny activities during your stay. Mai Chau Friendly Homestay is really a perfect choice for your vacation.
La Maison De' Buoc
La Maison De' Buoc offers 4 garden houses and 1 family room which are furnished with air conditioning, private bathroom, terrace with antique and chairs to enjoy coffee or beer in the peaceful atmosphere of nature. Each bungalow has a large window, bed, and linens so that you will have the most comfortable stay during your trip.
La Maison De' Buoc also has a swimming pool with natural fresh water flowing down from the hill. The restaurant is available, serving daily meals and light buffet.
Other facilities at the homestay:
Free Wifi, swimming pool
Offer tours: hiking, trekking
Bikes are available for free
Souvenir shop and 24/24 front desk.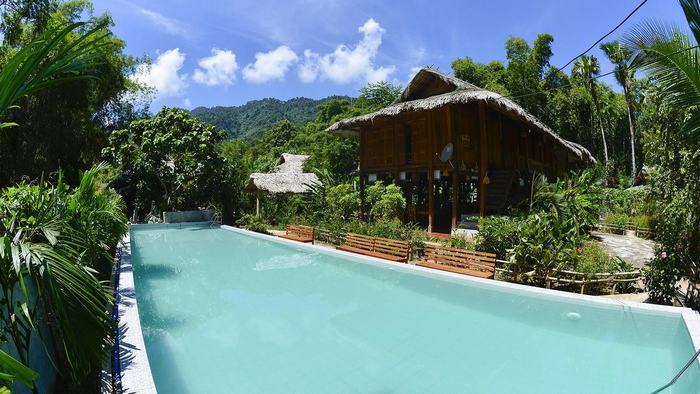 La Maison De Buoc
Quan Hang Homestay
Quan Hang Homestay offers friendly accommodation in Mai Chau District. Some rooms at the homestay have private room or balcony. There is a restaurant and a bar serving foods and drinks. Free car parking, 24/24 service and motorbike rental service are available. Guests can participate in many activities at the Quan Hang Homestay like biking or fishing.
Mai Chau Farmstay
Located in Lac Village, Mai Chau District, Mai Chau Farmstay is the perfect base to discover this beautiful town. The hotel offers a variety of high-quality services, bringing you the most comfortable stay. Designed for the customer's comfort, all rooms are equipped with hanging racks, free welcome drinks, mirrors, and private entrance. Other facilities include 24-hour room service, 24-hour security, gift shop, and postal service. Let's relax after a long day of sightseeing by stay in the room or enjoy the entertainment services that the Mai Chau Farmstay offers.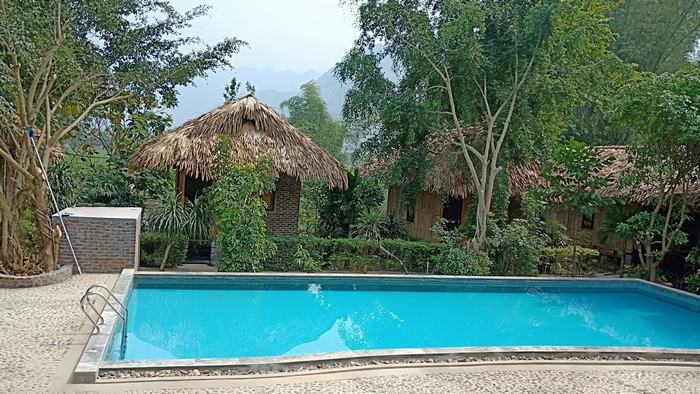 Mai Chau Farmstay
Stilt House No.9
Stilt House No.9 is considered the most beautiful mai chau vietnam homestay with two large wooden houses which can accommodate up to 150 people. This is the oldest house in Mai Chau with the architecture clearly reflecting the Thai-style architecture.
The stilt house is located in the center of the Lac village, about 100 meters from the village's gate and 50 meters from the village's cultural center. Staying here, visitors are served full of services such as dining, bike rental service, private bathroom,…
Feel free to contact us if you have any questions or suggestions about Mai Chau tours and travel guides. Like and share if this post is helpful for you. Thank you!