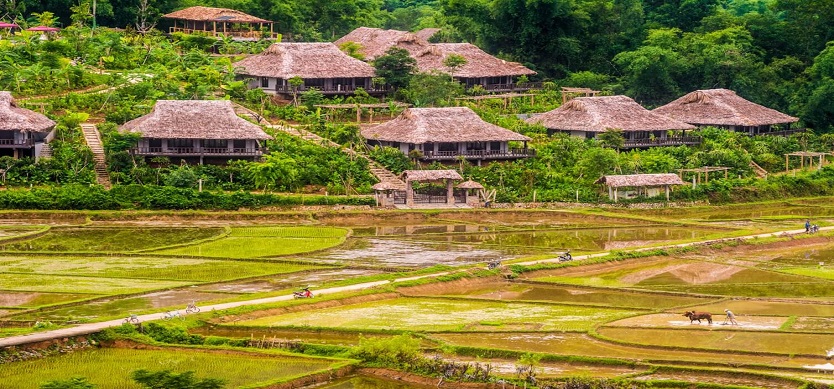 Mai Chau of Hoa Binh Vietnam is a little valley surrounded by green mountains and dotted with lakes, paddy fields, rivers and houses on stilts of the local Thai people.
Driving from Hanoi to Son La or Mai Chau, most travelers would stop at the entrance to Mai Chau which offers the breathtaking panoramic view of the area.
From above, Mai Chau looks like a huge green stadium with green mountain slopes and terraces. The main road snakes its away amid rice paddies, lakes and houses leading to the Ma River further in the background.
Many travelers who have been to Mai Chau never realize that they'd missed a cruise on the Ma River. Upstream and downstream Ma river cruises offer spectacular sceneries of a different world that's like no others: bamboo forests, secret valleys crossing pipes bringing drinking water to various households and all encircled by evergreen mountains.
Top tourist attractions in Mai Chau
Lac Village
Pom Coong Village
Kia Cave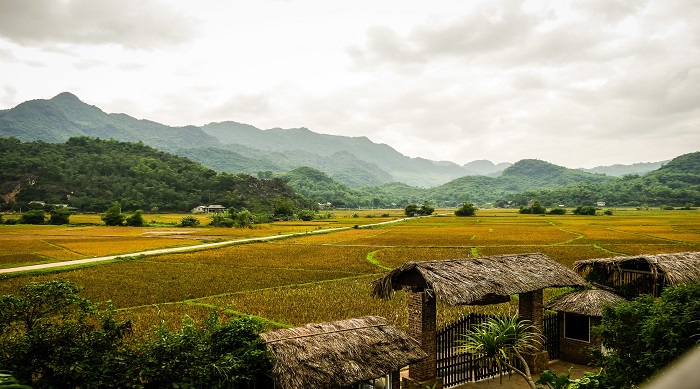 Top Mai Chau Tourist Attractions
The main drawcards of Mai Chau Valley are the pristine fresh nature and the colorful culture of the Thai People. There are many villages that attract Vietnamese tourists, foreign travelers, and expats from Hanoi. In the below list, Mai Chau Trek suggests some of the most popular attractions in Mai Chau.
Lac Village
Lac village is located in Mai Chau valley, Hoa Binh Province with unique traditions. Hoa Binh province is far about 70 kilometers from Hanoi; tourists must go 60 kilometers to Mai Chau. Lac village has 5 Thai ethnic: Ha, Lo, Mac, and Loc. According to the head of Lac village -Ha Cong Tim, Lac village has over 700 years old. Previously, the professions of the local people were rice planting and weaving brocade. Later, the hidden beauty of Lac village is explored by tourists.
In 1993, DPC in Mai Chau proposal Hoa Binh province allowed tourists to stay overnight in the village. Therefore, the name of Lac village has been well known as a "bright spot" on the tourist's map of Vietnam.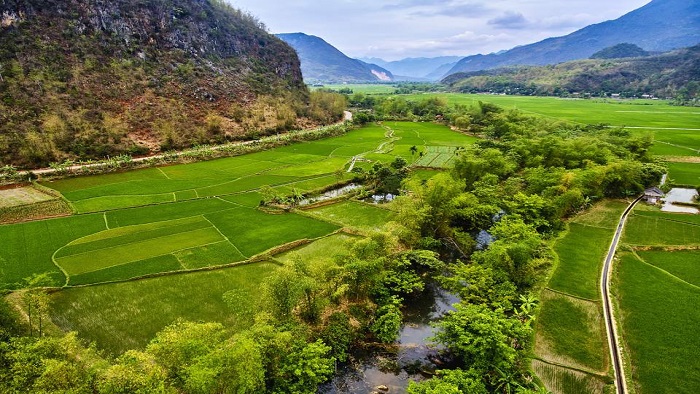 Top Mai Chau Tourist Attractions
From weaving scarf, brocade dress to wear, women in the village have made a lot of souvenirs for tourists such as scarf, skirts, lovely wallet… Coming to Lac village, tourists can enjoy bamboo cooked rice, experience their daily life. Ethnic people are very gentle, friendly. In the afternoon, there has strangely beautiful with the rays of the sun into the valley. Lac villagers will roast meat, cook a pot of bitter bamboo for tourists. They can enjoy traditional dishes and listen to the thrill gongs.
Visiting Lac Village, all kinds of tiredness will be disappeared. The range of mountain blends with cloud and green of rice fields along with stilted houses creates a spectacular scene of Lac village. Let's join
Mai Chau valley tours
and spend the holiday in here to experience an exciting feeling.
Pom Coong Village
Pom Coong village belongs to Mai Chau town, Mai Chau district. Like other villages of the Muong, Thai, the Pom Coong village often live in the area which has rivers, streams. The Thai is famous for traditional dance. Different from stilted houses of other ethnic, stilted house of the Thai often taller than that one so that it always creates a comfortable feeling. The floor is above the ground 2 meters. The window in the house has big size. At the roof of the stilted house, the Thai are making brocade, bags, and clothes to attract tourists. The souvenir is various and beautiful with vivid color which makes stilted become more attractive.
The special of Pom Coong has "pure Thai" space with clean water, water construction which creates a comfortable and safe feeling. Coming here, tourists will feel the fresh air and peaceful of life, you will forget the fatigues. Also, you will have the chance to meet local girls in the dance.
Tourists visit Pom Coong village who are foreigners, students. They want to understand more about ethnic life, the Thai and soak into the Thai daily life, traditional dance, gong festivals, homestay, and other activities. Tourists are not only sight views but also join hands with Pom Coong to help low-income families.
Pom Coong village becomes more attractive spots for tourists when having Mai Chau tour. Traditional dance together with stem wine brings an unforgettable impression. These are also souvenir products manufactured by Thai people such as "pieu" handkerchiefs, wallets, handbags and clothes made of brocade. And one thing to remember, once coming here, the tourists should taste the specialities of this region: delicious "ruou can" (wine drunk out of a jar through pipes) made of "nep" (glutinous rice), "hinh ho" leaf, ginger and so on, and "com lam" (a rice dish) Mai Chau.
Kia cave
There's also another heavenly valley in Mai Chau area called Hang Kia - Pa Ko which can only be accessed on foot or by motorbike. The road conditions are not that good, but the reward is no doubt worth it. To travel to Hang Kia, you'll have to drive 50 km further from Mai Chau on the same way to Son La. Buses and cars can only travel to Pa Ko where the rest journey has to be done on foot or by motorbike.
For more information about Mai Chau, you can visit our website. If you have any questions, feel free to contact us. Share this article with others if you find it helpful. Thank you!