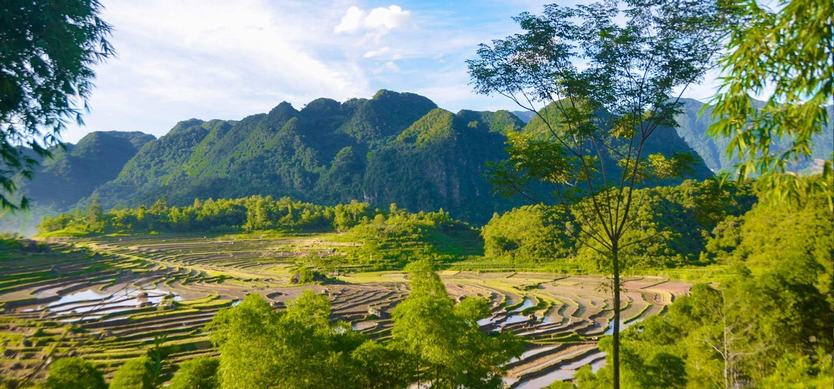 We had to be picked up by a taxi at 4:00 am. It was still dark, but we could see that someone was already sweeping the streets; we had never seen anything like this in India; perhaps we had never woken up so early. No taxi showed up, so at 4:15 am we decided to walk the 1km to the bus station. It is not very long, but considering the weight of the bags, we would have gladly paid for the taxi. As soon as we arrived at the bus station a guy who spoke no English shoved us into the first bus he found. When the bus left earlier than the scheduled time we got anxious and pointed at Mai Chau, our next destination, on the travel guide book to show where we want to stop. The people just nodded their heads, and we hoped for the best.
The first arriving
After 4 hours we glimpsed the first stilt houses, and once again we began pestering the driver with the 'Mai Chau?' questions. He dropped us at the next junction and from there we took a motorbike taxi to Pom Cong; a village of White Thai ethnic minority. The motorbike taxi dropped us at one of the first homestays, and even though a bit pricey, the host was very welcoming, and we opted to stay there. It resulted in being a good choice cause, even though we had very little privacy (actually none at all since our quarters were only separated by a flimsy curtain at one corner of the big family room, around the only double bed in the room) we experienced the real tribal life and also had the opportunity to witness the rituals/preparations of the local funeral proceedings when the brother of their grandfather died.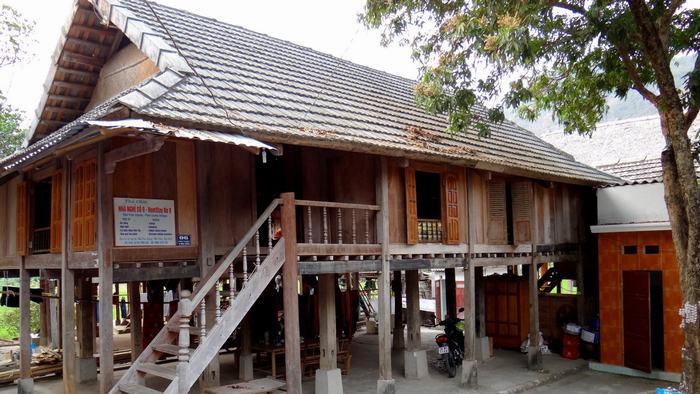 Pom Coong Village
Additionally, the fresh home cooked meals (which they bought from the market a few hours before each meal) were abundant and delicious. We spent a total of 4 days in Mai Chau, during which we enjoyed short walks around the nearby tribes and the lush valleys full of rice paddies with their unbelievable highlighter green hues.
During one of these walks, a local lady invited us to her stilt home for a cup of tea. It was the first invitation of this kind, and we were somewhat surprised, but after this experience, we encountered other people who enjoyed having a cup of tea with us (it would have been better if we liked the tea, but the infusion was too strong for us. As opposed to the other invitations this lady tried her utmost to speak English: she had a Vietnamese-English phrase book and a copybook with additional useful sentences translated in various languages.
Visit Lac village
On one of the walls, she had a collage of photos of tourists who had previously visited her home just like us and kept a book with all their comments, together with addresses of pen friends from around the world. We had never seen such an extensive collection; we found it quite interesting. Finally, she joined us for a walk around her village, the Lac Village. It was hot, but when we left the lady's home, in an instant the weather changed radically, and we were suddenly caught in the middle of heavy rain thunderstorm. Some locals invited us in for shelter, but after a few minutes waiting for the rain to abate, we donned our fashionable raincoats and made a run for our hut. We arrived soaked entirely just when the rain stopped!!!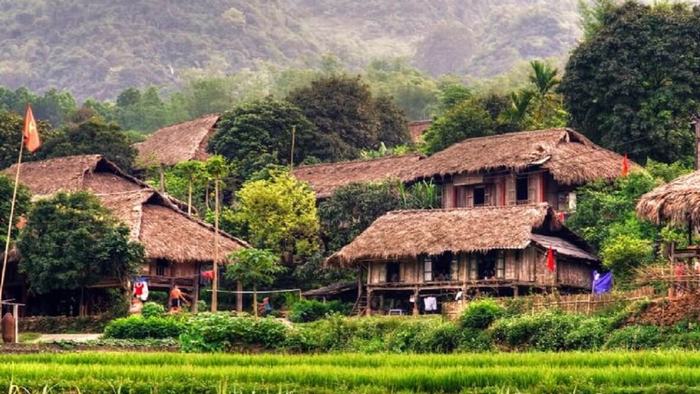 Lac Village
We also planned to visit the Dzao tribe in Than Nhan village. To arrive there, we took a combination of transport; a motorbike taxi for 16 km to a river from where we chartered a riverboat (which takes about 12 people, just for the 2 of us). The riverboat dropped us around 4 km away from the village, where we agreed to meet them again at 4.00pm and showed us the way. We started walking up the and fortunately for us when we passed the 2km post, we met two people who offered us (for a small cost) to take us up with the motorbikes for the last part, which was the steepest bit. At the Than Nhan village, we were welcomed by a non-English speaking Dzao woman who led us to a room filled with local people, probably the village restaurant. There we joined some locals who appeared to be on their lunch break and together with them we drank rice wine (tastes like grapple), and nibbled some fried frogs (which although they looked repulsive were tasty) with sticky colored rice and some vegetables.
To complete our tribal tour we also paid a visit to the Hmong tribes at the Xa Linh Village, about 30km away from Mai Chau. The villagers were very welcoming and allowed us the opportunity to take loads of pictures. Regrettably, we selected a drizzling day to go on this trip and the motorbike ride turned out to be extremely scary – even though we instructed the drives to drive slowly, the guys still pushed on the accelerator while snaking up the mountain road in low visibility and overtaking slower moving long haul trucks. But once on the bike we had no other choice than hold on tight and hope to arrive safe and sound – which we did.
We hope that after reading this article, you will learn more about the culture and pristine beauty of this land. Do not hesitate to take a Mai Chau tour 2 days and explore it by your way. Good trip!