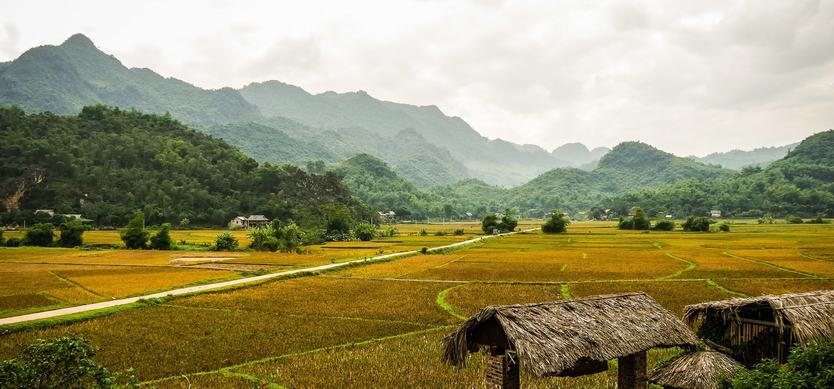 You'll remember all the people you meet on a trip like this and not necessarily the accommodations you slept in or the cars you rode in.
The trip began in an air-conditioned mini-bus traveling west from Hanoi. I found myself reviewing what was in my backpack. Had I remembered to bring my "mole-skin," did I have too many clothes? Snacks – did I have enough for three days? What did Chien say about cameras? Videos? Before I realized it, we were at one of those "scenic roadside stops" looking down on the town of Mai Chau. It was a spectacular sight–a small village nestled in a valley surrounded by verdant hills. Yes, this was precisely what I had wanted to see.
Arrive in Mai Chau
However, as we drove into Mai Chau my heart sunk – was it just another spot tainted by tourism? Shopping…shopping…and more shopping. As we were welcomed into one of the village homes for lunch I was skeptical about the way the things were shaping up. Where were those snacks I brought anyway? Lunch was served to us by a smiling member of the White Thai Family in whose home we were. The food was delicious, and the warmth of their hospitality was reassuring. Full, refreshed and once again looking forward to the excursion, we headed off from Mai Chau.
After a moderate uphill hike lasting about four hours, we arrived at an H'mong village where we would spend the night. The children welcomed us as the adults came in from the fields at the end of their workday. Someone in the group had brought a ball with them, and we began to play with the children. We toured the village to get the layout of the "facilities." At this point, Elizabeth (our 15-year-old) turned up her nose at the thought of using the "happy house" as we named the "loo."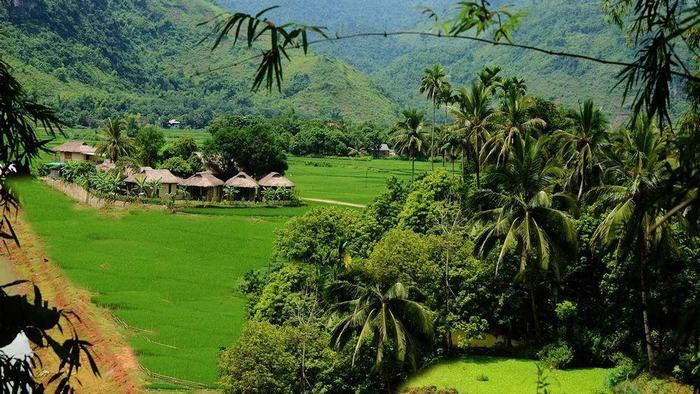 Peaceful scenery of Mai Chau
Our host family seemed shy and reserved. They prepared a feast for us for dinner that night, but no one ate much. When we were told that the table we were eating on would convert to our bed that evening, you could just feel the anxiety level rise. Had we signed up for this? As everyone finally settled in for the night, a quiet, peaceful air came over the room. Reflecting on the day made me realize that once we began our trek, we had hiked on buffalo paths, exchanged smiles with minority women and children and seen some of the most beautiful scenery in Vietnam.
As the sun rose and people woke and went about their morning rituals a specific pattern began to unfold. Everyone said good morning, respected one another private time, helped to pack up our bedding used for the night and inhaled the breakfast put in front of us. As we left the village for us all day downhill trek, Chien made sure that everything (and I mean everything) that we had brought with us either went with us or was picked up and taken back to Hanoi. Not even our used plastic water bottles were left–they were put in a box along with our other garbage and sent back.
At first, I was offended, why shouldn't we give our host village the use of the bottles? I asked. Chien simply said to me — "We have run groups through this village for two years – can you imagine what the village would look like today if we had left all the bottles behind!" He needed to say nothing more – after that, I always asked him before I gave away my empty water bottle to anyone. When appropriate he would merely smile. I also thought, two years – gosh and I thought we were one of the first groups of tourists to come through the village. Now, I began to respect the philosophy of responsible tourism.
Experience trekking
High on life at this point, we left the village for our downhill trek. Chien was careful to pace everyone today – asking those who were a bit quicker to slow down – and asking those traveling at a snail's pace to speed up a bit. He did not want the group to get too far apart today – we had too much ground to cover, and it was going to be very hot. He also made sure that everyone had at least two liters of water and the guides and some of the stronger men in the group were asked to carry extra water. Traveling downhill for most of the morning, we were all ready for lunch. It was a low point on the tour because it was so hot, the incline was quite steep, and people were tired. It was time for a break. It is amazing what a little food can do — after lunch and some great conversation we were all energized and ready to get started again. The afternoon hike took us along a buffalo path, across a bubbling brook where we stopped to cool our feet and through a small village. Finally, we caught a glimpse of our day's destination – a White Thai village once again set in the valley surrounded by the mountains that we had just hiked down. In 100 degree weather with a backpack on our backs! Were we crazy?!
Arriving in the village we checked out the "happy house" – how did it compare with last night's? Wow – there were two – both located on top of a small hill with a lot of privacy. And there was a river and a well that we could use for bathing. And the beds were filled mattresses that were laid out on the bamboo floor — boy; we were living in the lap of luxury! Everyone got freshened up and prepared for our evening entertainment.
A celebration hosted by the village for the group in thanks for the "buffalo donation" that would be made by money collected from the group to buy a buffalo for a local villager's family. We dined in the home of our host White Thai family and shared an evening filled with music, dance, great food and traditional rice wine with the family, their village friends, and local authorities. What a great day! Physically exhausted and overwhelmed with the feeling of accomplishment, the day's memories replayed in my mind as I fell into a deep sleep curled up on my soft-sleeping mattress inside my mosquito netting.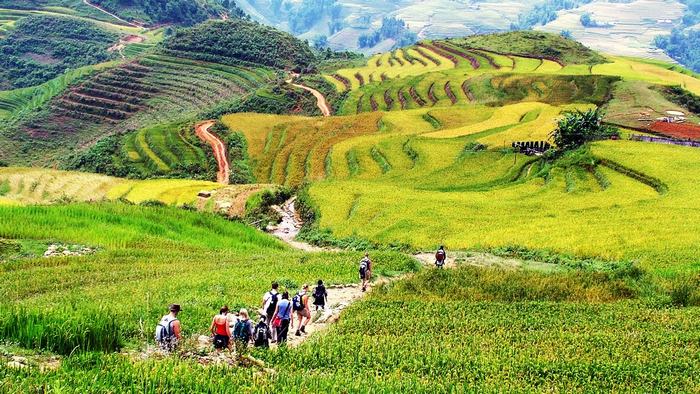 Trekking in Mai Chau
Waking a bit sore but well rested, I watched as everyone seemed to go about his or her morning routine in a very organized manner. After breakfast, we got our cameras ready and gathered around "Buffy" the name we had all agreed on for the female water buffalo that would be donated to a village family. The local committee had carefully selected a needy family whose yearly income was $210 for a family of four. Buffy had cost us $135! Without us, the family could never have been able to afford a buffalo. Not only were we going to make a difference in the immediate family but also hopefully over the years, Buffy would produce offspring for the future. We walked to the home of the recipients and officially made our donation.
What a great way to address the desire that so many of us have to want to give something back–or make something better–but yet don't know how to do it responsibly. It was gratifying. After we finished taking all of our group photos, said goodbye to Buffy and the family; we took off on our morning hike. Before long we arrived at our bus – was it only two days since we had seen our driver — its seemed like a month!
We drove for a couple of hours to the Da River where we said goodbye to our driver and boarded our local boat for a cruise upriver to the other side. Pointing straight up Chien informed us that the Zao Village that we were to stay in for the evening was nestled in the forest. I decided that today, I had to keep going – no breaks or I would probably never make it. Every muscle in my body hurt – it was 107 degrees, and after the cruise, I realized just how exhausted I was. But up I went and went and went and went! For the last two days I had been one of the previous hikers – today I was one of the first. When I thought I couldn't go any further, all of a sudden, a Zao woman came up behind me and took my pack right off my back and carried it the rest of the way up the mountain. I merely smiled and let her do it. Such a simple act of kindness – but one I will remember for the rest of my life. Arriving at the top, I sat down at the side of the house to look over the most beautiful scenery I had ever seen, listen to the birds singing and the children playing. I had traveled back in time, and yet, to my total astonishment, the village had electricity!
As Elizabeth arrived at the village, I heard her ask where the "happy house" was, and she was led to it. A few minutes later I heard her squeal with joy saying "Look Mom – it's great – it has a brand new cement floor". I knew at that point that we had all come a long way in appreciating the simple pleasures of life! Before dinner that night we were invited to experience the local bathhouse. Arriving at the bathhouse, I quickly realized that this was part of the community socializing. They had funneled water from the mountain streams into an area for bathing. There was an outdoor area for the men and a protected area for the women. The water was cool and clean, and the shower was beautiful! Truly rejuvenated we settled in for dinner and individual and group conversations. That night we exchanged questions and answers through our translator about life in the village and life in the United States. They wanted to know just as much about our lifestyle as we did about theirs.
We shared our questions, thoughts, Asian food, western treats and water with one another. We made sure that everyone was okay and that everyone's needs were met. Not knowing when or understanding how or why we all realized that night just how much we had bonded. Once again we settled down for our night's stay. I had trouble falling asleep because I kept thinking of just what an incredible experience I had been having and how good I felt about myself both physically and emotionally. A light went off when I realized this is what is meant when people say of travel experience, "leave only footprints."
Tomorrow would begin the next chapter in our adventure – camping on a private beach, kayaking in the waters of Halong Bay, motorbiking in Cat Ba. But tomorrow was another day – tonight I wanted to reflect on just what this 49-year-old city girl had been able to accomplish in the equivalent of a long weekend!
Waking before the sun rose, I was excited about beginning our new adventure. I was also anxious to take a real shower, clean clothes and a western meal in Hanoi. Waving goodbye to our new found friends we started back down the mountain. Was this the same mountain that seemed to be so high just yesterday? Today in the cool morning air it almost looked like we skipped down. Passing some Zao villagers already coming back from their early morning chores I couldn't help wondering what time they had started that morning to have already gathered so much firewood. Down at the bottom of the mountain, we boarded our boat and crossed back over to the other side of the Da River where our loyal bus driver had the bus cooled off and ready for us to head back to Hanoi.
Halong Bay and Cat Ba Island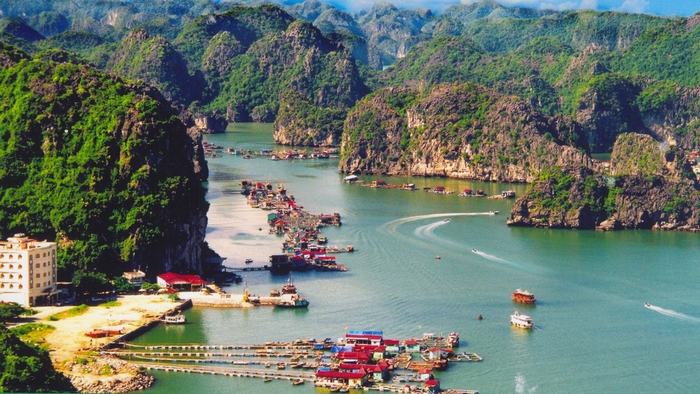 Cat Ba Island
We arrived at the Royal Hotel where three-day rooms had been booked for the group to use to shower, change and repack. The bags we had left behind when we left three days ago were already in the rooms waiting for us. After a while, we had all had our showers and western lunch and were ready to go. Back on our bus, we set off toward Haiphong, gateway to Halong Bay. After dinner at the hotel, we all went our separate ways. Some went to the cyber-cafe for Vietnamese coffee and music; others just went to their rooms to enjoy a "real" bed and some privacy.
As ready as everyone was to go their way the night before, that is just how happy we all were to make sure everyone showed up for breakfast the next morning and was ready to go. We all seemed to get along so well – when did all this bonding happen anyway? We headed down to the dock to board the local ferry for Cat Ba Island. I had some doubts about taking a public boat into the South China Sea, but once we boarded and had started on our way, I was glad that we had opted for the public ferry instead of a private one. It took half the time, the waters were pretty calm, and the trip itself was delightful. We shared pictures, conversation and smiles with the other passengers on-board and before I realized it, Cat Ba Island was in front of us. The trip had been great!
We hired motorbikes and drivers to take us on an island tour, exploring a cave that had been used during the war as a hospital and Cat Ba National Park. When we stopped in front of the park, and Chien pointed to the top of the mountain saying that was where we were going to hike up to, we all stayed right on our bikes and told our drivers to keep going! We returned to the center of town for lunch before heading off to our "secluded beach" for sun, sand, and swimming! We decided to let our motorbike drivers take us to the beach – but when they got to the top of the hill, they pointed down and told us they could not go any further. Chien was not pointing down at the beach in front of us but over toward another hill. Was I hearing him saying that we had to hike over the next hill to get to the beach? (And I thought today was our day off! Oh well, the hill didn't look very tall anyway!) Off we went laughing and looking forward to getting to "our beach."
As we reached the top of the next hill and looked down — what we saw looked like paradise. In front of us were a beautiful white sand beach, crystal blue water, and even a small thatched bungalow restaurant. We spent the afternoon frolicking in the surf, lounging on the beach and just being "kids" again. As the afternoon came to an end, we watched the local family erect the tents that we would sleep in that night. Each tent could sleep, two persons — time to change into some dry clothes and get ready to dine under the stars. As the sun set over the South China Sea, the cook prepared dinner and to my delight not only did it come with soft drinks, bottled water, and beer – but there on the table sat three bottles of wine! What a way to end another perfect day. After we finished our dinner and most of the talk had quieted down, people started to drift off to their tents or pulled their mattresses out from their tents to sleep under the stars. We all fell asleep to the melodic sounds of the ocean.
As the morning sun came up and we all went about our morning rituals, it felt like being home with my family–everyone just knew the routine. After breakfast, we helped take down the tents and pack up the supplies before we headed back up the mountain toward town. When we reached the top, there they were–our motorbike drivers waiting to take us back to town. As we reached the dock, we saw our sampan anchored in offshore just waiting for us to board. It was a beautiful boat, lots of open deck space, a covered dining area and toilet facilities.
After we got our kayaks and supplies on board, we sailed into the fabulous Halong Bay. It was one of the most spectacular sights I have ever seen. It was like being on a movie set. Hundreds of jagged limestone peaks jutting right out of the emerald green waters of the Gulf of Tonkin. After sailing for about two hours, we anchored in a very protected cove – not another boat in sight. The kayaks were lowered into the water and teams of two chose their boats. We were given some instructions and set off to explore the area. The top deck of the ship became our "high dive" and the lower deck our "low dive." We kayaked, swam, snorkeled, had a "cannon-ball" contest, ate a fresh seafood lunch and once again just enjoyed the afternoon.
As our bus drove to drop us off at our hotel, everyone's mouth dropped open–it was beautiful! Could this trip just keep getting better? We checked into our rooms, enjoyed a leisurely shower and even had time for a bit of shopping. At dinner that night, I looked around the table; everyone had that newly tanned, scrubbed clean look and were all dressed up in their "finest"– after all, we were back in the city! We left for Hanoi the next morning. We finally made a couple of "shopping" stops on the way back. We stopped at a pottery factory and a handicraft village that was for older orphaned children with handicaps. It is a self-sustaining orphanage selling their hand made crafts to visitors. And it did make you feel good when you paid for it knowing that you were helping them help themselves. We arrived back in Hanoi, in time for everyone to go down to the ancient shopping district of 36 Streets and 36 wares to finish purchasing their last-minute gifts to take home before our farewell dinner. After dinner, we all decided to take one last cyclo ride through the city before we said our farewells.
As I lay in bed that night, I had so many thoughts going through my head I could hardly sort them out. Before, this trip I thought I knew what eco/sustainable tourism was; after all, I had read about it for years, preached it and thought I practiced it. I just could not get over the fact that we did not leave anything behind that would give any indication that we had been there and that I was able to fulfill my need to do something in such a long-lasting yet straightforward act. We learned about different cultures and lifestyles, walked through scenery that seemed hand-painted at times and learned how to unselfishly come to the assistance of our fellow travelers.
For more information about Mai Chau village tour, you can visit our website. If you have any questions or need further information, feel free to contact us. Have a nice trip!