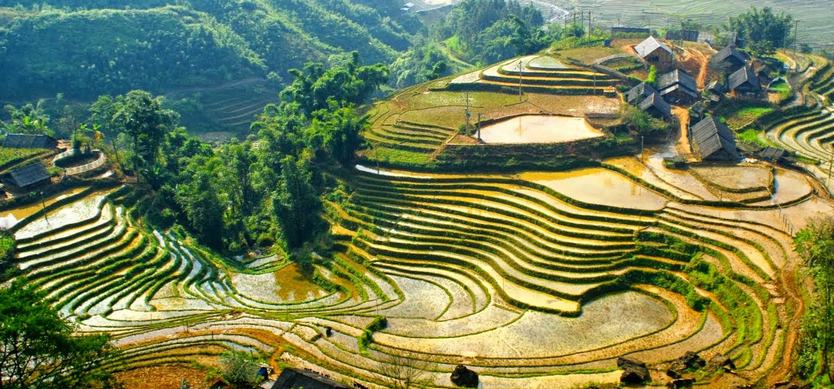 According to the exploration of some tourism companies, tourists could choose Northwestern Vietnam as an ideal destination for trekking, cycling, climbing, kayaking, and exploring the traditional culture of ethnic minorities.
Mother nature has given special favor for northwestern Vietnam with grandiose mountains, fanciful caves, lots of bumpy streams and winding rivers. Besides, it's the unique traditional culture of the ethnic minorities that creates the seductive beauty for the northwest.
The daily life of ethnic people
One of the favorite traveling programs for foreigners is trekking through the mountainous villages of the northwest region. It is a new kind of tourism for those who love to discover, experience and learn about manners and customs from many cultures.
The Muong ethnic group still transmits orally the saying "First Bi, second Bang, third Thang, forth Dong." The saying names four accent mountain villages of the Muong ethnic minority. These are the biggest villages that the Muong ethnic group gather and settle down.
In Hoa Binh province, some villages are being exploited for tourism purposes. Ten kilometers from Hoa Binh City, Giang Mo village lying at the foot of Mo Mountain includes 106 houses on stilts. These houses are kept in their original form in structure, daily life activities, water system, rice mortar, bow and cross-bow, farming method, tradition and custom of the Muong people.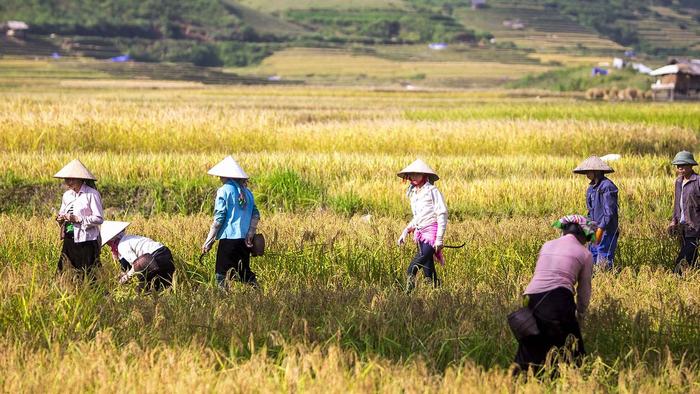 People in Mai Chau
Being guests in these houses, you will be warmly greeted, enjoy folk art performance; buy little souvenirs made by the Muong people. It is even more interesting when you have a chance to listen to the host playing the flute and monochord beside the traditional wine jar (drunk through pipes).
Mai Chau village is 60 kilometers from Hoa Binh City. It has been a favorite tourist attraction. The houses on stilts are quite large and are covered by palm trees. The floors are made of bamboo's wood. The windows not only are big to pick up the wind but also hang on orchid of baskets and bird cages. It is difficult for tourists to forget the camp-fire nights playing gongs, communicating with artisans, dancing with Muong girls.
Traditional houses and jobs
According to Mr. Ha Cong Tim, the head of Lac village, tourism has brought a significant change in the ethnic minorities' life here since 1993. There are 25 Houses on stilts in Pom village and Coong village to serve tourists. In 2007, more than 14,000 tourists went there; 60 percent of that was from foreign countries.
Only three kilometers from Son La town, you can live in Thai' ethnic tradition. Thai' girls who have not gathered their hair in a high bun yet (it means isn't married) will invite you to their traditional party with wine, bamboo-tube rice, "com khau," "mang lay," " pink top" etc. Son La also has a Mong village which is green tourism, cultural, and relaxing site in the Hua La Commune. Mong village has a hot natural stream named Bo Nam Un. The water has got medical properties. 100 Thai families live in here.
They live in houses on stilts in the edge of mountains. The roofs are well-decorated with the images of elephant tusks and the moon. The handicraft here includes forging, making brocade, knitting, making pottery. The sound of drums, gongs, birds, combining with stretching dance, butterfly dance, Pieu dance and the song "Inh La Oi" will make a good impression for tourists visiting Mong village.
Cooking culture with unique dishes is an interesting factor to attract tourists. To name some traditional dishes, they have steamed glorious rice, bamboo tube rice, grilled fish, vegetable, bitter bamboo sprout, dried meat, thin-top mushroom, etc. Coming to Nam Son commune, Tan Lac district, Hoa Binh Province, visiting the original Nam Son cavern, you will enjoy the specialty here: Nam Son chicken.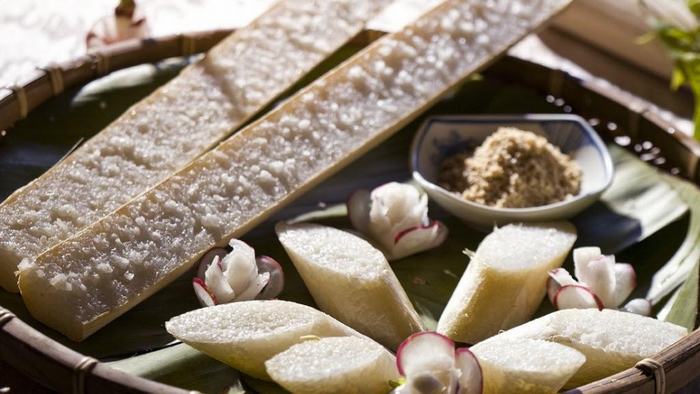 Rice bamboo tube
It is not only soft but also sweet. According to Mr. Bui Thanh Truyen, the president of Nam Son commune, it is one of the three unique dishes of Vietnam that is introduced into the famous book Slow Food Editore with 1600 other dishes of 150 countries by Terra Madre Organization (administered by Italian Department of Agriculture and Forest).
In an exploration to some North- West tourist spots, representatives of tourism companies affirmed that mountain villages of the ethnic minorities are a potential advantage. What we have to do is to connect the main tourism spots in Hoa Binh with other provinces to make a route for inter-provincial tourism program including adventurous exploration, mountain biking, trekking, etc. We have to support the trade name North-West Tourism, consolidate the stability of tourism and improve the economic life of the northwest ethnic minorities.
For more information about Mai Chau Valley Trekking, you can visit our website. Feel free to contact us if you have any questions. Share this article with others if you find it helpful. Thank you!