As one of the highlights in Northwest Highlands, Mai Chau will surely make your trip in Vietnam fascinating with idyllic natural scenery and unique culture.
Mai Chau, located in Hoa Binh province, about 140km from Hanoi, was an exciting destination for my two day trip on the occasion of National Victory Day - April 30th and International Working Day - May 1st.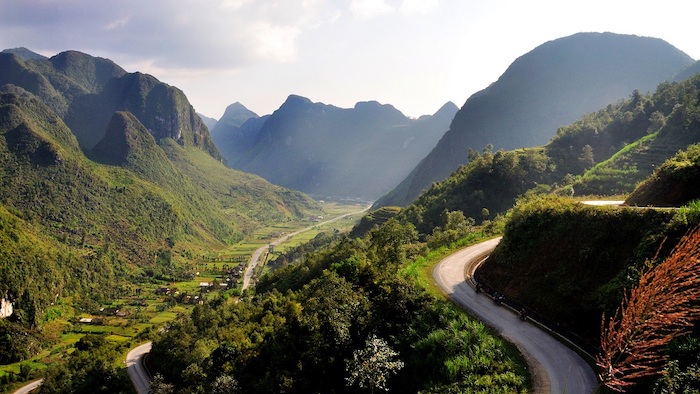 The way to Mai Chau
The first trip to Mai Chau
I had many chances to learn about the natural beauties of Hoa Binh and Mai Chau, considered as the heart of the Tonkin and longing for a trip to Mai Chau for a long time.
A dream came true when our company operated a farm trip to detective Mai Chau's tourism conditions, infrastructure, and of course, I was one of the first volunteers of 7 members in this journey.
8:00 in the morning, everybody was ready and picked up by a young and funny driver. Truyen is his name. On the way how from Hanoi to Mai Chau, he showed us many interesting things.
For example, Hoa Binh was home to many ethnic minorities, especially Muong and Thai people; Thai girls were lovely and smart; or There were many specialties in Mai Chau such as Can wine, "Com Lam"- a kind of rice cooked in a tube of bamboo.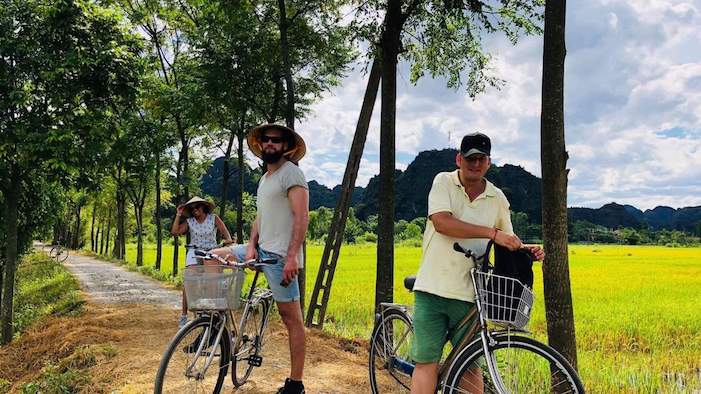 Having a bike tour in Mai Chau
The first stop in our trip was Hoa Binh hydropower plant. We also visited Ho Chi Minh's statute and were told a legend relating this statute.
Leaving Hoa Binh, Truyen continued driving us to Mai Chau via Cun pass, a spectacular view on the top of this mountain. The panorama of the lush green valley with its stilt houses is laid out before you. The valley of Mai Chau was our stop for checking in Mai Chau Lodge.
That was a beautiful 4-star wooden lodge situated on the edge of the valley, designed with full of beautiful decor and atmosphere. After a short rest and a local lunch at the accommodation, we ran up for an exploration around the town.
Experiences in Mai Chau
Everywhere, the stilt houses border both sides of the roads. The houses are quite large with palm leaf roofs and bamboo-slat floors. The kitchen is located in the center of the home; the cooking, as well as the making of the colorful brocade, takes place in the kitchen.
The Thai minority use that material to make their clothes. The windows are large and decorated with patterns. Each house also has a pond to breed fish.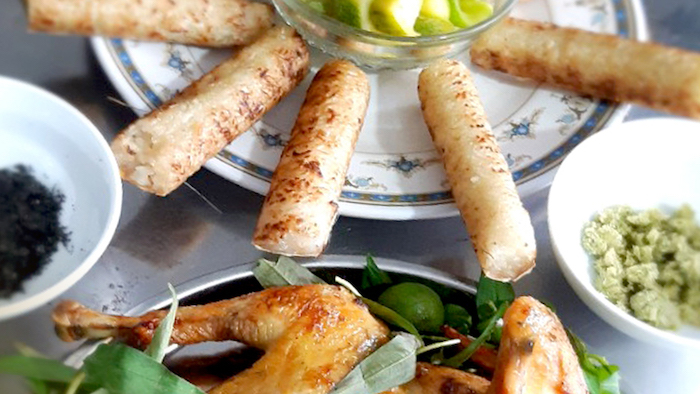 Bamboo-tube rice - a specialty of Mai Chau
It must have been said that we had a memorable night in Mai Chau. We joined singing and dancing with gorgeous Thai girls. They also taught us how to dance "Xoe Thai" and sharing the wine with others like the way they did every day, which we had never done before.
A peaceful morning with the sunlight waking us up. We took the time to enjoy the fresh air and did some morning exercises to prepare for trekking visit in Lac village, meeting White Thai people, and finding out how a stilt house was made.
We visited a local home to see Thai women weaving clothing and enjoy the last meal there. They welcomed us so friendly that we didn't want to leave.
Spending only two days in Mai Chau but it gave us more than our expectation for the first time. We got an unforgettable travel experience there. For more information about Mai Chau Vietnam homestay, you can visit our website. If you have any questions, feel free to contact us. Have a nice trip!