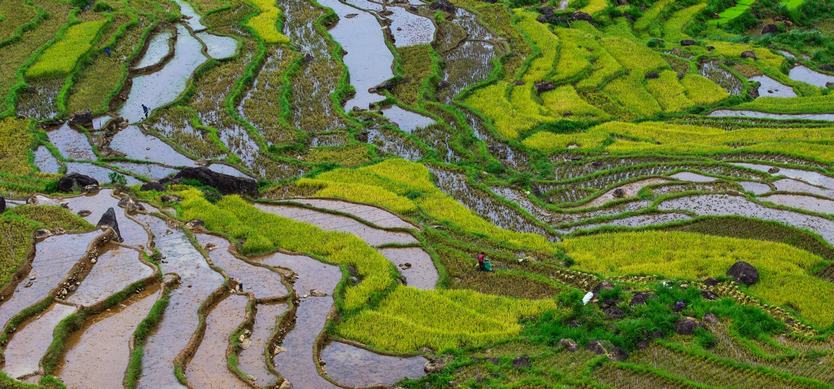 "A buddy and I did ten days in Northern Vietnam and wanted to get a few days of hiking in. We opted for ATA's 4-day Mai Chau Homestay. Mr. Hai picked us up at our backpacker's hostel with a private car and driver. Mr. Hai was very knowledgeable, had a great sense of humor, and spoke excellent English. The drive was quiet and comfortable, though uneventful as it was raining.
My experiences in Mai Chau
When we reached Mai Chau, we stopped at the Homestay HQ where we were treated to an excellent 4-5 course meal and waited for our local guide, Thanh. Thanh did not speak a word of English but was friendly and pleasant from the start. She would prove to be wonderful once the trip started. From Mai Chau, we took a short car ride to the beginning of the hike.
We departed our transport and hiked to a Hmong village high in the mountains. Though it was still raining and chilly, the Hmong house was warm and comfortable. Right when we arrived, Thanh headed to the kitchen and began working over a wood fire. We quickly learned that this would be the norm, regardless of how long the hike was prior. The Hmong family pressed on with their day-to-day activities. At dinner time, Thanh delivered the first of several unbelievable meals. The typical dinner meal was about seven courses with the freshest ingredients I've ever tasted. I can't begin to express how good the food was throughout the trip. The Hmong husband and wife joined us during the dinner and shared their company as well as their homemade corn wine with us.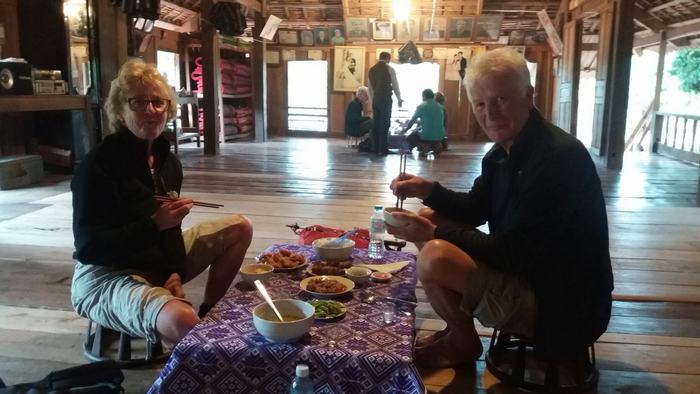 Meals with locals
The next morning, we were welcomed with a delicious breakfast. I can't recall what we ate on any particular day, but it ranged from noodle and vegetable dishes to omelets to banana pancakes. Fresh fruit was always served. The second day we hiked down the mountain to a black Thai village. The terrain was extremely slippery. With hindsight, I would probably have been much better off with a lightweight hiking shoe rather than a heavier boot.
We broke for quick lunch midway through the hike…tuna sandwiches and fresh fruit. Arriving at the black Thai house, we were drenched, and the lady of the house helped us figure out how to wash some clothes and helped us hang them to dry. We were offered beer or other soft drinks for about $1 each. Again, we were treated to a wonderful meal, great company, and homemade rice wine. After dinner, we grabbed some more beers and walked down to a rice patty wall where we sat, talked, and enjoyed the night scenery. I felt completely safe in the sleepy village (as well as everywhere else I visited in Vietnam).
After a delicious breakfast, we began our third day of hiking. We hiked through some fantastic scenery, limestone cliffs towering hundreds of feet above plush, green rice fields. There was no shortage of activity to witness, from girls working the fields or busy embroidering to men leading their water buffalo to graze. We even got to take about an hour break to watch a local soccer match, complete with water buffalo running through the middle of the field. Another quick lunch included sandwiches and custard apple fruit. The only way I can explain what a custard apple is that it is somewhat of a pineapple-like fruit, but with pudding inside. It was amazing!
We spent our last night at a black Thai house where we were again treated with Thanh's wonderful cooking, a pleasant company from our hosts, and homemade rice wine.
The next day, we started with a good breakfast again and had a 3-4 hour hike back to the Homestay HQ. There, we had a refreshing shower followed by a good meal. This village has plenty of shopping available, so definitely save your shopping for the last day.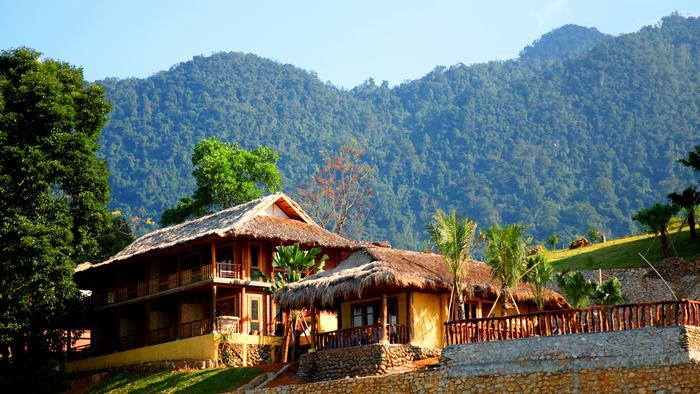 Homestay in Mai Chau
Bottom line
Mr. Hai was wonderful. He is an entertaining, knowledgeable guide. We were engaged continuously in entertaining dialogue, exploring everything from local customs to Vietnam history and politics. I can't imagine a better English-speaking guide in Vietnam.
Thanh was unbelievable. She led us down slippery trails and through river crossings wearing only her flipflops. Each day, following the day's hike, she would cook the most amazing meals over a wood fire. She was the first one awake, greeting us each day with a delicious breakfast.
Mai Chau is unspoiled. Not once was I approached to provide change or to buy something. The people all seemed pleasantly indifferent to us. Smiles and greetings were exchanged, but I never felt any pressure common in similar tourist situations. The people of Mai Chau seemed to be proud, friendly, and respectful.
Planning the trip was easily done via email. Ms. Sunny helped me up until she took leave to deliver a baby. After that, Ms. Candy ensured we were taken care of.
I don't know what else I can add. It was simply wonderful!
If you concern more about Mai Chau Village tour, please visit our website. If you have any questions, feel free to contact us. Good trip!