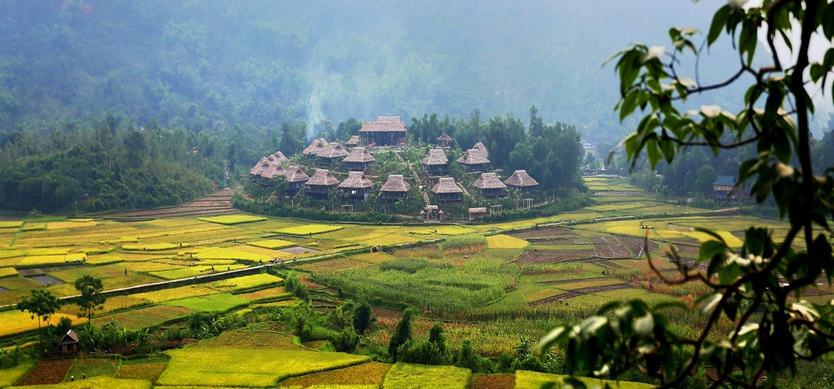 September 2nd (Independence Day) is one of the few public holidays in Vietnam, and one of the rare occasions the schools in Vietnam is closed. We decided to make the most of the holiday and head for the hills (and then a valley). Our destination was Mai Chau, a little village nestled in a valley about 3 hours west of Hanoi.
On the way to Mai Chau
Due to its proximity to the city, Mai Chau has grown into a tourist destination — though (fortunately) not of the magnitude of Halong Bay or Sapa. The town itself is quite small and doesn't provide much in terms of entertainment. The main reason people visit is for the smaller villages, peace, and stunning scenery. Most people stay in the White Thai village in the south of the town, where there is a cluster of White Thai stilt houses.
We left Hanoi and set out on Highway 6 heading west. About 45 minutes outside of the city, the scenery changed dramatically: suddenly we went from dry, dusty, and flat to a beautiful road winding through the mountains.
Hoa Binh, an hour or so from Hanoi, is the largest city in the area and provides the many minority groups in the area with a place to convene and sell their wares. The city is set in the mountains, which offer a stunning backdrop. We were interested in exploring the city but were keen to get to the peace of Mai Chau, so we kept on trucking.
As we headed further into the mountains, the sun ducked behind some clouds, and the sky darkened dramatically — it looked like we might run into a bit of rain. Biking in the rain, especially in the mountain areas, is a very wet proposition, so we kept our heads down and picked up speed. The road split, and we continued along Highway 6 — as we did so, two youngsters zoomed past us on another bike. Just after we made the turn, we saw the two kids in the ditch — it looked like they hadn't made the turn successfully and wound up dropping the bike. We slowed down to help them, but others were already on the scene to assist, so we continued.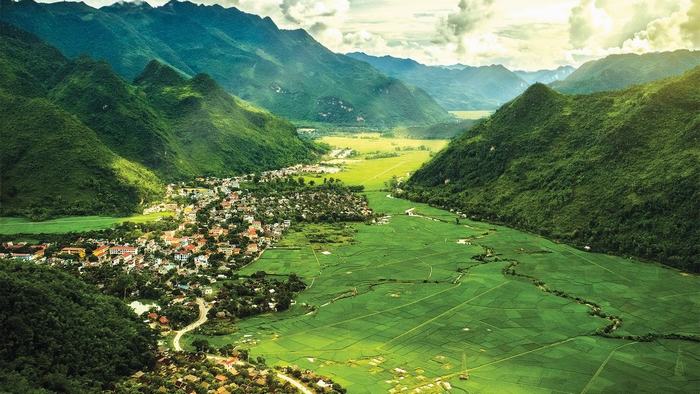 Mai Chau scenery
Shortly after passing the accident scene, the rain began to fall, and we ponied up. Unfortunately, due to the rain, the view of Mai Chau in the valley below was too obscured; we hoped we would have a better vantage point on the way home the next day. On the bright side, we didn't have much longer to get to Mai Chau — it was just a short coast down the mountain.
Experience in Mai Chau
We rolled through town and kept our eyes peeled for a place to stay — there wasn't much of anything, and we quickly passed through without stopping. We weren't all that keen on staying in the stilt houses because we didn't want to share the floor with strangers, so we went back towards town to look at the two hotels we'd seen. The first was the Mai Chau Lodge, which looked gorgeous but expensive. We decided to at least see how much it cost, and were surprised when we were told: "one hundred fifty" (which we took to mean 150,000 dongs).
After taking a look at the palatial suite, we were pretty sure the price was likely in dollars rather than dong — a suspicion that was quickly confirmed. We were prepared to spend about 1/15th that price, so we went to the other hotel and gave that a once over. The second hotel was run down and musty — looked like the stilt houses were going to be our best bet.
We rolled along to the White Thai village and drove ourselves to the edge of the town. There we found a quiet stilt house and negotiated a price of 80,000 for the night (about $5). We set down our bags and went off exploring the expansive green space around the village. Hanoi is a relatively green city — in Asian terms: there are loads of trees and lots of lakes, even some parks. But, after a bit, one begins to crave a little more natural; finding ourselves surrounded by striking mountains and beautiful jelly green rice paddies was a pleasure. We walked along one of the paths winding through the rice paddies near our stilt house and quickly found ourselves completely alone in the wilderness. We didn't talk about it until much later, but at that point, both of our ears hurt — turned out it was so quiet we could hear the sound of the blood pumping through our ears — such a change from the never ending horns in Hanoi.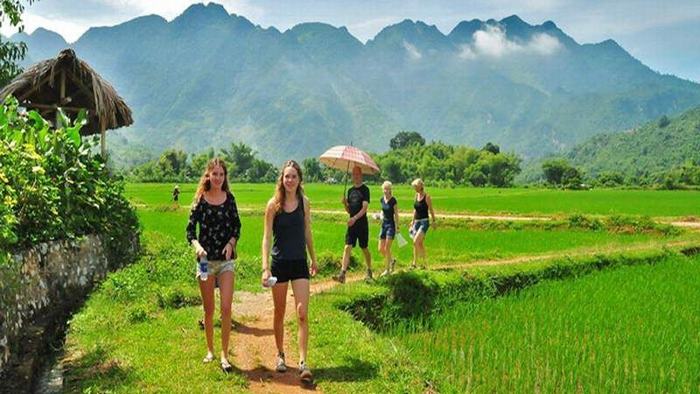 Trekking in Mai Chau
Sunset was approaching, so we wandered back to our accommodation and ordered dinner. We ate dinner in the room of our stilt house and were done by 7:30 — very early for us. Neither of us was ready for bed, so we meandered around the "streets" of the village. We found a house that served drinks and sat down and had a beer. The village was dead quiet, and we felt terrible keeping our hosts up, so we went back and made ourselves comfortable on the floor. It was still early (9:00), but we figured soon to bed meant early to rise.
We woke up the next morning to the crowing of roosters and decided to hit the road immediately. Since we had the whole day ahead of us, we chose to drive south and rewind through Cuc Phuong National Park, rather than drive back along Highway 6. The road was narrow and not signposted, so we ended up going MUCH farther south than we'd planned — not that we minded: it was one of the most beautiful drives we've ever taken. After finally heading east and making our way into Cuc Phuong, we found ourselves alternating between expansive stretches of perfect, new highways, and muddy and rutty tracts of torn up road. In the end, we spent about 11 hours driving from Mai Chau back to Hanoi, but it was all well worth it — stunning scenery.
Our goal was accomplished, and we felt refreshed — ready to return to Hanoi and head back to school until our next adventure.
For more information about Mai Chau Hoa Binh tour, you can visit our website. If you have any questions, feel free to contact us. Have a nice trip!