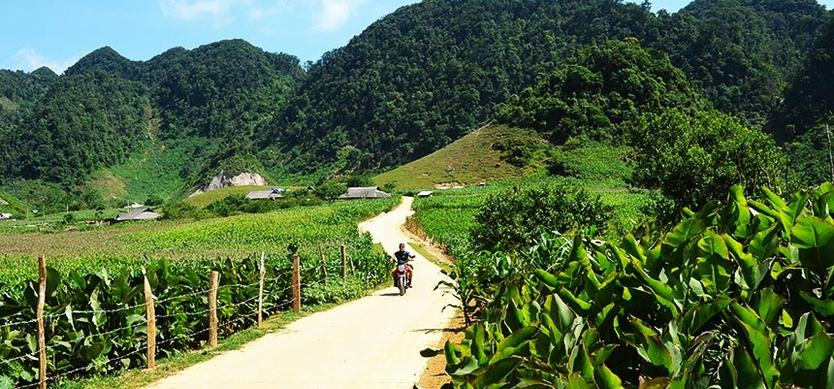 Wander a tea tree forest the local Mong communities have been cultivating for hundreds of years. Most seasoned travelers in Vietnam already know the enchanting White Thai communities of Mai Chau Valley in Hoa Binh Province. But in the same lush valley, a group of ethnic Mong communities has begun opening their doors to tourists in Pa Co Commune.
An overview of Pa Co
Boasting the same rigid mountains and rich rice fields as Lac and Pom Coong hamlets, where the White Thai have been welcoming home stays for years, Pa Co also offers a centuries' old tea forest that's still cultivated today.
After exiting the city, the road hikes up into the green limestone mountains, revealing fresh rice paddies and fruit orchards below. In the summer, each orchard is a different color as the fruits begin to ripen.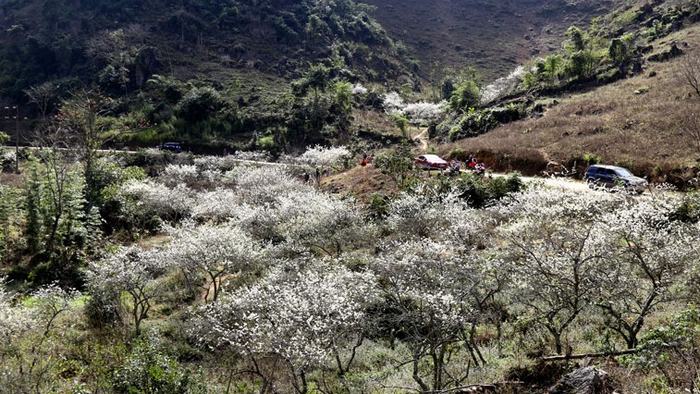 Spring in Pa Co
Behind the crowded shops that flank certain parts of the road, crystal clear canals and patches of jungle shine in the distance. As you approach Mai Chau Valley, traditional stilt houses can be seen interjecting themselves between the modern homes. As the road descends into Mai Chau Town, the difference is clear: modern homes along the road, stilt houses in the valley's rice paddies.
People in Pa Co
A little over a decade ago, Mong locals in the area still lived as nomads. But now, many have settled in Pa Co Hamlet to farm tea or enter the tea processing trade in nearby Tra Day Hamlet. Here, locals offer tourists the local specialty, Shan Tuyet tea, made from trees that have been growing in Mai Chau's highest mountains for hundreds of years.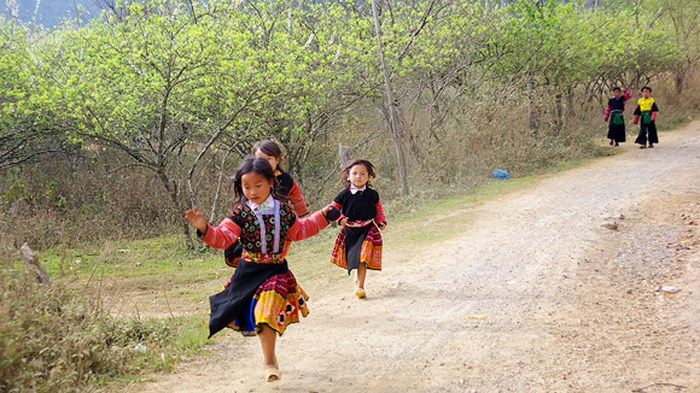 Children in Pa Co
According to Pha, director of a local tea processing business, Pa Co Hamlet is famous for its tea trees, about which the Mong communities still tell a local legend. According to the story, the trees appeared on Pa Hang Mountain hundreds of years ago when yellow -beaked phoenixes scattered tea seeds throughout the area because they liked eating tea tree fruit. It is said that the trees in the northwestern mountains of Vietnam were their favorite. The tea trees grew incredibly fast and soon formed a forest thanks to both the superb tea-growing climate and the special seeds scattered by the phoenixes.
Pa Co's tea forest still has more than 1,000 old trees. These days, tourists can visit Pa Co to walk through the forest and sample the Mong's centuries' old tea recipes.
For more information about tour Mai Chau Hoa Binh 1 day, please visit our website. If you have any questions, feel free to contact us. Have a nice trip!