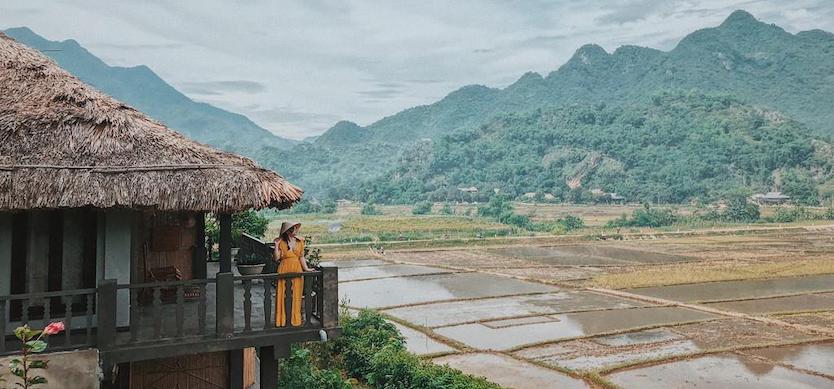 Leaving the noisy city, Mai Chau in April has a cooling climate, fresh air, promising to bring visitors fascinating and unforgettable experiences.
Mai Chau is probably a quite familiar name among backpackers due to its breathtaking scenery with blue sky, mountains, and vast fields. Except for spring, Mai Chau is also lovely in April with dramatic view. So, what are you waiting for? Let's take your backpack and go!
Why you should visit Mai Chau in April
Mai Chau each season has its special beauty, so why should you travel Mai Chau in April?
April is the time of "ban" flower blooming and the green rice fields. Besides, the weather here is quite comfortable, about 18 – 25 degrees. It's not too cold or too hot, ideal for taking Hanoi Mai Chau tour 1 day.
Many festivals of ethnic people are also held in April. During the festival, Mai Chau is busy and bustling with the sound of the drum, gong, and singing of lovely Thai girls and boys.
In the daytime, they are hard-working at the rice fields, so when the night falls, they are graceful in colorful dresses, singing and dancing together.
Transportation
About 150km northwest of Hanoi, if you travel by motorbike or private car, it is more convenient for you to stop anywhere along the way.
Otherwise, you also take the coach at My Dinh or Giap Bat Station; it will drop off at Tong Dau junction, and then you continue to catch a motorbike taxi to Lac or Pom Coong village, costing about 90,000 – 110,000 VND/person.
Coming to Mai Chau, for convenience, you can hire the bicycle or motorbike to go around the villages.
Where to stay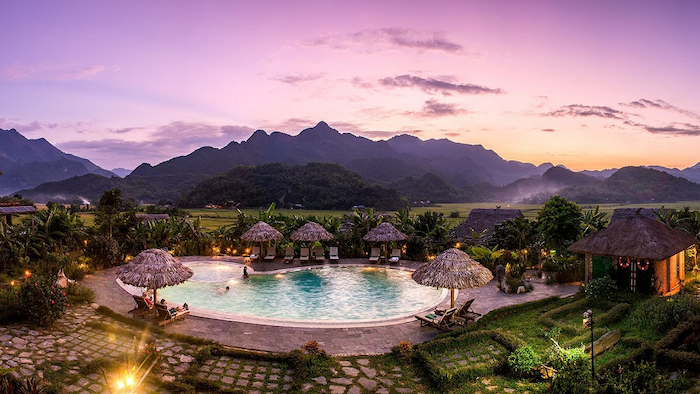 Staying in a resort
Sleeping overnight at the local stilt house is a must-have experience during your trip. The average price ranges from VND 50,000-100,000/person/night.
If you want to save money, you can stay at Stilt House No.2 of Ms. Ngoc. The price range will be lower. In return, you'll have to share the room with many other people (more than 20 people).
Otherwise, let's book a hotel's room or a Mai Chau homestay in case you want to stay in a private space with a beautiful view and enjoy other advanced services.
Places to visit
Lac village
Traveling to Mai Chau in April, a place that visitors cannot miss out is Lac village, where reflects the collective cultural identity of White Thai people.
Nestled in the green fields, Lac village is not only fascinated by the majestic mountains, the stilt houses close to each other but also the hospitality of local people here.
Tourists also have the chance to enjoy Mai Chau's specialties, buy lovely souvenirs, and take part in unique festivals of the ethnic groups.
Thung Khe pass
Another destination in Mai Chau also worth visiting is Thung Khe pass (or White Rock pass). In Thung Khe, you can experience 4 seasons in one day: cooling weather in the morning, hot in the mid-day, slightly cold in the afternoon and at night, it is quite cold.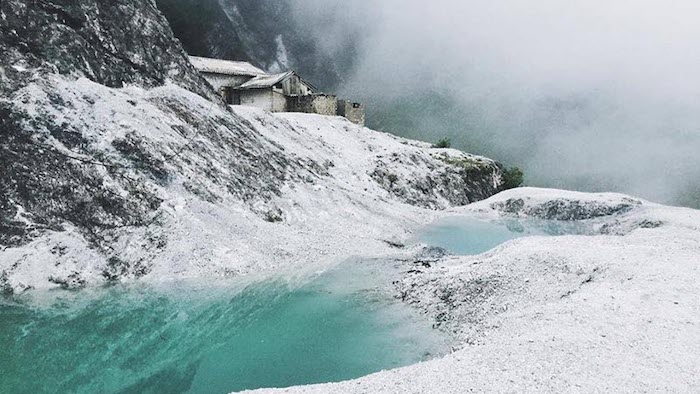 Thung Khe pass
Mo Luong and Chieu caves
Mo Luong and Chieu caves are two beautiful places in Mai Chau that you also should visit. The outstanding feature of these caves is the thousands-year-old stalactites with a variety of shapes and colors, impressing visitors at first sight.
Specialties of Mai Chau
Referring to Mai Chau specialties, we cannot miss out bamboo-tube rice, a typical dish of Muong people. The aroma of sticky rice, bamboo tube, and banana leaves will make you want to eat forever.
Let's imagine that you are sitting on the stilt house's floor in the cooling weather of April and enjoy the delicious upland sticky rice cooked by local people. Very amazing, isn't it?
In April, visiting Thung Khe pass, you can enjoy boiled corn of Muong people while admiring the beautiful view from above. Mai Chau is also famous for grilled foods such as fish or pork. Fishes caught in the streams are cleaned, marinated with spices and then baked on charcoal. Eating grilled fish or meat with tube wine is excellent as well.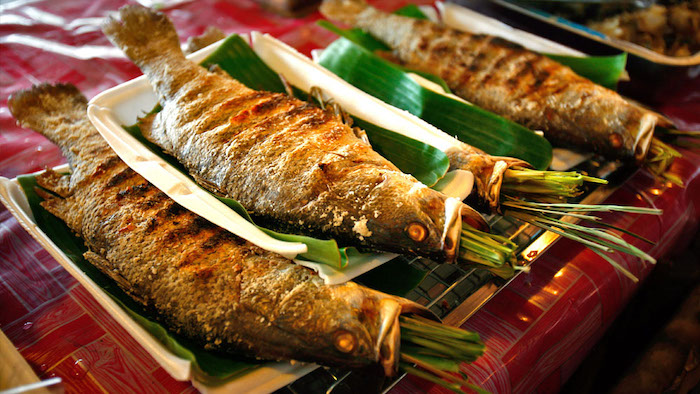 The grilled fish dish of Mai Chau
Mai Chau's weather in April is quite pleasant and cooling, so you only need to bring thin long-sleeved clothes, personal items, and first aid kit if necessary.
Traveling to Mai Chau in April, you not only admire the peaceful, poetic landscape of a Northern mountainous province in Vietnam but also enjoy delicious foods and take part in exciting activities, festivals of ethnic people. Hopefully, with our guides, you will have a safe and enjoyable trip in Mai Chau. If you concern Mai Chau tours and travel guides, please visit our website. Like and share if this post is useful for you!