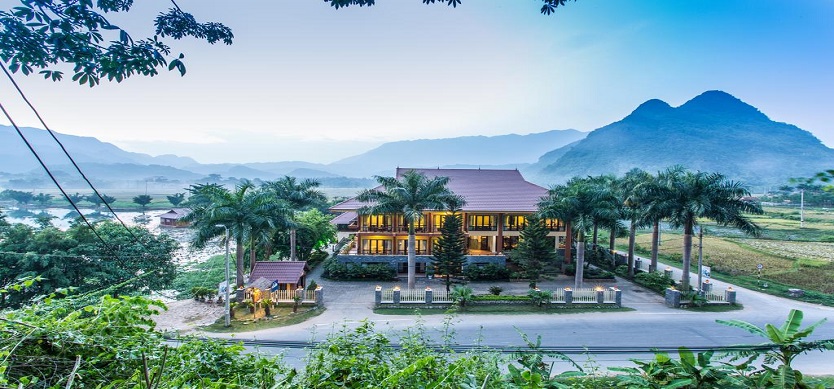 Modeled based on Thai stilt homes, Mai Chau Lodge has 16 intimate rooms and suites with private balconies and inspiring views of either the mountains or the valley. Let's book a room in Mai Chau Lodge to enjoy the comfortable stay when visiting Mai Chau.
Mai Chau in a brief
Away 135 km from the southwest of Hanoi, Mai Chau is a northern district of Hoa Binh province surrounded by Son La province in the west, Phu Tho and Hanoi in the north, Ha Nam and Ninh Binh in the east and Thanh Hoa in the south.
With a population of 47,500 people, Mai Chau is home to many ethnic minorities such as Thai, H'mong, Dao, Muong, Tay, Hoa and Kinh. Local people here are very friendly and hospitable. They are known as the skillful craftsmen with many types of crafts such as knitting and weaving brocade.
Mai Chau valley has a beautiful landscape with the idyllic and majestic scenes of mountains and forests as well as the profound cultural lifestyle of local people. So, Mai Chau is becoming an attractive tourist destination for tourists in Vietnam recently.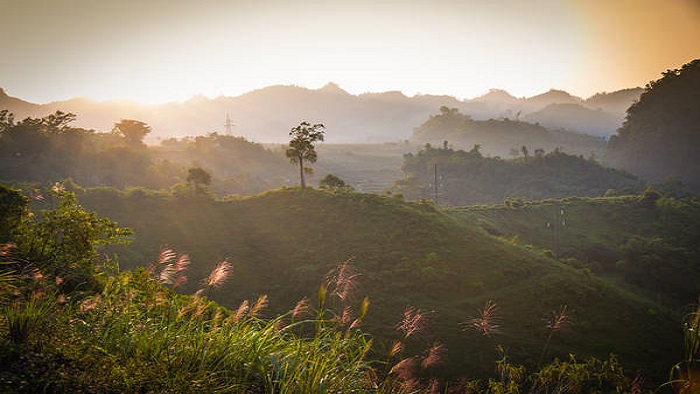 Mai Chau landscape
Mai Chau Lodge
Guest rooms feature local textiles and décor and are furnished with Western-style bedding, en-suite bathroom, satellite TV, telephone, climate control unit, tea and coffee making facilities and mini bar. Services include laundry, pressing, evening turndown and complimentary internet access.
Enjoy local and international cuisine and a wide selection of drinks in the Bo Luong Restaurant built from precious cam se wood, or have the restaurant cater a private candlelit meal on your balcony or on a buffalo cart by the lake.
The Mai Chau Lodge is also the exclusive operator for the Mo Luong Cave, famous for its unusual rock formations which have inspired local myths and legends and is open for exploration to our guests only. For a unforgettable dining experience, we can also organize gala dinners for up to 400 guests within the spacious main chamber.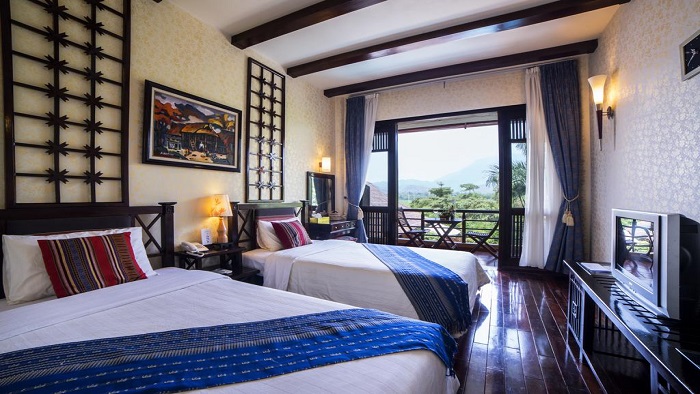 Mai Chau Lodge room
After a day of exploring, trekking or climbing, the Lotus Spa is a sanctuary of relaxation. Open from 8 am to 8 pm daily, the spa offers a range of personalized treatments including head and shoulder and full-body massages, foot reflexology and coffee scrubs. Professionally trained therapists can recommend treatments based on individual needs.
The spa also houses a complimentary steam room, sauna, and Roman-style Jacuzzi for lodge guests.
The Mai Chau Lodge also operates shuttle bus transportation between Hanoi and the Mai Chau Lodge. Individual seats can be booked, or the entire 8-seater bus can be chartered for the approximately 3.5 hour scenic trip with brief at the karst mountains of Tan Lac and the stunning Thung Khe mountain pass for photos.
The exciting activities in Mai Chau Lodge
After enjoying the relaxing moments in Mai Chau Lodge, let's go out to participate in the exciting activities at the beautiful valley.
Tourists can take a walk through the valley to visit the villages such as Lac village, Pom Coong village, and Nhot village, it is a chance for you to experience the daily lifestyle of local people and admire the beauty of the yellow rice fields and green forests.
For those who love learning and exploring the new things, don't miss a chance to go trekking with an extremely gorgeous trekking route. From Mai Chau Lodge, tourists will be led to the farther villages and the caves inside the mountains, etc.
Mai Chau Lodge has the largest artificial lake in Hoa Binh with the limestone cliffs shadowing in the water surface. Tourists can go kayaking to enjoy the quiet space and have funny kayaking competitions with teams, it is expected the exciting activity for the meaning trip.
Besides that, don't miss to enjoy the traditional dance of Thai ethnic, explore magical Mo Luong cave, and participate in Hoa Binh local fare to buy the specialties and gifts for the relatives.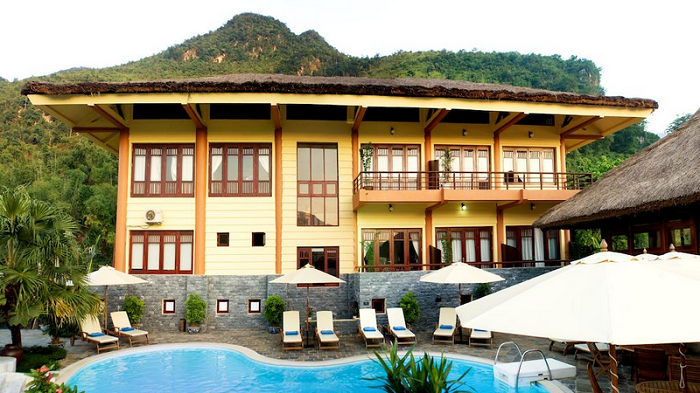 The front side of Mai Chau Lodge
Mai Chau Lodge is an ideal vacation destination with peaceful beauty of the mountains and forests, modern equipment for comfortable holidays and fun activities for the whole family. If you have any questions about Mai Chau homestay, don't hesitate to contact us. Thank you and have a nice stay!